Between Hello and Goodbye by Emma Scott: Faith Benson is not the girl you call when you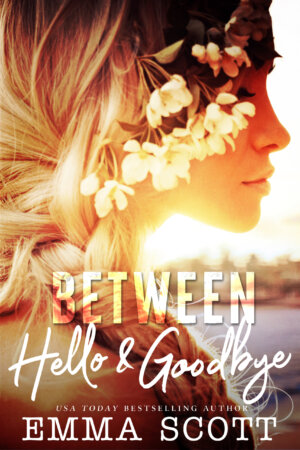 find yourself in a jam, she is the girl that is most likely to be sitting right there beside you with that banging hangover, so to say that she likes to party hard is pretty accurate, but she also knows how to land herself all those big advertising accounts. Well that is until her carefree lifestyle gets her in trouble with keeping up with her day job, so much so that her boss demands that she takes a leave of absence to get her head straight.
Which is how Faith finds herself heading to the beautiful island of Kauai, Hawaii, surely she can manage to keep herself out trouble here right? Well this soon proves to be the opposite of what she had planned for when she manages to twist her ankle on day one, needing rescuing from hottie firefighter Asher Mackey that has her feeling all kinds of things that she has promised to stay far away from!
Asher Mackey is a firm believer in not getting to involved with tourist further than having a few nights of fun before he bids them goodbye, that is until sassy vibrant city girl Faith comes marching into his tiny island paradise, making him realise just how empty his life has been all these years. But Faith is the absolute last girl that Asher should even think about getting involved with especially seeing as they live on opposite side of the ocean, but with their undeniable connection growing more and more it begins to become pretty hard to deny the heart what it wants. Soon the two are forced to face reality and decide if what they have is worth fighting for or if this has all just been an island fling…
"He saved me and ruined me at the exact same time."
Simply put Between Hello And Goodbye was one of the most beautiful novels that I have read, there was just something about this book that touched my heart. Scott has crafted an emotionally touching story as we get to experience grief, personal growth, longing, love and acceptance as Asher and Faith embark on this journey.
I just found myself gravitating toward Faith there was something very relatable about this character. She was at her a game in her career in advertising but in her personal life well that was where the hiccups started, which is what prompts her to taking the two week time out and gosh does this just change her life forever! I really enjoyed getting to unravel her character more and more as the story progressed and we got to see that she is not so much this party girl diva but actually a simple girl at heart that cares hard and loves her people fiercely. I just loved getting to see her open up, heal and really just breath while in Kauai and with Asher and his family.
If ever there were a selfless hero it would be Asher Mackey, gosh this guy was just a heart melter from start to finish. He really put the needs of others before those of his own and this could not be more clear than with the way he rerouted his life to helped his brother Morgan when their mother deserted them. I think as much as he was the healing line that Faith needed, she was the breath of life that he so desperately needed without even realising it.
Their relationship was one slow burn angst fill beauty, with one heck of a what just happened moment. I will say I liked getting to see them go from barely being able to tolerate each other to finding friendship to this undeniable hot passion that they could not control. Without giving too much away I will say that the make or break moment in their relationship was seriously dramatic but the way things played out felt very real and authentic to a real life situation as well as to the way these two grew in the book.
Between Hello And Goodbye is a definite must read this book will touch your soul with this heart warming story as Faith and Asher find their way not only to happily ever after but to really finding themselves.
Book Info:

Publication: June 26, 2022 | Emma Scott |
She's a city girl in Seattle. He's a firefighter in a rainforest. This is never going to work…
Faith Benson isn't your emergency contact, she's the party-girl friend you call for a good time. The gal-pal who loves mimosas at brunch and martinis at Happy Hour. But her carefree lifestyle threatens her job at a top Seattle ad agency. There's no one better at landing big accounts (when she shows up) but her boss demands she take a leave of absence to get her head on straight.
Faith heads to the remote Hawaiian island of Kauai, far away from the vices that get her in trouble. But a twisted ankle on Day One requires rescuing by a man who is vice personified—a gorgeous firefighter who awakens feelings in her heart she never knew existed.
Asher Mackey doesn't get involved with beautiful tourists beyond taking them to bed and then watching them leave his tiny island. He's devoted his life to the safety and care of everyone around him…except himself. Until he meets Faith Benson, the city girl whose vibrant, inner beauty shines a light on the dark corners of his life, showing him how safe—but empty—it truly is.
Despite their best efforts to keep their distance, Faith and Asher fall hard and fast, but there's an ocean between them. Both are building their lives on opposite sides of the Pacific while their feelings for each other grow more profound and undeniable by the day.
Something has to give.
When Asher receives devastating news, he and Faith have to decide once and for all to entrust their hearts fully to the other or return to their safe—but separate—worlds. Because neither can endure much longer, living somewhere between hello and goodbye.