In Sisters by Choice (Blackberry Island #4) by Susan Mallery, Cousins Sophie Lane, Kristine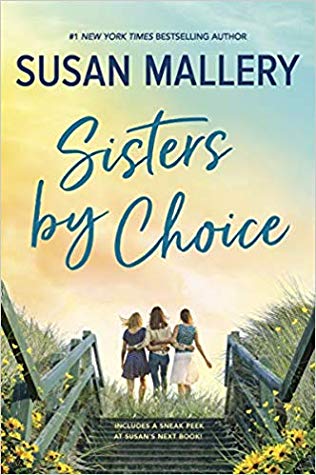 Fielding, and Heather Sitterly are each facing down their own personal issues, with all of them at a crossroads of sorts. Sophie's successful cat product business in California burned to the ground, leaving her to move home to Blackberry Island, Washington to start over. But beginning from scratch isn't as easy as Sophie thought it would be. With all new employees who don't think twice about pointing out her flaws, and a bad habit of micromanaging, she's all tied in knots. And while Sophie sorts out her career, she's knocked off her feet by a local man who is everything she could ever want. If she was looking for a man, that is.
"You're too perfect," she whispered.
"No, Sophie. But I'm perfect for you. That's the whole point. I've been looking for you for a long time and now that I've found you, I don't want to let go. But you have to be willing to join me or it doesn't mean anything."
Heather is a college student who had a plan for her life until her mother, Amber, yet again shattered those dreams. As if supporting her (able-bodied) mom from the time she turned sixteen wasn't enough, Heather is on an emotional roller coaster, never knowing what kind of mood Amber will be in. Or what scheme she'll be up to. Everyone is telling her to take control of her life and let her mom fend for herself. But Heather isn't sure it's as easy as everyone thinks.
'Was it going to be like this forever? she wondered. Would she ever escape? And how many times had she asked herself that question? Maybe it was time to stop talking and start doing.'
Kristine is satisfied with her life overall, happily married to her high school sweetheart and raising their three boys. But if she's being honest, she's always had a dream to take the handful of baked goods she sells locally here and there and turn it into a full-fledged business. So when the local bakery goes up for sale, Kristine wants to put her business plan into action. But her husband Jaxsen surprisingly is not okay with it. And from there, an all out tussle begins between them, leaving Kristine to wonder if she will once again have to be the one to compromise and give up her dream.
'She was going to test her marriage in a way it had never been tested before.'
Life moved in unforeseen directions, friendships were tested, and important lessons were learned and implemented by the characters in Sisters by Choice, a new entertaining Blackberry Island novel by Susan Mallery.
"Life is about trying and moving forward and doing what terrifies us. It might work out and it might not, but at least you're moving forward. At least you're making the effort."
Sisters by Choice brought us back to beautiful Blackberry Island where we followed three women on very different but intersecting personal journeys. Sophie, Kristine, and Heather were cousins, which could bring its own complications, but as with every Susan Mallery novel I've read, this really capitalized on the power of female camaraderie. I loved watching how the support Heather, Sophie, and Kristine gave each other truly made a world of difference in their lives, even if it was just being someone to vent to or to help sort through the chaos.
I struggled a couple of times with Heather or Sophie's reactions (or non-reactions) to their struggles. They weren't as emotionally evolved, I guess you would say, as Kristine seemed to be. Although Kristine, for as settled as she was in her life, had to navigate trying to fulfill a life-long dream of owning her own bakery when her husband was not on board with it. It was dramatic, tense, and I held my breath a few times over their situation and lack of communication, but I did ultimately like Kristine's part of the story.
For college student Heather, I understood and empathized with her no-win situation regarding her mom Amber–who I seriously disliked. *grumble* But I have to give kudos to Heather. She tried to get clear of her mom, a woman who was a perpetual victim, by working hard to earn money for college. I wasn't sure how it would work out. It honestly looked bleak a few times. But I loved the turn Heather's life took by the ending.
Sophie will be a tough woman for people to like. She was prickly, closed off emotionally, a workaholic. But she was also extremely loyal once you were in her good graces, as shown by her fierce protection of cousins Kristine and Heather. Plus Sophie was a big old softy when it came to cats, which we saw firsthand when she got a place of her own. Cat lovers will adore how she opened her heart up to some felines in need–and Sophie's business, which was based around cat products, was also a lot fun. I will note that she did have a romantic interest on the island and boy did he give her a run for her money emotionally! That was my favorite part of Sophie's journey, for sure.
You can always, always count on Susan Mallery for a story that touches your heart, makes you smile, and draws you in immediately. I think Sisters by Choice will be sure to please both women's fiction and romance fans.
Book Info:

Publication: February 11th 2020 | MIRA | Blackberry Island #4
Cousins by chance, sisters by choice…
After her cat toy empire goes up in flames, Sophie Lane returns to Blackberry Island, determined to rebuild. Until small-town life reveals a big problem: she can't grow unless she learns to let go. If Sophie relaxes her grip even a little, she might lose everything. Or she might finally be free to reach for the happiness and love that have eluded her for so long.
Kristine has become defined by her relationship to others. She's a wife, a mom. As much as she adores her husband and sons, she wants something for herself—a sweet little bakery just off the waterfront. She knew changing the rules wouldn't be easy, but she never imagined she might have to choose between her marriage and her dreams.
Like the mainland on the horizon, Heather's goals seem beyond her grasp. Every time she manages to save for college, her mother has another crisis. Can she break free, or will she be trapped in this tiny life forever?
Told with Mallery's trademark humor and charm, Sisters by Choice is a heartfelt tale of love, family and the friendships that see us through.