Today it is my pleasure to Welcome author
Geri Krotow
to HJ!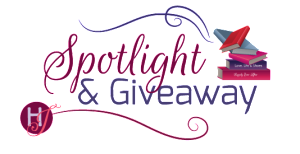 Hi Geri and welcome to HJ! We're so excited to chat with you about your new release, Colton Bullseye!

Happy Spring, HJ readers!

To start off, can you please tell us a little bit about this book?: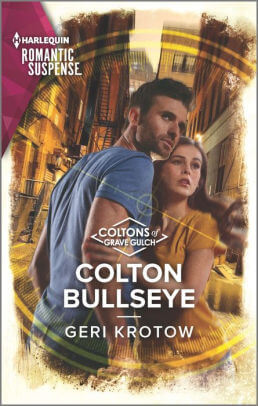 Colton Bullseye is Book 4 in the Coltons of Grave Gulch series. The entire series is popping with scary villains and dangerous situations–all with intrepid heroines who fight alongside their sexy heroes. In Colton Bullseye, Dominique is an investigative reporter seeking justice for a murdered student in her creative writing class she teaches at the County Prison. Stanton is the bodyguard hired by her overprotective father, and also her former lover. They had a tumultuous affair that ended two years ago, but their chemistry has only strengthened during their time apart. They struggle against their attraction while Dominique tracks down the criminal who falsely put her student behind bars.

Please share your favorite lines or quote(s) from this book:
I love when Stanton takes Dominique back to his family home for safety, where his mother assumes he and Dominique are getting back together. She refers to Stanton with the Italian word for 'girlfriend' or 'fiancee.' Stanton makes the mistake of speaking with his mouth full.

"Don't be such a slob around your fidanzata, son."

Spoken like a Mom, her comment puts them both on the defensive, but in a humorous manner.
What inspired this book?
I've been inspired by investigative reporters like Dominique, who aren't afraid to dig for the truth, whatever the costs. I was inspired by a close friend who, like Stanton, works in private security for all the hard work they do on a daily basis with little to zero thanks (except for their paychecks).
How did you 'get to know' your main characters? Did they ever surprise you?
Oh my gosh, yes! My characters are always coming up with new ways of looking at and reacting to life. Dominique and Stanton surprised me with how passionate of a relationship they share. It's more than sex or attraction, it's at a soul level. Add in that they both respect one another on a professional level, and it makes for a very powerful couple. I had to stay on my toes writing them!
What was your favorite scene to write?
When Stanton brings Dominique back to the Colton estate, which is in Northern Michigan, they are left alone when his parents go out of town. Unable to fight their desire any longer, they begin to make love…on the dining room table. 🙂
What was the most difficult scene to write?
The final showdown with the villain. I don't want to give any spoilers, but even I wasn't sure how it would all work out in the end. Yes, all of the Colton authors write HEAs, and Colton Bullseye is no exception, but getting there can be arduous, especially when an unpredictable villain shows up armed and aiming for the hero and/or heroine.
Would you say this book showcases your writing style or is it a departure for you?
It definitely highlights my suspense/thriller style, and it stretches my usual heat level for a Harlequin Romantic Suspense. But Dominque and Stanton wouldn't let me right a tame love scene for them. Nope, not at all!
What do you want people to take away from reading this book?
If there's a love out there that didn't work out for you, but you're both still available, maybe revisit whether you could consider reuniting. I know Stanton and Dominique are glad they did!
What are you currently working on? What other releases do you have planned?
I'm hard at work on another Colton book for 2022, and I'm happy to announce I've been asked to write a prequel to the 2022 Coltons 2022. Please sign up for my Site News, on my website, to get the details as they're available.
Thanks for blogging at HJ!
Giveaway: Three print copies of Colton Bullseye, US only.
Two ebook copies of Colton Bullseye, US and Canada only.
Good luck!
To enter Giveaway: Please complete the Rafflecopter form and Post a comment to this Q:

What are you most looking forward to this spring?
Excerpt from Colton Bullseye:
Neither spoke as they rode the elevators—first the public one to the tenth floor, then a private, residents-only lift to the penthouse. Memories whirled in her mind the closer they got to Stanton's apartment. When she walked through the familiar sleek doors into the contemporary space, it was impossible to not see every place she and Stanton had made love. On the foyer's tile floor the night after a particularly scary scenario he'd provided protection for, on the sofa that faced a wall of windows that overlooked all of Grave Gulch and to the countryside beyond.
"Let me take your coat." He was behind her, gently easing off her sleeves when she'd wanted to do it herself. "It's okay to accept help, Dom. I know you're hurting. I'd be sore, too, after a brute like that came at me."
She relented and allowed him to slowly ease the garment from her body. He laid it over the end of the sofa and walked to the kitchen, giving her a welcome modicum of privacy. As if he remembered she preferred to work alone, with minimal distraction.
"This view only gets better with time, doesn't it?" It was a shallow comment but she wasn't up for deep conversation. Not yet. She needed to catch her psychic breath after coming face-to-face with the memories of her and Stanton. The afternoon sunlight shone on the wooded areas surrounding the medium-sized city, varying shades of green offering hope for warmer spring weather, soon. Winter struggled to let go of its hold on Michigan, keeping the mornings and evenings chilly well into May. Trees were a source of strength and peace for Dominique, and being able to appreciate this unique view on a regular basis had been one of many gifts she'd let go of when she'd left Stanton.
She'd missed this.
"My time to enjoy it gets less and less." He spoke from the kitchen counter. She heard a coffee machine and looked over her shoulder as she timidly sat on the edge of the leather sofa. "We just had coffee."
"You didn't get to finish yours, and I need another shot of espresso. Keeping your insides warm will help you relax, too." He walked back into the room and handed her a pink mug. It had the logo of a local 5K run on it, an annual Grave Gulch fundraiser for breast cancer. It had been hers, something she must have left behind after their breakup. She looked at him, held up the mug.
"I'm surprised you kept this."
"Why? You thought I'd throw everything away? It's a good cup. Keeps my coffee hot the longest."
"There couldn't have been much to toss. I never really moved in here." She sipped and Stanton was right; she needed the warmth.
"No, you didn't." His tone was noncommittal. Why couldn't their relationship feel like that to her? Instead of making all of her emotions churn, with regret's bitter taste heavy on her tongue. "What were we discussing, again? Charlie Hamm?"
He'd thrown her a lifeline and she could have hugged him. No, no, not hug. Nothing that had to do with touching him. In a complete betrayal, her fingertips began to itch as if they'd die from never feeling his hard, smooth skin under them.
"Dominique?"
"Yes, Charlie Hamm. I know that if I can get to the bottom of his conviction, and who the force was behind it, I'll not only get justice for him, but upend the drug cartel that's done its best to decimate Grave Gulch."
"Again, it's imperative to leave the law enforcement to the experts. I'm not discrediting your investigative abilities or saying that your reporting doesn't have serious purpose. On the contrary, everyone needs to be able to understand what we've all been up against since Fentanyl hit our streets. A good portion of my business has been protecting people waiting to go into the witness protection program or who don't want to have to lose their identity but the threat level doesn't warrant government-paid protection." He leaned his hands on the counter, his shirtsleeves rolled up and leaving his muscular forearms exposed. "I'm on your side, Dominique. At least as far as getting to the truth is concerned."
"But you're not going to support me going for the jugular. Putting myself back out there, making myself a target."
"There has to be a way to do your job virtually. Can't you call your interview subjects on the phone?"
"Absolutely not. I have to verify all of my sources, and I certainly have to speak face-to-face with the man whose testimony put Charlie behind bars in the first place. Only he can tell me who ordered him to lie on the stand. I have a feeling it'll lead me to the same person who ordered Charlie's murder."
"If indeed the prison fight wasn't incidental."
She shook her head, needing Stanton to believe her, to trust her judgment. "It wasn't like Charlie to get himself in any kind of altercation. He'd had a clean record the entire two years he was in jail. His dream was an early release, on good behavior."
Stanton's cell phone buzzed and he picked it up from the cocktail table, his thumb flicking across the screen. The play of light across his chiseled face mesmerized her. Her stomach flipped and she quickly reminded herself that he was off-limits. Failed previous relationship with him being reason number one, followed by the line of work he was in, and hers. Both were all-consuming, and his was particularly dangerous. Losing him once, no matter that it had been her decision, had been enough. It would be catastrophic to let herself get lost in him again, only for him to be taken out by a madman. Plus, Stanton made it clear that he had zero interest in picking back up with her. Even if he hadn't, she wasn't in the right place or frame of mind for any kind of romantic entanglement with anyone.
A soft groan escaped her bruised lips and she sucked in a breath, hoping he hadn't sensed her subconscious plea for attention from him. His immediate glance in her direction proved he had. Humiliation rushed heat into her face and she pointedly looked out the window, unable to meet his gaze.
"It's a text from Troy. He's on his way over to take your statement." Either Stanton didn't notice her discomfort or chose to ignore it. Instead of relief, disbelief at his words doused her embarrassment.
"Wha—wait a minute! I didn't agree to talk to the police." Anger fired through her veins, giving her a sense of purpose she hadn't felt since being so brutally assaulted.
Stanton stood up, paced to the panoramic window. It was what he always did when they'd argued. Gave himself space to think.
"You were attacked. I called my cousin the detective when you were getting your MRI. He agreed to meet you privately, so that you don't have to go into the station. I thought you'd appreciate not facing down every cop in Grave Gulch right now. It's not like you're their favorite reporter at the moment."
"You think I can't take it? I don't care if all of GGPD hates the press. That's not my problem in the least."
"All of GGPD doesn't dislike the Gazette, and it's unfair to say that. You have to admit that it's hard to do your job when you're constantly being scrutinized. The Gazette hasn't let off GGPD—ever. And it's only gotten worse recently."
"If GGPD would keep the public informed about their internal investigation of Randall Bowe, it might ease a lot of the perceived tensions."
"It's called 'internal' for a reason." He stopped pacing, hands on slim hips, and glared at her. "The world isn't yours to exploit, Dominique."
"Exploit? Excuse me?" She stood up and said a silent thanks that she was able to do so in one steady movement. Her lower back hurt like heck and her shoulders were beginning to throb. She raised her hands in surrender. "I can't do this. Either pay my father back or assign one of your other agents to my case. I'm out." She moved toward the foyer, needing to be free of the constant nearness of him. His scent, his mannerisms, his voice.
"Dom, wait." At the use of his endearment for her she froze. This was the name he'd shouted earlier, right before the thug had grabbed her. In a moment of danger, he'd called out to her the way he knew she'd recognize it was him. So she'd know she wasn't alone. At some level, he must have known that she still trusted him. She turned back toward him and slowly closed the distance between them, but left several paces as a boundary when she reached the window.
"This isn't working, Stanton. It's not going to. We've been with each other for less than half a day and we're at fisticuffs again." Unwanted tears pooled and she blinked. "I'm not sad. I'm mad."
He ran his fingers through his hair, loosened his silk tie. She'd always appreciated how he insisted on a professional appearance, no matter how dirty his job got. The pale cream fabric highlighted the deep blue of his eyes. The cotton stretched over his broad shoulders, triggering more memories that were best forgotten.
His killer gaze pierced through all of her defenses, reminded her of all she'd lost. Constant stress at how they'd work out their demanding careers, yes. But also, long nights of intimate conversation, soul baring, and of course, cataclysmic lovemaking.
He ran his fingers through his hair. "I'm sorry. There's no need for us to be in each other's face like this. It's my fault. I'm protective of law enforcement. It's in my blood. Literally."
"I'm upset and angry that an innocent man went to jail and served time, and while doing so was murdered. And yes, I think there's a dirty cop or GGPD employee behind it, along with the drug kingpin. But I have the highest regard for or any man or woman who'd willingly put themselves in harm's way for our protection."
He nodded. "I know. But it's not easy, seeing the headlines day after day in the Grave Gulch Gazette. It's exhausting for all involved. And then the rumors that the paper will get acknowledged nationally—no one is against journalism or a local paper being rewarded. But—"
"But not if it makes local authorities, like your sister, look bad." She let the words slip out before she thought, and immediately wished she could take them back. Stanton was offering her an olive branch. His eyes widened slightly but she knew him well enough to know she'd angered him. "Wait, I'm sorry, Stanton. I shouldn't have said that."
"No, you're free to say whatever you want. You always have been." Zing right to her emotional solar plexus. He apparently hadn't forgotten their last conversation two years ago, when she'd blithely refused his marriage proposal. It'd been right here, in front of these windows, in the middle of the night after a particularly long round of lovemaking. She only realized afterward that he'd been planning it, when she realized he must have bought the ring ahead of time. But in the moment, they'd both been naked. Sated. Vulnerable.
Their gazes met, and in his eyes she saw all she'd lost, all that could have been, and the man he was today.
"I—"
"No." He placed a finger on her lips. As stern and annoyed as his expression was, his touch was gentle. A whisper. "Stop talking, Dominique. Give me a minute here."
Give him a minute? Why did he need time? It wasn't as if he was as unsettled by her closeness as she was by his. He'd given no indication he was. Only then, on closer inspection, did she see how his pulse jumped in an erratic dance at the side of his strong jaw. His pupils were dilated, even with afternoon sunlight streaming into the penthouse. And his breath—he sounded as though he'd run up a flight of stairs as he closed his eyes, presumably to shut out her image.
Clarity hit and her breath hitched. While their minds knew they didn't belong together any longer, their bodies hadn't gotten the text. As if in a trance, her right hand reached up and stroked his cheek.
"Don't." His plea came out in a gravelly whisper, and he kept his eyes closed. But he didn't stop her. Her ire melted into compassion. She knew too well what it was like to fight it as he did now. She'd struggled to keep her physical desire in check from the moment he'd looked into her eyes right after he'd rescued her this morning.
"It's okay, Stanton. Isn't it normal to feel like this with an ex? We're not robots." She shouldn't be standing so close to him, shouldn't tempt fate by touching him at all. Her fingers explored his jaw, stubbled by beard growth, unable to get enough of him. No amount of touch with Stanton would ever be enough. She swayed toward him, unable to stop the desire-fueled momentum that pushed her closer.
"Dom." With no further preamble, Stanton's arms came around her waist and he tugged her flush against him. Air whooshed from her lungs as she felt his full length, including his erection, through their layers of clothing. She let her arms go to his shoulders and met him halfway as his mouth came down on hers.
Excerpt. © Reprinted by permission. All rights reserved.


Book Info:
He'd been hired to protect her…not fall back in love!
Acting as his ex's bodyguard pushes Stanton Colton beyond his limits. Thanks to Dominique de la Vega's determined investigative reporting, he's vowed to keep her safe…and guard his own heart. As Dominique delves deep to get her story, Stanton works to find out who's put a bullseye on her back. But can their rekindled attraction survive a threat on her life?
Book Links: Amazon | B&N | iTunes | Kobo | Google |


Meet the Author:
Geri Krotow is the author of over 28 novels and COLTON BULLSEYE is her 25th book for Harlequin. A Naval Academy graduate and Navy veteran, Geri lives in Pennsylvania with her empty nest family that includes a husband, a parrot, and two happy doggies. Kids boomerang back as needed. Find out more about Geri's travels and her entire backlist on her website.
Website | Facebook | Twitter | Instagram | GoodReads |