The Italian's Forbidden Virgin by Carol Marinelli was a complete surprise and in true Presents fantastically outrageous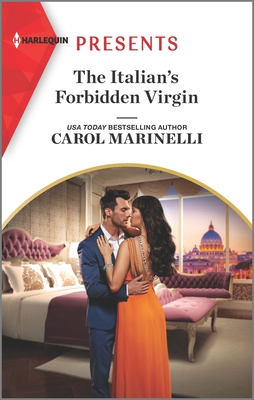 style; I loved the pages being littered with tons of secrets and twists and turns.
Ariana and Gian's connection and history with each other is established quickly which opens the gates to conflict and turmoil. Ariana is a brilliant character because she's so different from the normal Presents heroine. She has been created as a rich and spoilt socialite and it's this story's mission to redeem her. I loved her pallet of colours and her passion and I thought she was refreshing and different.
Gian has the patient of a saint and is pulled in all directions… the direction of Ariana is not one he wants to go in but their attraction is undeniable. His seriousness and professionalism is like the flame to Ariana's moth and their conflict and interactions are set up well. Gian's loyalties guide him and there were times I thought it was surprising he kept what he knew quiet but of course the author had a wonderful plan.
Carol Marinelli created lots of twists and turns that helped me jog my memory regarding book 1, Italy's Most Scandalous Virgin. It was interesting to see how things played out from another point of view and the secrets Gian was privy to was really enjoyable. I thought the plot and twists were very well done. I enjoyed Ariana and Gian really was her complete opposite.
QOTD: I love that the cover pays homage to the dress Ariana wears within the book. I really like the stunning detail that goes into a lot of heroine's wardrobes, does it inspire you?

Book Info:

Publication: April 2021 | Harlequin Presents | Those Notorious Romanos #2
Sparks fly and opposites attract in this sizzling romance by USA TODAY bestselling author Carol Marinelli.
She's totally off-limits…
…which only heightens the pleasure!
Italian tycoon Gian de Luca knows socialite Ariana Romano is forbidden. She's his mentor's daughter, and her drama-queen reputation precedes her. But when he offers her comfort one dark night, he's shocked to discover she's a virgin. Perhaps he's been wrong about her all along…
Each electrifying moment with Gian leaves Ariana craving more, yet her red-hot Romano temper keeps getting in the way. For while she's all fire, cool Gian won't let any emotion get the better of him. A balance must be struck, before he walks away…for good!