Today, HJ is pleased to share with you

Chandra Blumberg's

new release: 

Digging Up Love

From debut author Chandra Blumberg comes a playful, heartfelt romance about chasing your dreams and finding love in the process.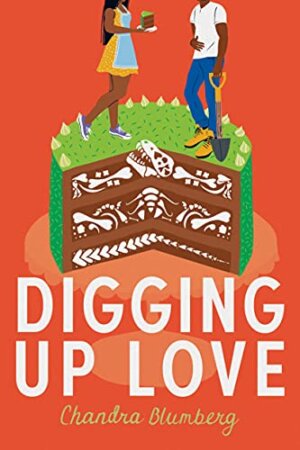 Alisha Blake works her magic in the kitchen, creating delectable desserts for her grandfather's restaurant in rural Illinois. Though Alisha relishes the close relationship she has with her family, she can't help but dream about opening a cookie shop in Chicago. She may be a small-town baker, but Alisha has big ambitions.
Then a dinosaur bone turns up in her grandparents' backyard. When paleontologist Quentin Harris arrives to see the discovery for himself, he's hoping that the fossil will distract him from a recent painful breakup. Instead, he finds Alisha—and sparks fly. The big-city academic and the hometown baker seem destined for a happily ever after.
But Alisha is scared to fall in love. And Quentin's trying to make a name for himself in a competitive field, which gets even more complicated when the press shows up at the dig site. For love to prevail, the two may have to put old bones aside—and focus on the future.
Enjoy an exclusive excerpt from Digging Up Love 
Quentin's fingers twitched with the impulse to pick up the four-inch curved claw in his viewfinder, but he snapped a photo instead, making sure to capture the measuring tape stretched out next to the fossil. He lowered the battered digital camera to his thigh, rubbing his jaw.

Besides the partially exposed limb bone off to his right, a little digging with a hand trowel had revealed several fragments of vertebrae, along with a conical tooth he'd bet good money was ceratopsian. A triceratops tooth would never be found alongside Ice Age remains, and the claw all but sealed the deal. Evidence was mounting that the giant bone wasn't a wooly mammoth after all.

Quentin stood, rubbing his hand along his jaw. Could this be a prank? A dinosaur femur, and the claw and tooth less than a meter away? Too good to be true. The whole thing reeked of a ruse. He scanned the area for a clue the situation was rigged. A quick glance up at the rim reassured him neither of the elderly women had a phone out to film the situation. But any minute now, the rug would be pulled out from under him.

"Alisha, wait!"

A shower of loose rocks snapped him out of his reverie. He turned his head just as a woman dropped into the pit, landing with a thud.

Annnd there went the rug.

She straightened and squinted up at him through the softly falling snow, looking wholly unconcerned about disturbing fossils millennia in the making. In fact . . . there, sticking out from under her boot. His fists clenched of their own accord. "Do you mind?"

In response, she arched one dark brow. Her face was framed with long braids spilling out of a winter hat topped by one of those little fluffy balls. Women always looked so cute in those.

But this woman—Ayesha, was it?—looked more amused than adorable. Nuh uh. She didn't get to grin at him like that, Little Miss Rain on His Parade.

She stuck her hands into her pockets and rocked up on her toes, grinding the fragment into the muck.

"Seriously, could you please step back?"

Her grin disappeared. "Could you?"

What the heck? No, he could not blindly step back. And who was she anyway? If he were prone to daydreams, a beautiful stranger materializing out of thin air at a dig might've ranked high on the list. But that woman would be treading lightly, not trampling fossils like a T. rex at a tea party.

Plus, she wore a black leather jacket and jeans tucked into boots to combat the cold, and his fantasyland was a tropical island. A fictional Cuban tropical island. Okay, so his fantasyland was Isla Nublar, sans a power outage—

"Are you going to clue me in?"

Blinking fast, he bit back the first three retorts that sprang to mind. The sheer nerve of a random civilian hopping into a field site like she owned the place. Here he was, out in middle-of-nowhere-Illinois, amid dinosaur bones where they had no business being, and now he had to contend with an entitled interloper.

Who was she, anyway? A nosy neighbor? Friend of the family?

Dr. Yates's voice rang in his mind, an unnecessary reminder. Press around a dig, especially at this stage, could spiral out of control, attracting rubberneckers and looters. Shutting down this trespasser had become top priority.

Quentin crossed his arms. The woman mirrored him, pulling her hands out of her pockets and setting them on her waist. Her jacket rode up, just enough to expose a peek of skin below her belly button. Not that he noticed. He also didn't notice when a single crystal snowflake landed on the tip of her nose, or the plump curve of her lips before she pressed them together, almost like she was trying to hide a smile. He pulled his own mouth into a straight line and narrowed his eyes.

Could she be from another university? No way. He discarded the hypothesis as soon as it sprang to mind. No self-respecting paleontologist would leap feetfirst into an unmapped dig. He held his ground and tightened his jaw, refusing to speak first, lest he give something away.

So they stood frozen, toe to booted toe, breath mingling in plumes of vapor, gazes locked. A minute passed, two. During their stalemate, the snowflakes picked up, drifting between them. She must be cold, with only a thin jacket on. He regarded her narrowly through the white flakes.

A slight tremor ran through the woman, and she crossed her arms. Cold, for sure. Her jacket rode up higher. His eyes tracked the movement, then snapped back up.

Must. Not. Be. Distracted. By. Her. Sexiness.

Too late.
Excerpt. ©Chandra Blumberg. Posted by arrangement with the publisher. All rights reserved.


Giveaway:

A digital copy of Digging Up Love by Chandra Blumberg
To enter Giveaway: Please complete the Rafflecopter form and post a comment to this Q:

What did you think of the excerpt spotlighted here? Leave a comment with your thoughts on the book…
Meet the Author:
Chandra Blumberg is a Michigan native who loves writing funny, heartwarming love stories about characters that feel real and relatable. When it comes to her writing process, getting to that happily ever after is half the fun.
After majoring in English at Michigan State University, Blumberg moved to the Chicago area, where she enjoys exploring museums and the beauty of Lake Michigan in all seasons. When she's not writing, she's usually making a mess in the kitchen with her kids, lifting heavy barbells at the gym, or traveling with her family. Digging Up Love is her first novel.
Buy Link: Amazon