Today, HJ is pleased to share with you

Valerie Bowman's

new release: 

Duke Looks Like a Groomsman

He's posing as a groomsman.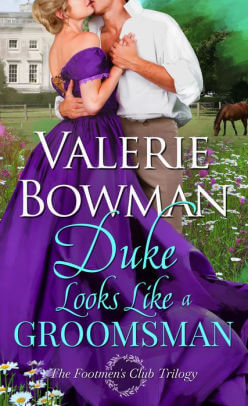 Rhys Sheffield, the Duke of Worthington, has bet his friends an ungodly sum of money that despite his loftiness, he can pass himself off as a servant at the house party of the Season. But when his clever ex-flame arrives and recognizes Rhys in the stables pretending to be a groomsman, she realizes it's the perfect opportunity to pay him back for breaking off their engagement.
She's the bride-to-be.
The lovely Lady Julianna Montgomery may be the only young woman at the house party who's not in the market for a husband. She's quite happily engaged to a marquess, thank you very much, and scarcely remembers the pain of being callously tossed over by the Duke of Worthington nearly two long years ago—till now.
All bets are off.
Rhys seems to be everywhere, flexing his muscles, laboring in the sun—and Julianna has never found him more appealing. With his signature charm, he persuades her to keep his secret. But when she learns he's determined to win a bet of honor, she can't resist playing a game of her own. She'll spend the next fortnight tempting Rhys at every turn and making him lose his precious wager. Even if it means she must lose her heart in the process…
Enjoy an exclusive excerpt from Duke Looks Like a Groomsman 
Setup: The series is about three noblemen who all pretend to be servants at a house party for different reasons. Duke Looks Like a Groomsman is book two, in which, the Duke of Worthington is pretending to be a groomsman in order to win a large sum of money. His friends don't think he can make it as a servant for two weeks. Here's what happens when his ex-flame shows up at the the stables quite unexpectedly.

A grin covered Rhys's face as he stood in the stables rubbing down Alabaster from his earlier ride. First, he would buy a new phaeton. Then, perhaps a set of matching grays to pull it. A new wardrobe would be welcome. And he'd been meaning to do a few things to his property in Kent.
Yes. The money Rhys won from the bet would be welcome, indeed. But even better than spending the money would be winning the money. That part was always his favorite. He'd be gracious, of course, informing his friends that they'd put up a good show. Then he would take every single farthing from them. Finally, he'd jaunt down to Hollister's for a bit of sport with his winnings. Mustn't disappoint the gossip rags.
Alabaster stamped his hooves and neighed. Rhys petted the horse's head and spoke softly in his ear. When Clayton had informed Rhys that groomsmen didn't actually ride the horses unless they had to, Rhys had reluctantly agreed. Or appeared to at least. But there was little chance that Rhys would be in the presence of one of Clayton's fine Arabians and not take a ride. Besides, what Clayton didn't know was unlikely to hurt him, wasn't it? Rhys already had an understanding with Mr. Hereford to that effect. Mr. Hereford was an excellent stablemaster, indeed.
It also didn't hurt that all the other groomsmen, stable boys, and coachmen already knew Rhys was the Duke of Worthington. He'd told them, of course. The bet hadn't called for him not to. The only people who mustn't realize he wasn't a groomsman were the guests at the party, the young ladies, specifically, and that would prove simple enough to avoid. He'd been here all day and had yet to see even one young lady in the stables, and the young ladies had been arriving all morning.
It was quite safe actually. The house was full of a lot of simpering debutantes. There was little chance a pampered, chaperoned young woman would come traipsing out to the stables by herself. He grimaced. He'd only ever known one young lady who would do such a thing, and it was highly unlikely that that particular young lady was here. She was engaged to be married, after all. No longer looking for a husband. In fact, she was to be the future Marchioness of Murdock.
Rhys clenched his jaw. He always clenched his jaw when he thought of her. He had to admit, she'd done well for herself. If she couldn't be a duchess, she'd made the next best match, just like the Times had reported. A scowl curled Rhys's lip. It made his stomach tighten to think how close he'd come to offering for the beautiful but scheming Lady Julianna Montgomery.
But as disgusted as he was with Lady Julianna, Rhys was even more disgusted with himself. He'd been the fool who'd fancied himself falling in love with the chit.
Love? Ha. He'd known his entire life that emotion didn't exist. Hadn't his father told him enough? And yet courting Julianna all those months ago had made him feel things he'd never felt.
It was a good thing he'd been called away when he had. He'd bloody well been on the verge of offering for her. In fact, it hadn't been until after the accident, after it had all been too late, that his valet had read that fateful copy of the Times to him. John had got in the habit of reading him the paper every day. He'd recited the story about the gorgeous Lady Julianna Montgomery and how she'd been forced to set her sights on Murdock, having let the last eligible duke slip through her fingers.
Rhys had nearly vomited that day. He'd given John some excuse for needing to be alone, and he'd nearly wretched into his wash bowl. It had taken him several minutes to pull himself together and steel his resolve. Lady Julianna had been an excellent actress, nothing more, and his own damned desire to be noble and do the right thing for once—a desire she'd inspired in him, ironically—had kept him from offering for her before he left that spring.
And after—after—offering for her had been out of the question. Or at least it had been until . . . recently. But she'd done him a courtesy. She'd gone and betrothed herself to someone else. Well, Murdock could have the actress. Rhys would do quite fine remaining a bachelor.
"Yes, milady," Mr. Hereford's voice rang out from the entrance to the stables. "One of the Arabians be right over there. I'm certain our newest groomsman, Mr. Worthy, will be 'appy ta show 'im ta ye."
Rhys smiled as he brushed the horse's side one last time. Mr. Hereford had obviously raised his voice so Rhys would hear that one of the young ladies from the house party had arrived. Time for his first performance. He just hoped whoever her chaperone was didn't recognize him. At any rate, he could pretend as well as Kendall and Bell.
Rhys cleared his throat, straightened his shoulders, and put on his most charming and devilish smile. The one that was certain to make this young lady swoon. He rounded the back of the horse to come out of the stall and greet her.
The moment he saw her, he felt both the charm and the devilishness slide right off his face. She sauntered toward him in an emerald-green riding habit and dark-brown leather boots, with a crop in her hand. Of all the ladies in the world, what in the bloody hell was Lady Julianna Montgomery doing here? She was no debutante!
Excerpt. ©Valerie Bowman. Posted by arrangement with the publisher. All rights reserved.


Giveaway:

An e-copy of Duke Looks Like a Groomsman. US only.
To enter Giveaway: Please complete the Rafflecopter form and post a comment to this Q:

What did you think of the excerpt spotlighted here? Leave a comment with your thoughts on the book…
Meet the Author:
Valerie Bowman's debut novel was published in 2012. Since then, her books have received starred reviews from Publisher's Weekly, Booklist, and Kirkus. She's been an RT Reviewers' Choice nominee for Best First Historical Romance and Best Historical Romance Love and Laughter. Two of her books have been nominated for the Kirkus Prize for fiction.
Valerie grew up in Illinois with six sisters (she's number seven) and a huge supply of historical romance novels. After a cold and snowy stint earning a degree in English Language and Literature with a minor in history at Smith College, she moved to Florida the first chance she got. Valerie now lives in Jacksonville with her family including her mini-schnauzers, Huckleberry and Violet. When she's not writing, she keeps busy reading, traveling, or vacillating between watching crazy reality TV and PBS.
Find her on the web at www.ValerieBowmanBooks.com.

Universal buy link: books2read.com/u/31G1Ya