Today it is my pleasure to Welcome author
Katee Robert
to HJ!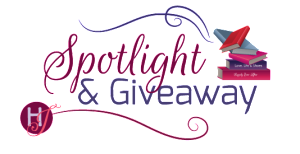 Hi Katee and welcome to HJ! We're so excited to chat with you about your new release, Gifting Me To His Best Friend!

Thank you so much for having me!

Please summarize the book for the readers here: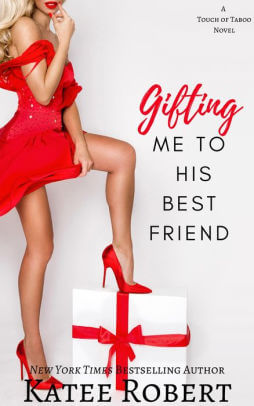 This is a sexy little taboo book about a husband who gifts his wife to his best f riend for Christmas. But things get a little complicated because he and the best friend have had a thing for each other for years…and then they're snowed in.

Please share your favorite line(s) or quote from this book:
"I want to wrap you up like a gift just to watch him rip the ribbons off you."
Please share a few Fun facts about this book…
This is one of my favorite couples I've ever written because they have a rock solid relationship and great communication.
I make mention to a book the heroine, Emma, is reading during the trip. It's a real book by Megan Hart called Tempted.
This book ends up being a true ménage (with my usual sword cross guarantee LOL).
What first attracts your Hero to the Heroine and vice versa?
Emme and Grayson have been married for years at the start of this book, and they're in this really healthy relationship where they both love and respect each other. But they both hold a simmering attraction to Grayson's best friend, Derek. He's a little less refined, a little more willing to dance on people's buttons, and that draws them both to him in different ways.
Did any scene have you blushing, crying or laughing while writing it? And Why?
The whole book! Seriously, it's a scorcher. But this scene in particular had me blushing crimson because it's so freaking shameless.
"Have you been good this year, Derek?"
He looks up at me, mirth lingering in his eyes. "Not even a little bit." Then his hands are on my hips and he's nuzzling my pussy. His tongue flicks out and strokes my clit. "I'm bad, Emma. You know that."
I grab his hair, but I don't pull him away like I should. I just hold him still. "You should stop. It's not time yet."
His grin has my heart flipping in my chest. "Don't you want your present?"
This is my present?
I don't stop to think. Don't ask any more questions. Because that's the secret. I want to be bad, too. "Yes, give it to me."
Readers should read this book….
If they want something short, scorching hot, and with minimal angst. It's the perfect escapism read.
What are you currently working on? What other releases do you have in the works?
I'm currently starting my final book in the Wicked Villains series, Queen Takes Rose. My next release will be The Sea Witch in September, and Queen Takes Rose in November. There may be another Touch of Taboo book in there somewhere, depending on if inspiration strikes!

Thanks for blogging at HJ!
Giveaway:

$15 Amazon gift card
To enter Giveaway: Please complete the Rafflecopter form and Post a comment to this Q:

Are they any taboos that you love reading?
Excerpt from Gifting Me To His Best Friend:
I can't catch my breath, can't figure out what answer I should give. In the end, I can only tell the truth. "Maybe." Maybe I do want Grayson to finger me under a blanket while Derek is in the room with us.
My husband keeps up that slow fucking. "It won't work. If he thinks I've got my fingers inside you while he's right there, he'll take it as an invitation." His voice goes lower yet. "Derek would rip off that blanket just so he could watch."
I can't believe he just said Derek's name while he's inside me. It doesn't matter that he's not saying it like that. It feels like he brought the other man into the bed with us.
I am…not even remotely opposed to the idea, terrible though it is.
"Would you stop?" I whisper.
"No, baby. I wouldn't stop until you come." He shifts my legs wider and uses his hand to urge my hips up a little. The angle allows his cock to sink even deeper into me. "You're so wet. I think you like the idea of him watching."
I press my face to the comforter to avoid answering. It doesn't seem to matter. My body is telling on me, because I do like the idea of Derek watching.
Grayson isn't done, though. "Maybe I'm feeling generous. Maybe I'd let him have a little touch… A little taste."
His words drive me over the edge. I come so hard I shriek, every muscle in my body going tight as pleasure cascades over me in waves, on and on, driven by the way Grayson fucks me, by the image he's created.
He follows me over the edge, holding me close. He rolls us onto our sides, his cock still inside me, and presses another kiss to the back of my neck. "You like that idea."
I can't tell what he's thinking with him behind me. His tone is dry, but it's always dry. Even after seven years of marriage, I sometimes need facial expression cues to know if he's being serious or joking. I try for a laugh, but it comes out forced. "I like you fucking me. You always make me come."
"Mmm." He trails his fingers up my stomach, making me squirm…and then moan when I feel him hardening inside me again.
"Again?"
"Call me inspired." He cups my breasts, but makes no move to start fucking me again. The way he plays with my nipples is almost idle, distracted, and somehow that makes it even hotter.
"Grayson."
"I like it, too," he says abruptly.
I freeze. "What?"
"The fantasy. Having my fingers in your pussy while he watches. Watching his fingers in you, his mouth on you." He hesitates. "Watching you ride his cock. I think I'd like that. I think I'd like it a lot."
I can't stop myself from clenching around my husband's cock in response to his admission, my body once again telling on me. "What are you saying?"
Grayson hooks one hand under my thigh and lifts my leg wide to hook over his hip. He starts moving slowly, fucking me deep and thoroughly. "We play games all the time, act out fantasies. How is this any different?"
"I don't…" I gulp in a breath. "I can't think with you doing that."
"Doing what?" He starts stroking my clit again and nips the sensitive spot where my shoulder meets my neck. "Doing this?"
"Grayson, I'm serious. What are you saying?" Except I don't sound serious. I sound like I'm asking him for permission. I don't even know for what.
"A new game, Emma." He thrusts deep, and I can't stop myself from moaning, loud and wanton. "I want to give you to Derek. One night. I want to watch him eat your pussy, make you come, fuck you." He keeps driving my desire higher with his movements and words. "I want to wrap you up like a gift just to watch him rip the ribbons off you."
Excerpt. © Reprinted by permission. All rights reserved.


Book Info:
This Christmas, my husband is going with an unconventional gift for his best friend.
Me.
It's only supposed to be for one night… But one night becomes two, becomes our entire vacation. There are no rules except the ones we make, and sharing me brings both Derek and Grayson closer than any of us could have imagined.
This year, what happens in our bedroom will put all three of us on Santa's Naughty List.
*Sword-cross guarantee*
Book Links:  Amazon | B&N | iTunes | kobo | Google |


Meet the Author:
Katee Robert is a New York Times and USA Today bestselling author of contemporary romance and romantic suspense. Entertainment Weekly calls her writing "unspeakably hot." Her books have sold over a million copies. She lives in the Pacific Northwest with her husband, children, a cat who thinks he's a dog, and two Great Danes who think they're lap dogs.
Website | Facebook | Twitter | Instagram | GoodReads |