Happily Whatever After by Stewart Lewis: If you are looking for some nifty ideas to reconnect with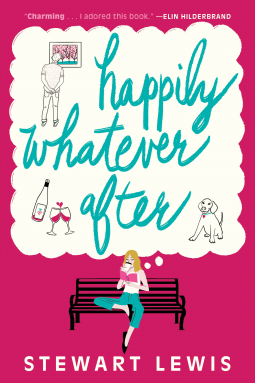 the world after some life down-turns, Happily Whatever After could be the inspiration needed.
With the central premise focusing on a woman trying to figure it out thirties-style, who just kinda likes dogs, we hang out with Paige in the park, pretty impressed by the assortment of folk she meets there. Through brilliant self-deprecation and glib humour, you will find yourself laughing along at some crazy situations wherein it is becomes evident that connection in a time of disconnection may need to come from random, unexpected situations and indeed, it may put you on the path to love and happiness.
Witty, fast-paced and sharp, this novel lands a bullseye on the light and laughter, only missing the puncture points by an inch when life gets a bit hard and dark. At these moments, you get a sense of stepping in and out, like it didn't want to wallow there too long and it is here that it needed a little more D&M over a bottle of wine or three rather than just a neighbourly hello. Some of the bigger moments landed via text message, which seemed counter-intuitive, given so much of the novel was about real relationships, siblings, parents, lovers, friends, associates, and with our pets.
Paige ,and the mixed bag of characters she meets along the way were all cleverly crafted and undeniably unique, but she was flung through the climax and resolution like a person who announced the punchline before they told the joke. Despite this, there was a deep understanding about the brother-sister sibling relationship and some rich insight into how our memories tie our hearts together.
Overall, there is tonnes to love about this book, particularly the side theme that our pets or even borrowed ones, can be our pathway to happiness. So with that in mind, it's highly recommended that you put some joggers on (and treats in your pocket) and get down to the beach or park; you might be amazed at who you find there – perhaps even yourself!
Book Info:

Publication: July 28th 2020 | Lake Union Publishing |
Thirtysomething Page was content with her life in New York City—until it went to the dogs. Unceremoniously dumped by her boyfriend of four years and fired from her art gallery job in the same week, she flees to Washington, DC, and moves in with her big brother. She hopes the new setting and familial comfort will help her finally find her bearings. What Page finds instead is an unlikely refuge: a park for the neighborhood's poshest pooches, and a quirky pack of companionable dog-run regulars who become fast friends.
Both four-legged and two-, these new allies offer Page a world of possibilities. The woman who hit rock bottom now has dreams: of having her own business, getting her own place, and even wilder ones about the ruggedly handsome owner of a vineyard and two equally fetching Bernese mountain dogs.
Unleashed from all that once held her back, Page finds everything might be falling into place. But just when she thinks her life is headed in the right direction, the road takes a sharp turn to show her just how unpredictable second chances can be. Will Page get her happily ever after? Is there even such a thing?