Today, HJ is pleased to share with you

J. S. Scott's

new release: 

Enamored

All it takes is a little friction to turn up the heat in the third Accidental Billionaires novel by New York Times bestselling author J.S. Scott.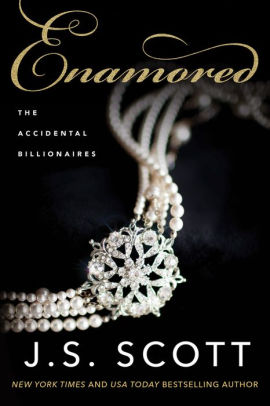 Like his brothers and sisters, Seth Sinclair went from blue-collar to billionaire overnight, and he's decided to invest in what he knows best: construction. There's only one thing in his way—the endangered birds nesting on a piece of prime beachfront real estate. And fighting for the birds is Riley Montgomery, a stubborn, pain-in-the-ass, drop-dead-gorgeous environmental lawyer. The worst part? Seth will do anything to keep her around—even if it means hiring her to be his fake girlfriend.
With a cause to fight for, Riley agrees to Seth's scheme. If she keeps the superficial women away from Seth, then he'll leave the wildlife sanctuary alone. But pretending to be his girlfriend comes with ground rules: No ass grabbing. And absolutely no sex. Ever. The problem? The sexual tension sizzles when they're together.
Seth isn't so keen on Riley's rules, but he'll keep his word, at least until she decides otherwise. But bringing Riley into his circle has brought her past back to haunt her in ways that neither of them expected. Now it's less about broken rules and more about broken hearts, and Seth will do whatever it takes to protect the woman he loves.
Enjoy an exclusive excerpt from Enamored: 
"So what do we do now?" I wanted to know how I could fulfill my contract. Not because I had to, but because I wanted to do it. Seth was making a sacrifice, and I wanted to do something for him in return.

"We just date." He sounded firm in his solution.

"What?" I must have misheard him.

"I said, We date. Dinner, movies, the Coffee Shack, and other things we both want to do. That's the normal stuff, right?"

I was dumbfounded. "We can't just … date. For no reason."

"Why not? We like each other, we're attracted to each other, and I see no reason why we can't do fun stuff instead of work."

I had plenty of arguments on why that wasn't a good idea. "I don't date. I haven't since Nolan and I broke up. I don't need a man in my life. Honestly, I prefer to be alone."

It was quiet for a moment before he spoke. "Considering your history with your engagement, I get that. But I'm not asking you to change who you are, Riley. I also get that you don't need a man. I'm assuming that you're wealthy in your own right."

"I am. My brothers bought me out of Montgomery Mining because they knew it wasn't what I wanted. But even if I wasn't rich, I'd feel the same way. I have an education. I can support myself." I didn't mean to be defensive, but I was sick of feeling like I was nothing if I wasn't attached to an eligible male.

No matter how strangely attractive Seth's offer to just date might seem.

"I'm not exactly a playboy, Riley," he said ruefully. "Truthfully, I've never really dated much at all. When I was younger, I didn't have time, and very few women wanted to date a construction worker with dependent siblings. Now, it's hard to escape from the women who wouldn't have dated me before I became a billionaire."

My heart squeezed. Obviously, there were a lot of stupid women in and around Citrus Beach. "Any guy who is as devoted to family and those responsibilities would be a great guy to date, no matter what his occupation."

"Glad you feel that way. So do we have a deal?"

"I didn't mean me. Any other woman."

"What in the hell are you afraid of, Riley?" His voice was low and persuasive.

In spite of my external strong shell I'd created, I was terrified of a lot of things, and Seth Sinclair was probably the most dangerous of them all. "I'm not afraid," I lied. "I just don't really see the point. I'm not going to sleep with you, Seth."

"I must have missed the part where I asked you to," he answered, sounding frustrated. "I'm just asking you to go out with me, have some fun. We can get to the sex part later."

Have some fun?

I really had no idea how to indulge in happy diversions. Growing up, it took all I had to stay relatively sane. "I'm not sure I know how to do that."

"Have sex? No worries. I'll teach you."

He spoke in such a nonthreatening way that I released a short laugh. "I don't know how to have fun. Not really. I never did kid things when I was younger. And life at Harvard was all-consuming. I studied because I wanted to be independent. Then, I stupidly got myself engaged to a man my mother wanted me to marry, because there was a part of me that still wanted to make her see me as a daughter she could be proud of. Nolan wasn't exactly a barrel of fun."

"Jesus. Maybe our family was poor, but we had all the cheap fun we could have for our younger siblings," Seth explained. "My brothers and I loved just about every water fight, bike ride, and beach day we got with our family. We made our own fun."

I briefly thought about how idyllic it might have been for Owen, Brooke, and Jade to be raised by their elder brothers. If nothing else, they had definitely known that they were safe and loved.

"Why can't we just separate and call it good now?" I felt my spirit balk, but it would be the reasonable solution. "It's not like there's a future for us. It would be wasted time."

"Not a single minute of being with you would ever be insignificant, Riley," he argued.

I was glad it was dark. I felt my eyes get watery, and I blinked back the tears.

I'd never had a guy who just wanted to … be with me. Without conditions. Without rules of conduct. Without … criticism.

"Why me?" I'd wanted to ask him that question for some time. Deep inside, I knew that Seth wasn't out to date every female he met. Or get them into bed. He wasn't a flirt. There wasn't a single moment in the evening where he had even eyed another female, which was so much different from being with Nolan. My ex-fiancé had never seemed like he cared much about being with me. I'd been more of an object than a partner.

"Why you?" he repeated. "Maybe I just like women who argue with me," he said with a chuckle.

It was an interesting answer, because I'd never argued with Nolan. At all. Ever. I'd accepted whatever he'd thrown at me.

However, I was a different woman than I'd been back then. "I'm likely to do that a lot," I warned him, feeling myself caving in.

Would it really hurt to spend some time with Seth? That was what I'd agreed to in the first place. And it could be done in a far less stressful atmosphere.

Maybe the truth was I honestly wanted to spend time with him, too, even though I knew I was probably flirting with the danger of becoming attached to him.

He was protective.

He was funny.

He loved, and was loved, without apology.

God knew the man was attractive, which could become an issue.

Am I really ready to be myself with a man?

I wasn't sure, but I felt ready to poke my head out of the shell I'd built around me.
Excerpt. ©J. S. Scott. Posted by arrangement with the publisher. All rights reserved.
Giveaway:

eBook copy of ENAMORED (The Accidental Billionaires #3) by J. S. Scott
To enter Giveaway: Please complete the Rafflecopter form and post a comment to this Q:

What did you think of the excerpt spotlighted here? Leave a comment with your thoughts on the book…
Meet the Author:
J.S. "Jan" Scott is the New York Times and USA Today bestselling author of numerous contemporary and paranormal romances, including the Sinclairs and the Accidental Billionaires series. She's an avid reader of all types of books and literature, but romance has always been her genre of choice—so she writes what she loves to read: stories that are almost always steamy, generally feature an alpha male, and have a happily ever after, because she just can't seem to write them any other way! Jan loves to connect with readers. Visit her website at www.authorjsscott.com.
Social Media Links
Website: http://authorjsscott.com/
Facebook: https://www.facebook.com/authorjsscott
Twitter: https://twitter.com/AuthorJSScott
Goodreads: https://www.goodreads.com/author/show/2777016.J_S_Scott