In Catching her Heart by Jody Holford, Addison Carlisle is normally a very sensible person. Yet,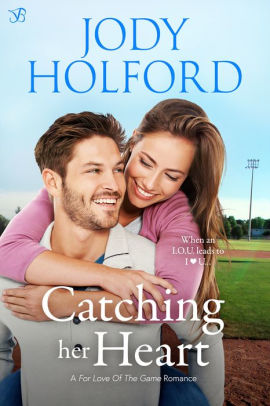 believing there's only one way to get what she wants she decides to kidnap Nashville Slammers catcher Sawyer McBain. However, even though things go according to plan, she soon finds herself indebted to the gorgeous catcher and there's no way Sawyer won't cash in on the favor she owes him. Will Addison take a chance on Sawyer or will he be another man that ends up disappointing her?
Sawyer sat up, swiveled his head around, his tight jaw dropping open. "Are you crazy? You're going to get us in an accident."
"Sorry. I seem to be saying that a lot. I'm going to level with you, Sawyer, because I don't have time to do this any other way."
His eyes widened and he pushed himself back against the door. "Tell me you're not a crazed fan who wants one of my hairs to do a love spell or something."
Addie nearly choked on her laughter, but she wasn't entirely sure he was joking. "That hasn't really happened, has it?"
Ms. Holford always provides plenty of entertainment with her books and I believe Catching her Heart is one of her best ones yet. Really, it's an interesting and captivating tale encompassing two wonderful main characters that aren't looking for love but end up realising that happy ever after is worth fighting for; dialogue that had me smiling or laughing at various stages throughout because there's nothing like kidnapping a person for a good cause and then finding oneself trading favors because of it; and the obstacles these two face to be together had me reading quickly, determined to discover whether they'd be able to overcome them all because trust doesn't come easy for Sawyer and the heroine has her own reasons for not wanting a relationship.
With the main characters, I was totally charmed by Sawyer. He has every right to be suspicious of people's intentions because of everything he's been through in his past and I liked the decisions he made throughout this story to change the situation with his family and to find a way to push past his trust issues in order to give a future between him and Addison a chance. While the heroine, I liked that she decided to be a little daring by kidnapping Sawyer because she deserves a good guy and Sawyer is definitely that. I also enjoyed the favors they traded because Addison needs a little excitement in her life instead of always being the sensible one. And certainly, Sawyer's grandmother and her circle of friends are a little hilarious.
"We've been out several times, actually."
He tilted his head, his face moving closer. "That is true. There was the night you kidnapped me."
"The night you made me hold your balls," she added.
Sawyer snorted out a laugh. "The racy poker game."
She moved closer, looping her arms around his neck. "Your agent's party."
His eyes widened. "We've been dating without my even knowing it."
Addie laughed. "Some things slip into your life seamlessly, making it feel like they were always meant to be."
Overall, Ms. Holford has delivered a fabulous read in this book where the romance is sweet; the chemistry between this couple is off-the-charts right from the moment they meet; and the ending was totally satisfying because these two are meant to be and I'm so glad that they realised that. I would recommend Catching her Heart by Jody Holford, if you enjoy sweet romances, sports romances or books by authors Jennifer Shirk, Kyra Jacobs, Victoria James and Sonya Weiss.
Book Info:

Publication: September 9th, 2019 | Entangled Publishing | For the Love of the Game #2
When a beautiful brunette driver meets Nashville Slammers catcher, Sawyer McBain, at the airport, he figures it's his lucky day. Sure, he's usually pretty guarded around people, especially after what happened with his ex, but he can definitely enjoy the car ride. Until she passes his apartment…and keeps driving. All of a sudden the woman seems a lot less like romance material and a lot more like a kidnapper. What gives?
Slammers executive Addison Carlisle needs one little favor. Sure, she may have kinda maybe kidnapped one of her professional baseball players, but it's for a really good cause. She desperately needs someone high-profile to auction off that night for the multiple sclerosis society she's chairing, but he insists he wants a favor in return.
Soon Addie and Sawyer are trading completely ridiculous I.O.U.s, like being his plus-one to his grandmother's poker game or keeping each other company at the driving range. But when their agreement goes from flirty to fiery, neither is ready to let their guard down for a shot at love.