Today, HJ is pleased to share with you

Lexi Ryan's

new release: 

Every Little Piece of Me

It's not every day you get invited to your wife's wedding to another man…as a guest.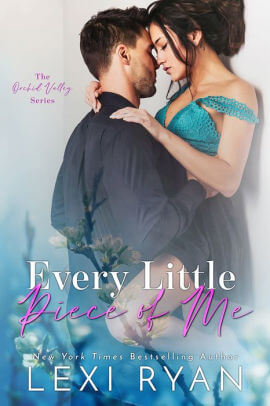 The first time I saw Brinley Knox, she was crying, draped in a ridiculous pink tulle dress for her sweet sixteen party, and cursing the boy who'd broken her heart.

I was the hired help, a teenage charity case.

She was the daughter of the wealthiest family in Orchid Valley.

I knew a girl like Brinley was off-limits for a guy like me. That didn't stop me from kissing her. Or from promising that if she were ever mine, I'd never let her go.

The last time I saw Brinley, she was sleeping, tangled in the sheets of my Vegas penthouse, my diamond glittering on her left ring finger.

I returned three hours later to an empty bed, the ring on the dresser, and a note that said, "Can't keep the ring. I'd never hold you to that."

In the two years since, we've never talked about our impulsive Vegas nuptials—never talked at all after that night—but I'm not the kind of guy who'd file for a divorce he doesn't want.

Until I got this damn invitation, it never occurred to me that Brinley didn't think our wedding was real. Or didn't remember it at all.

I guess it's time to return to Orchid Valley and remind the bride-to-be that I'm a man who keeps his promises.
Enjoy an exclusive excerpt from Every Little Piece of Me 
"Does he make you happy? Will a life with him be a dream come true?"
She squeezes her temples. "In some ways, yes."
I didn't realize I was standing on a cliff until she shoved me over the edge with those words. It's going to take more than that to get me to give up. "But in other ways . . .?"
She finally turns around and leans against the window. "What do you want from me, Marston?" Her eyes are so sad. I see more than exhaustion there. I see loneliness—and why the hell is she marrying this guy if he leaves her feeling like that?
"Why did you leave that morning? In Vegas?"
"I told you. I didn't know we'd gotten married. I saw the ring and thought we were engaged."
I flinch and shake my head. "What made you decide to disregard that decision? What made you walk out the door without saying goodbye?"
She opens her mouth, but before she can manage a response, her eyes well with tears and a sob bursts from her lips.
"Fuck. I'm sorry." Pulling her into my arms is instinctive. It's not a choice but a need, like taking my next breath. The sight of her tears wrecks me, but feeling like I'm the cause breaks my heart.
Her sobs are quiet. Her whole body shakes against mine, and my shirt goes damp with tears. I hold her through them like I always did. I hold her until the shaking subsides and her breathing evens out. I hold her until she pulls away, and when she does, I feel the loss in my chest.
"What do we do now? Do we need lawyers, or can we just find a judge and explain this was all a mistake?"
I wonder if she knows how much that word hurts. Mistake. I cup her jaw in one hand and tilt her face up to mine. How can she be even more beautiful to me? We've only been apart six months this time, but her blue eyes are more vivid than I remember, her lips fuller. "There was no mistake. You might not remember our wedding, but you wanted to do it. We're meant to be together, Brinley, and I'm here to remind you of that."
Typically, I pride myself on thinking through every action and reaction, but there's none of that with Brinley. Only instinct and impulse and need. I don't think as I lower my mouth to hers again. I don't question my next move or how a kiss right now will work for or against me.
My lips touch hers, and the only reason I don't kiss her longer and deeper, the only reason I end it before pouring all of my heartache into the kiss, is because she's shaking.
She brings her fingers to her lips. "You can't just kiss me, Marston. I'm marrying someone else."
I lift her left hand, studying the ring again. I want to pull Julian's off and replace it with mine. But I won't. That's a decision she needs to make. And I won't slide mine on next to his, because that's not the way this works. Every decision needs to be hers—taking off his ring, putting on mine. So I pull the ring we picked out together from my pocket and tuck it into the palm of her hand, closing her fingers around it. "The night we met, I told you that if you were ever mine, I wouldn't let you go without a fight. I meant it. Nothing's changed."
"You didn't even know me when you made that promise."
I tuck an errant lock of hair behind her ear. "Sometimes I think I knew you better after five minutes than anyone at that party did. You were . . ." I shake my head, looking for the word.
"A spoiled little rich girl."
I bring her fist—the one holding my ring—up to my chest. "My heart."
She squeezes her eyes shut and draws in a ragged breath. "This is such a mess." She laughs, but fresh tears well in her eyes, and I know if I don't give her some space, she might break.
"You need some time to process."
She nods. "I . . . As much as I might want to, I know we can't just push this under the rug. We have to deal with it, but I . . ."
"I should've called you sooner." I brush her tears away with my thumbs. If I'd come after her, she wouldn't have had a chance to get engaged to Julian. To fall in love. "I should've come after you the moment I read that note." I push my luck and brush a kiss across her forehead before dropping my hands and backing away.
I'm one step into the hallway before she speaks again.
"Why didn't you?"
When I turn, I see she's followed me to the door. She's leaning on the jamb, arms crossed, and she looks so damn beautiful that I can't speak for a moment. "You left me that letter and walked away. I thought if I contacted you, then you'd get the ball rolling on ending it. I wasn't willing to lose you completely. Even if all I had left was a piece of paper."
Excerpt. ©Lexi Ryan. Posted by arrangement with the publisher. All rights reserved.


Giveaway:

One Signed Paperback EVERY LITTLE PIECE OF ME by Lexi Ryan
To enter Giveaway: Please complete the Rafflecopter form and post a comment to this Q:

What did you think of the excerpt spotlighted here? Leave a comment with your thoughts on the book…
Meet the Author:
Meet Lexi:
Lexi Ryan is the New York Times and USA Today bestselling author of emotional
romance that sizzles and the 2018 winner of the Romance Writers of America ® RITA ®
award for Best Long Contemporary Romance. She considers herself the luckiest girl
around to make a living through storytelling. She loves spending time with her kids,
weightlifting, ice cream, swoony heroes, and vodka martinis.
Lexi lives in Indiana with her husband, two children, and a spoiled dog. You can find her
at her website: www.lexiryan.com

Connect with Lexi (Social Media Links):
Website: http://www.lexiryan.com/
Facebook: http://bit.ly/LexiRyanFB
Newsletter: lexiryan.com/signup
Bookbub: http://bit.ly/LexiRyanBB
Instagram: http://bit.ly/LexiRyanIG
Twitter: http://bit.ly/LexiRyanTW
Goodreads: http://bit.ly/LexiRyanGR
Amazon: http://amzn.to/2bIYjGa

BUY LINKS
Pre-order your copy today!
Amazon: https://amzn.to/37TzS0I
Amazon Worldwide: http://mybook.to/EveryLittlePieceofMeLR
Apple Books: https://apple.co/2v4vKOd
Nook: http://bit.ly/391ewjc