Today it is my pleasure to Welcome author
Kathy Lyons
to HJ!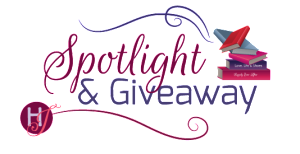 Hi Kathy and welcome to HJ! We're so excited to chat with you about your new release, Taming Her Mate!

Hello everyone! I'm so excited to be here! (And now I swear I'll stop talking in !!exclaimation!! points!!!!)

Please summarize the book for the readers here: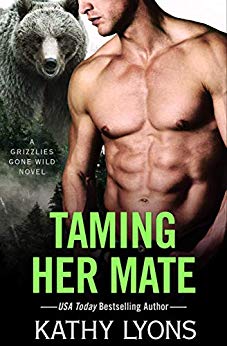 Taming Her Mate is a shifter book about female empowerment. Raise your hands if you just rolled your eyes. Okay, so the book didn't start out about that. It's about finally catching the villain responsible for the Detroit Flu that is killing people and shifters all over the city. We found the cure in Bound to the Bear, but now sexy bear cop Ryan Kennedy is determined to bring down the werewolves responsible. Frankie Wolf knows that her brother is responsible, but she has to get proof. She forces Ryan to team up with her to bring down her brother, but things get complicated, not just romantically, but within the werewolf power structure.
In the end, she has to take control of her pack (that's the empowerment part) and Ryan (a bear) chooses to support her. Not just support her, but help her shine in all the amazing ways that love can help a woman reach her potential. They not only fall in love, but they create a partnership that changes the fundamental structure of shifter society.
Boy was that ambitious of me, but the book didn't start out that way. It was just about a man choose love over ambition, deciding to support the woman he loved, and in quite a powerful way. When I finished the book, I felt exhilarated and powerful, and I've never felt that strongly about a book before.

Please share your favorite line(s) or quote from this book:
As she allowed him to touch every part of her—including her vulnerable belly—he settled deeper into her soul. One pair, one pack. They claimed each other, and when orgasm hit, they did it together.
Joy pulsed from her to him and back.
Together.
And maybe it went just a bit further.
Her eyes shot open in shock. Maybe it went a lot further.
Please share a few Fun facts about this book…
When my editor asked me to write bear shifters, I said, "Polar bears!" and she countered, "No, too cuddly." After some thought, I realized that yes, the Coca-Cola polar bears are pretty adorable. So we decided on Grizzly Bears. I don't regret it. It was hard enough having grizzly bears wander around Detroit. A polar bear would be too much.
I swore to my agent that I was a cat person. I'd never write werewolves because everyone else was and I liked cats. Period. Full stop. Until this book… (plus, my daughter got a puppy and maybe I might like dogs some too. Or a lot.) New motto: Never say Never.
What first attracts your Hero to the Heroine and vice versa?
As much as Ryan hates werewolves, he admires what Frankie has done to redeem her neighborhood. While all the other wolves are about domination, she is about community and revitalization. That doesn't stop him from trying to arrest her, but she makes a compelling argument for working together starting with not killing him when he gets shot, making him listen to her point of view (not easy with block-headed bears), and being reasonable enough to bargain with him.
And right there is what Frankie sees in Ryan. He listens to her. And though he doesn't exactly believe her, he can be reasoned with and–even better–he's not all macho, do it my way. Especially since she is right, and he is wrong. At least in the beginning…
Did any scene have you blushing, crying or laughing while writing it? And Why?
Werewolf Alphas (in my world) can broadcast a message to the pack, but the trait is rare and Frankie doesn't have it. But apparently, she's stronger with Ryan. And when they form their own kind of pack, a moment of intense passion gets broadcast to the full wolf pack. A moment of INTENSE PASSION. Yes, they flood the werewolf psychic link with their orgasms and the teasing that happens afterwards had me laughing out loud.
The moment it happens is listed above. (I'll copy it here too). But you have to read the next chapter to get the full impact of the teasing that comes afterwards. (No pun intended!)
And as she allowed him to touch every part of her—including her vulnerable belly—he settled deeper into her soul. One pair, one pack. They claimed each other, and when orgasm hit, they did it together.
Joy pulsed from her to him and back.
Together.
And maybe it went just a bit further.
Her eyes shot open in shock. Maybe it went a lot further.
Readers should read this book….
Because at the end, you'll feel like your love is powerful enough to fix the world. And you know what? It is.
What are you currently working on? What other releases do you have in the works?
I've just finished my next book. A whole new werewolf series that is FUNNY. It'll come out early next year and the title says it all: Were-Geeks Save Wisconsin by Kathy Lyons.

Thanks for blogging at HJ!
Giveaway:

A lucky winner will get an e-copy of the first two books in this trilogy. Alpha Unleashed and Bound to the Bear.
To enter Giveaway: Please complete the Rafflecopter form and Post a comment to this Q:

If you could be a shifter, what species would you be?
Excerpt from Taming Her Mate:
He'd taken two steps when he heard a voice.
"Where you going, Detective Kennedy?" The wolf woman's voice.
He straightened and turned to see his captor. She stood with her hands on her hips in the studio doorway. She'd been the one training. He could tell by the sheen of sweat on her skin, much of which was as revealed by her outfit of a tight sports bra and sleek leggings. Her short-cropped hair curled about her temples and her eyes were alight with humor.
She also looked like one of the porn pictures he'd particularly enjoyed as a teen. Athletic body, full breasts, beautiful skin, and dripping with sexual hunger. Well, this woman wasn't exactly dripping anything but amusement, but her body was built along the same sexy lines, and his mind couldn't help but supply the details of what was currently covered in Lycra.
Her eyebrows went up in surprise as her nostrils flared. And then a fit woman in her 60s stepped into the light and blew out a low, appreciative whistle.
"And here I thought I'd seen everything," she said. "Never expected to see a naked cop with an erection in my front hallway, but there you go. I can die happy now."
Ryan had been focused on his injuries, on the echoes of pain that were almost as real as the dull ache throughout his torso. He wanted to be able to fight if he needed to. It didn't bother him that he was naked. Shifters tended to forget that stuff, but the way the two women were looking at him made him feel like teenage boy who'd walked into the wrong locker room.
He jerked his hands down to cover himself, but the abrupt movement set off a wave of dizziness that made him stumble. He felt his shoulder hit the wall and he grunted in pain.
"Whoa there, Five-O," the older woman said as she grabbed his arm. "No need to be embarrassed. That's a mighty fine penis you got there."
"Hazel!" the wolf woman snapped. She'd made it to his other side with lightning speed. Or had he blacked out there for a moment? It was hard to tell. "You're dead on your feet, Detective. You need to sit back down."
"You're wanted for questioning," he said, imbuing his voice with all the strength he had. "Call the precinct. Tell them I'm here and call it a…" What was the code for emergency? Or officer in trouble? Why couldn't he remember? He'd memorized all of them by the age of eight. "Tell them—"
"Let's get him upstairs," the wolf woman said over him. Then the two women started maneuvering him toward the base of the stairs.
He tried to resist, but he hadn't the strength. Damn, his head was spinning. "No!" he said, pleased that his voice had some power to it. "I need to make a call."
"You can do that upstairs," the wolf woman said.
"God, he's heavy," the older woman said with a grunt.
Yeah, he was. Close to 240 lbs, most of it muscle and bone. And right now, he wasn't supporting himself. His knees kept folding like wet origami. Which meant the bulk of his weight was on the wolf woman who was handling him as if he were a 90lb ninety-pound weakling. That didn't make sense. As a human, she shouldn't be able to manage him so easily.
Then the older woman stumbled. Tripped over something in the hall, and her support was gone. He tried to help. If his legs didn't work, then he sure as hell could use his hands.
No go. There was nothing to grip and nowhere to go but down. Except he didn't. All of his weight was on the wolf woman and she kept moving him steadily toward the stairs.
That was scary strong.
"Set me down," he huffed. "I'm going. T…to crush you."
"Climb the stairs," she ordered.
She wasn't going to give up, and he didn't have the brainpower to figure it out. "Call. Cops." Or maybe…"The Griz."
She shot him a hard look. "Climb!" There was command in her voice, an authority that would not be disobeyed, and he felt a surge of strength in his body as he rallied. But he wasn't going up the stairs. He needed out of here. Back to safety.
His head swam. "No. Call the Griz."
"It's not like I have their number on speed dial."
She paused and leaned him against the wall. She wasn't even breathless, and that should tell him something. Something important, but he couldn't hold on to it. He was too busy holding on to the wall.
"I would love to call the Griz and have them pick you up, but they can't come here and you're in no shape to go to them."
"Put me in a cab."
She nodded. "That would work, but we have a much bigger problem…
Excerpt. © Reprinted by permission. All rights reserved.


Book Info:
Some men aren't meant to be tamed in the next book in USA Today bestselling author Kathy Lyons's Grizzlies Gone Wild series!
Detective Ryan Kennedy doesn't have time for distractions. As the only bear shifter on the police force, he's responsible for investigating the cause of the mysterious flu-like illness that's ravaging the citizens of Detroit. But when the beautiful daughter of a rival clan's alpha asks for his help, Ryan realizes that she may hold the key to stopping the virus. If only he can focus on the case and not on how much he wants to kiss the enemy.
Francesca Wolf knows who's poisoning the city, and she has a plan to take him down, but it will only work if Ryan follows her lead. Frankie's strong, passionate spirit makes her slow to ask for help, but time is running out and the sexy-as-sin cop won't submit to her demands. Instead, he's giving her orders and firing up her passions just when she needs to stay calm. They'll have to work together-as equals-to save the city, to keep each other alive, and to contain a hunger that might just burn the whole city to the ground.
Book Links: Book Links: Amazon | B&N | iTunes | kobo | Google |


Meet the Author: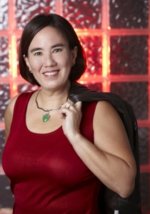 Kathy Lyons is the wild, adventurous half of USA TODAY bestselling author Jade Lee. A lover of all things fantastical, Kathy spent much of her childhood in Narnia, Middle Earth, Amber, and Earthsea, just to name a few. There is nothing she adores more than turning an ordinary day into something magical, which is what happens all the time in her books. Winner of several industry awards including the Prism—Best of the Best, Romantic Times Reviewer's Choice, andFresh Fiction's Steamiest Read, Kathy has published over 60 romance novels, and she's just getting started.
Website | Facebook | Twitter | Instagram | GoodReads |