Today, HJ is pleased to share with you

Corinne Michaels's

new release: 

Fight for Me

From New York Times Bestselling author Corinne Michaels comes a new emotional and riveting standalone second chance love story.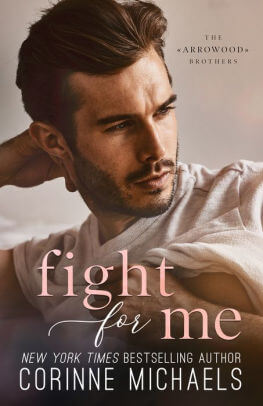 I fell in love with Sydney Hastings when I was ten years old.
At sixteen, we whispered promises of forever.
When I was twenty-two I broke them all. I left her and promised never to return.

After my father's death, I'm forced to go home to Sugarloaf for six months. She'll be everywhere, no longer just in my memories and regrets.

When we're together, it's as though time never stopped. She's still the one I want, but I don't deserve her. Instead of apologizing, I take that beautiful, broken woman in my arms. But after that, it's her turn to leave me.

Now I have to fight. For her. For us. For the life we both want …
Enjoy an exclusive excerpt from Fight for Me 
I sit on the cool grass as the sun starts to come up over the tree line. Time passes as I watch the sky become painted in warm pinks and reds as the blues and blacks fade away and I let the new day wash over me. I can do this.
I'm smart, and I've gone places in my life too. For a small-town lawyer, I'm accomplished, and I help people. This farm helps people, and I do it all on my own.
"I am a treasure. I'm a good woman who loves you still. If you don't see that, then screw you, Declan Arrowood!"
"Well, I'm sure we could arrange that," he says from behind me.
No, no, no this isn't happening.
I get to my feet, needing the height even though he towers over me. He has always been so tall and strong. It was what I loved. I was precious to him, and he always did what he could to make sure I knew it.
"It wasn't an offer."
He grins. "I know. I'm just trying to make light of it. Can we talk?"
All the bravado I had about being honest is gone. "I can't. I have to get to work."
"Just a few minutes, Syd. I know I don't deserve it, but I'd like to talk. We have a lot of time coming up that we'll have to be around each other, and I'd like us to be civil."
Like that's ever going to happen.
"I don't know that we'll manage that."
"Maybe not, but we can at least try."
I release a heavy sigh. "Maybe."
"I really did miss you," he says, and a part of my cold heart thaws. "I know you're worth everything, and …"
"And you let me go."
His eyes close and then he clenches his fist. "It wasn't what you thought."
"It was exactly what I thought. You were done with me, and you threw me away! Just like my father did! You were exactly like him, Declan!"
"No! It was nothing like your father!" I see the devastation in his eyes and turn away.
It is the same thing. When he was through with me, he tossed me aside. "You say that, but you did exactly what you promised not to. You left without ever coming back."
"I needed to!"
"Why? Why did you need to?"
I find myself inching closer to him as my anger grows.
"It doesn't matter now."
God, that's where he's wrong. "It matters to me. Do you understand I've spent years trying to understand it? There are no answers. No clues as to why. Just one day, you show up and decide we're over."
He shakes his head, seeming to grapple with whatever is on his mind. "I did what I had to."
"What you had to? What the hell does that mean?" I yell and shove at his chest, but he steps with me, as though we're two magnets being pulled.
Declan's hand grips my wrist, thumb stroking tenderly over my rapid pulse. His voice is soft, but there's a strain in the syllables as his eyes bore into mine. "I couldn't hurt you again. I couldn't … I had to stay away. But now … now, I can't."
"Now you have to," I remind him.
"Tell me you don't feel this, Bean."
I close my eyes, knowing that I can't see him when I lie. "I feel nothing."
"Do you know what I feel?"
I still won't look at him, but I'm not resisting as much as I should considering I still haven't pulled my arm back.
He speaks quietly in the cool air as we stand at our pond, the place where everything began for us. "I feel like my heart is going to burst from beating so hard. I feel as though every nerve that has been dormant for years is awake. I feel the warmth of your breath, the way your pulse is quickening now, and God, Sydney, I know I should stay away from you, but …"
My eyes open, and those piercing green eyes stare back at me. I know what's coming. He's giving me an out, but I'm unable to take it. His arms wrap around me, and then Declan kisses me.
His kiss feels like home. It's as though every old memory is passing between our breaths, full of hope and forgiveness.
Every piece of anger and frustration I had is gone. I can't remember why I hate him. I can't think of anything but how for eight, long years I've wanted this.
Declan's hands cradle my face, tilting my head to get the right angle. Each brush of his tongue against mine wipes away another piece of the hurt. I'm a fool, I know this. Even in the back of my mind, I hear the little voice telling me to stop him, but I silence it.
I've needed to touch him and have him. He's the only man I've ever made love to.
It's been so long—far too long, and God, right now, I want him more than self-preservation.
He moves his hands down to my neck and then my shoulders, pulling me closer to his chest. My fingers grip his shirt, refusing to relax even an inch. I won't let him go this time. I can't.
I wasn't lying when I told Ellie that I've dreamed and hoped he and I would find a way to have each other again. And if this is all I'll ever get, I won't waste it. I kiss him back, pouring every emotion I've felt since the day he left into the kiss.
"Declan," I say as I slide my hands around to his back. He is solid and sure. I need this.
"Please."
Excerpt. ©Corinne Michaels. Posted by arrangement with the publisher. All rights reserved.

Giveaway:

One Signed Paperback Fight for Me by Corinne Michaels
To enter Giveaway: Please complete the Rafflecopter form and post a comment to this Q:

What did you think of the excerpt spotlighted here? Leave a comment with your thoughts on the book…
Meet the Author:
Meet Corinne:
Corinne Michaels is a New York Times, USA Today, and Wall Street Journal bestselling
author of romance novels. Her stories are chock full of emotion, humor, and unrelenting
love, and she enjoys putting her characters through intense heartbreak before finding a way
to heal them through their struggles.
Corinne is a former Navy wife and happily married to the man of her dreams. She began
her writing career after spending months away from her husband while he was deployed–
reading and writing were her escapes from the loneliness. Corinne now lives in Virginia with
her husband and is the emotional, witty, sarcastic, and fun-loving mom of two beautiful
children.
Connect with Corinne:
Facebook: https://bit.ly/1iwLh6y
Twitter: https://bit.ly/2Jcp29z
Instagram: https://bit.ly/2L1Vzo6
Goodreads: https://bit.ly/2N1H2Gb
Amazon: http://amzn.to/1NVZmhv
Pinterest: https://bit.ly/2m7MkEL
Bookbub: https://bit.ly/2yc6rss
Website: http://corinnemichaels.com
Stay up to date with Corinne and sign up for her mailing list: http://bit.ly/2wTY2rg
To sign up for monthly text alerts: Text CMBOOKS TO 77948
*US only due to carrier restrictions*
Pre-order today!
Amazon: https://amzn.to/2SHBKoW
Amazon Worldwide: mybook.to/FightForMeCM
Apple Books: https://apple.co/32b8YA0
Nook: http://bit.ly/3284ZEw
Kobo: http://bit.ly/2HC0Pvl
Google Play: http://bit.ly/3bR4YcI
Add to Goodreads: http://bit.ly/2uYc6Dn