Today, HJ is pleased to share with you

Emma Hart's

new release: 

Hot Mess

What do you do when the whole world has seen you getting down and dirty in a broom closet?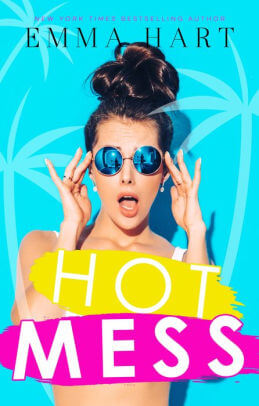 I, Elle Evans, am on the run.

Not from the fuzz—although that would be more exciting.

No, I'm on the run from the four-year-old private tape that, thanks to my vengeful ex, has probably already ruined my vlogging career.

There's nothing like the entire world knowing what you look like mid-O.

Creek Keys, Florida, is a million miles away from NYC and the perfect place for me to hide for the rest of summer until I can figure out what I'm going to do.

Something that's easier said than done since my new landlord's daughter thinks you're God's greatest gift. Even better? Their beach house is right next to the one I'm renting, so there's no getting away from her—or her hot, British dad.

Who most definitely does not think I'm role model material.
He might be right.
The problem is that neither of us can say no to her.
Or each other.
Enjoy an exclusive excerpt from Hot Mess 
"Agnes, it's lovely to see you."
She shuffled over, using the trolley as a walking aid, and flipped her head so her bright purple hair didn't get in her eyes. The woman was seventy if she was a day, but she acted as if she were a third of her age.
"Gosh darn tourists everywhere," she muttered, drawing level with my truck. She was wearing a fancy purple t-shirt that matched her hair and had the words 'Aliens R Real' scrawled on the front, complete with a cartoon alien with black eyes and gray skin.
Yep. She was a real treat.
I raised my eyebrows. "You live in a tourist spot and have for ten years. Are you still surprised?"
"I will tell your aunt and bend you over her knee."
"Aunt Elsie doesn't have the strength to hit a fly, never mind me," I replied, referring to my seventy-five-year-old great aunt on my dad's side who was a current resident of Creek Keys. "I assume she sent you to find me?"
Agnes nodded with such vigor I was afraid she'd crack her neck. "Yes. Maude wants to use the beach and—"
"No." I shook my head. "Absolutely not. The last time I let you lot use the stretch I own, you drank too much wine and tried to strip naked."
"We were controlling the tourists."
"You were terrifying the tourists."
"Controlling. Terrifying. The government believes they're one and the same."
"I'm not getting into your conspiracy theories on a Saturday morning," I told her. "Besides, I have things to do today. Tell Aunt Elsie to stop by and we'll talk."
"You could tell me yes."
"I'd rather bleach my own eyeballs." I loaded the last bag into my truck and shut the door. "No offense."
"Offense taken," Agnes said with a sniff. "You don't like us because we're different."
"I love you all," I replied, pushing my cart into the drop-off shelter next to where I was parked. "I just don't trust you won't open a portal or summon aliens or the devil on my property unless you're appropriately supervised."
Excerpt. ©Emma Hart. Posted by arrangement with the publisher. All rights reserved.


Giveaway:

A Signed Paperback copy of HOT MESS by Emma Hart
To enter Giveaway: Please complete the Rafflecopter form and post a comment to this Q:

What did you think of the excerpt spotlighted here? Leave a comment with your thoughts on the book…
Meet the Author:
Emma Hart is the New York Times and USA Today bestselling author of over thirty novels and has been translated into several different languages.
She is a mother, wife, lover of wine, Pink Goddess, and valiant rescuer of wild baby hedgehogs.Emma prides herself on her realistic, snarky smut, with comebacks that would make a PMS-ing teenage girl proud.
Yes, really. She's that sarcastic.
Keep up to date on her releases by following her on Amazon or signing up at http://emmahart.net/newsletter
Buy Links
Starting May 19th, Hot Mess will be in Kindle Unlimited!
Amazon US → https://amzn.to/2NK2tyd
Amazon UK → https://amzn.to/368OJ6I
Apple Books → https://emmahart.pub/hotmessapple
Nook → https://emmahart.pub/hotmessnook
Kobo → https://emmahart.pub/hotmesskobo