Today, HJ is pleased to share with you

S.A. Clayton's

new release: 

FORBIDDEN C.E.O

It was only supposed to be one night.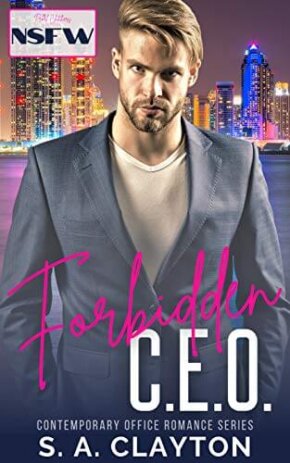 I never expected to fall into bed with him and I never expected to crave his touch, his lips, or his voice.
He was everything I swore I never wanted; Filthy-rich, cocky, sexy as hell, and way too demanding. But after one night I knew if I didn't leave I'd want more.
So much more.
So I left.
Leaving a note on his kitchen counter knowing that I would never see him again.
That is until I walked into my new job and met Luke Masters, my new boss, and CEO of Masters Publishing.
His eyes tell me he knows exactly who I am, and he wants to be more than just my boss.
***
Sixteen of your favorite steamy short romance authors bring you a brand-new series of contemporary office romances that are #Not Safe For Work.
Enjoy an exclusive excerpt from FORBIDDEN C.E.O 
Chapter One
"Willow, I am not buying the blood spatter shower curtain," I mutter, walking through Target, my cart filled with pillows, blankets and junk food.
"Why not?" My best friend and roommate asks, as if not getting that its out of the question.
"Because I don't want our bathroom to look like a serial killer lives there?" Her laugh filters through my phone as I take a few bags of chips and throw them into my cart. Willow and I have been best friends since middle school, living together since college and yet I'm still surprised at her design choices. If it weren't for me, our place would look like a frat house on steroids.
"You're no fun," She mutters, "just know that I'm not unpacking any of your boxes for you now. You're on your own." I shake my head, chuckling to myself. We just moved to Toronto from our small town since I got a job offer I couldn't refuse. Willow and I both went to school for publishing and when I got a recruitment email from one of the biggest publishing companies in the city, I knew I had to take the chance. Masters Publishing is the fastest growing publisher in the industry and so turning down that opportunity was out of the question.
"What would I do without you?" I tease, picking up a very plain, very subtle shower curtain and heading back towards the front of the store.
"You almost done?"
"Yup, I'll be home soon." I say as I hang up, looking down as I place my phone back into my purse. My eyes are still focused on my purse when I run into a solid wall of man. "Shit, I'm so sorry!" I gasp as he turns and from the hardened look in his eyes, I wonder if that look is something, he gives everyone or if it's just reserved for me.
"You need to watch where you're doing." He sneers as his dark eyes track up and down my body, and even though I'm wearing jean shorts and an old band t-shirt, that look sends an overwhelming sense of dread through me. I know I look good in this outfit; I work out, I spend time getting ready every day, but I do that for me, not for a man like him to take his time drinking in every detail like he has the right. His three-piece suit looks out of place in a place like this. His styled hair and shiny dress shoes tell me more than I need to know and yet it doesn't help the helpless feeling that settles underneath my skin.
"Again, I'm so sorry." I pivot my cart, trying to get past him when his fingers grasp the edge of the plastic stopping me in place.
"I didn't say I accepted your apology." His voice lowers as those dark eyes bore into mine and my heart starts to beat out of control. Never in my life have I felt like a flightless bird, but right now? Right now, I know that I won't get out of this unless he lets me. My mom always told me to take those self-defence classes, especially when she knew I was moving to the city, but I never had the time, and I'm regretting that right now.
"What else do you want me to say? I didn't mean to bump into you, it was a mistake." His tongue juts out, licking his lips as his eyes lower to mine. Then a smile so sinister appears, and I know I need to leave now before this goes any further.
"I can think of another way for you to apologize with that pretty mouth of yours…" the suggestion isn't lost on me and my stomach sinks to the tile floor. This is not how my first day in a new city was supposed to go. I was supposed to get a shower curtain and some junk food so Willow and I could binge Netflix and fall asleep on the couch. Just as I open my mouth to say something, I know won't make any difference to the man standing before me, arms snake around my waist from behind as lips lightly brush my cheek.
"Sweetheart, I told you to wait for me," he says loudly enough for the man in front of me to hear and I take a moment to take in the voice that is gravely, low and oh so sexy. "Go with it," His whispers low enough for just me to hear and my body relaxes. He's trying to get me away from the creep in front of me. So, I do what he says, I go along. I wrap my fingers around his arms that are still wrapped tightly around my middle, lean back against his hard chest and smile as his scruff lightly brushes against my neck one more time.
"Sorry baby, I wanted to get more snacks," his chuckle rumbles to through his chest, sending shivers of a different kind through my body.
"Of course you did…" he teases as his head lifts, making eye contact with dickhead in front of me. "Can I help you?" The sweet voice from earlier is gone, and the hardness of his tone can't be missed. The guy stands tall, straightens his tie as he eyes me one more time.
"Tell your girl to watch where the fuck she's going next time." And with that he walks away, and I breathe a sigh of relief. It's not until my mystery man releases his hold on me that I realize my fingers are still gripping his arms.
"Thank you so much," I start. I turn to see the man that saved me and suddenly stop dead in my tracks, because this man is probably the most gorgeous human being I have ever seen. Shaggy light blonde hair that looks like it needs a trim, dark blue eyes that are hidden behind dark rimmed glasses and a smile that could bring any woman to her knees.
Even me.
"It's not a problem," that voice sends heat straight to my core and I wonder what would have happened if I bumped into him first instead.
"I think you just saved my life." I mutter, as his lips tilt into a smile.
"Well, I'm glad I could help a beautiful woman like yourself," his eyes shining with delight. "I'm Luke." He says as he places his hand out in front for me to take. When I place mine in his, the jolt of warmth catches my breath.
"Charly. I'm Charly."
"It's nice to meet you Charly. I'm glad I could help." Our hands disconnect and I wonder what happens now. Do we go out separate ways? Do I offer to repay him somehow? But before I can sink further into myself, he makes that decision for me. "Can I buy you a drink?" I tilt my head to the side, my eyes narrowing as he smiles down at me.
"Shouldn't it be the other way around? You saved me remember?" He laughs, his hands finding his pockets and making him seem even more intimidating.
"Wrapping my arms around and pretending to be in love with a beautiful woman is not a hardship. I promise." He winks and I swear my panties fall to the floor. "So, what do you say, a drink?" All I can do is nod my head because there is no way I'm turning away a man like Luke.
I take out my phone, send a quick text to Willow letting her know I wouldn't be home until late and smile when I see her response.
Did you seriously pick up a guy at TARGET? I'm jealous.
I tell her I'll text her later and I follow Luke outside, wondering for the hundredth time if this is a good idea. But when he looks back, those eyes catching mine, I realize I don't care. A man like Luke doesn't come around very often, and those eyes are promising so much more than a drink and I can't fight my desire to see what happens.
Excerpt. ©S.A. Clayton. Posted by arrangement with the publisher. All rights reserved.


Giveaway:

5 ebook copies of FORBIDDEN C.E.O by S.A. Clayton
To enter Giveaway: Please complete the Rafflecopter form and post a comment to this Q:

What did you think of the excerpt spotlighted here? Leave a comment with your thoughts on the book…
Meet the Author:
AUTHOR BIO:
S.A. Clayton lives in a small town outside of Toronto, Canada with her husband and her scary large collection of books that seem to take over every room.She has worked on both sides of the publishing industry, both in a bookstore and for actual publishing companies. Although she loved both for different reasons, she found that writing was her true passion and has spent the last few years breaking into the industry as best she can.She is a lover of all things romance and began her writing journey in her late twenties. Since then, she has immersed herself in the romance genre and couldn't be happier.When she's not writing or reading, she enjoys binging a great Netflix show (Stranger Things anyone?), baking (because who doesn't love cookies!), and spending time with her family.
AUTHOR LINKS:
Amazon Author Page: https://amzn.to/33kMQ6l
Facebook Page: http://bit.ly/2CfymbT
Facebook Group: https://bit.ly/33mLqJM
Twitter: http://bit.ly/2PMh5iy
Instagram: http://bit.ly/2ChQvpw
Bookbub: http://bit.ly/2CsKLtj
Goodreads: https://bit.ly/2SCQIvF


Join us in Toronto, for sexy, sweet and a little bit taboo intra office romance stories to celebrate Administrative Professional's Day. Read them all from April 5th, 2021.
Naughty secretaries and office shenanigans brought to you by the "Pearl Clutchers Collective."
HER BULLY TURNED BOSS by Andrea Marie
TAKE IT OFFLINE by Mazzy King
THIS ONE'S MINE by Allie York
RAISING THE BAR by C.L. Cruz
BOARDROOM BEARD by Poppy Parkes
MOUNTAIN MAN CEO by Khloe Summers
RESULTS DRIVEN by Carly Keene
CONFLICT OF INTEREST by AJ Alexander
BOOKING DR WRONG (x RIGHT) by Willow Sanders
HOSTILE TAKEOVER by Vanessa Booke
FORBIDDEN CEO by S.A. Clayton
ILLEGAL AFFAIRS by S.L. Sterling
EFFECTIVE IMMEDIATELY by Emma Nichole
ROCK HARD BOSS by Fern Fraser
EXECUTIVE DISAGREEMENT by Anjelica Grace
MK MOORE & KL FAST
Purchase Now for only 99 cents: Amazon (Kindle Unlimited): https://amzn.to/38oyZAs