How to Catch a Duke by Grace Burrowes is the sixth and final book in the Rogues to Riches series. Each book can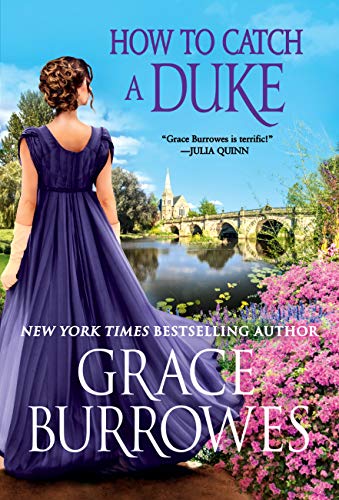 be read as a stand-alone but I think reading them in order gives the reader a better perspective of all the characters. Also, the author's books are so beautifully written that you will want to read them all after reading one. This has been a wonderful series and I am incredibly sad to see the series end. The Wentworth siblings had such a rough childhood and seeing them get their happy ever after was wonderful.
Lord Stephen Wentworth grew up in poverty with an abusive father. Fate made his older brother the Duke of Walden and Stephen his heir. He was brilliant and methodical at solving puzzles which is why Abigail chose him to help her. Rather than pretend to kill her, he offers a fake courtship and marriage to keep Abigail safe while they locate her stolen letters. He quickly realizes she is the woman for him but convincing her might take some persuasion.
Abigail Abbott is an inquiring agent but can't seem to figure out why Lord Stapleton would wish her harm or steal her letters. She knew she could trust and depend on Stephen to help her. She thought that if he pretended to kill her then she could just disappear. She realizes Stephen's plan will allow her to uncover the mystery of her missing letters, but she is afraid she is getting too attached to him.
I absolutely loved how perfect Abigail and Stephen were together. They both had insecurities, but they saw each other for who they really were. Stephen was so loveable, but he kept others at a distance because he was so self-conscious about his knee, but Abigail put him at ease. They both had a past but the genuine love they had for one another allowed them to put it aside. I have adored the Wentworth siblings from the beginning and have enjoyed seeing their family grow as they married. The sibling's bond grew stronger as they each found love. I was touched by the scene between Stephen and Quinn where they finally talked and were able to understand each other better. It was a perfect way to wrap up the series. I am sad to see the last of the Wentworth family but hopefully, they will appear in future books. I have always been a fan of Grace Burrowes and this series emphasizes why she is a favorite for me.
Book Info:

Publication: April 13, 2021 | Forever | Rogues to Riches #6
A fake engagement and plenty of charm keep the pages turning in this delightful Regency romance.
"I have come to ask you to kill me, my lord."
Miss Abigail Abbott desperately needs to disappear, and the only person she trusts to help her do that is Lord Stephen Wentworth, heir to the Duke of Walden. Stephen is brilliant, charming, and—when he needs to be—absolutely ruthless. So ruthless, that, he proposes marriage instead of a pretense of murder, to keep Abigail safe.
Stephen knows that Abigail has the dignity and determination of a duchess and the courage of a lioness. When she accepts his courtship of convenience, he also discovers she kisses like his most intimate wish come true. For Abigail, their arrangement is a sham to escape her dangerous enemies. For Stephen, it's his last, best hope to share a lifetime with the lady of his dreams—if he can convince her his love is real.