In Too Deep by Skye Jordan finds Laiyla returning to Wildfire Lake after twelve years, and three years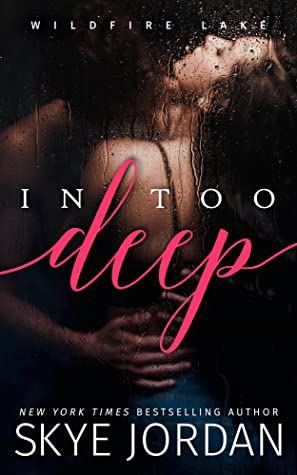 after her grandfather passed away, leaving her his property. When she returns, she expects the property to look like it had when she last saw it, especially since she trusted her father to hire a caretaker for it. Only problem was her parents had their own agenda, and, as a result, what she returned to was a disaster. With the help of her friends, KT and Chloe, she's determined to restore the property and turn it into a resort her grandfather would be proud of. One person standing in her way is the only contractor in town who will help her, who happens to be the love of her life that she left behind because of her parents' demands.
Levi has an interest in helping Lailya; when she goes to sell the property, he wants it. What he wants more, however, is the woman who left him behind without a backwards glance. Because of Laiyla, Levi has found it hard to commit to anyone else. He wants a wife and kids, but he can't move on. With Laiyla back in town, he believes this is the chance he has to get her out of his system and move on. What he doesn't count on it Laiyla burrowing herself further into his heart. Will Lailya be able to finally take a stand against her parents and fight for the love that never died?
The book starts off with Lailya meeting KT and Chloe years earlier. Based on that, I had high hopes she was going to finally make a stand and start living her life for her, not for her parents. Then we move forward six years and she's still letting her parents run her life. I was a little disappointed with that. I did like that being back at Wildfire Lake seemed to have her changing her tune and she quickly starts thinking for herself and learns, with the help of her friends, how to put herself first.
I liked Levi, for the most part. I thought he was a little too hard on Lailya at times. He holds her responsible for leaving, but at the time she was only seventeen. She had to listen to her parents at that point. I could understand his anger for her not coming back at all though. And for all his determination to keep his heart hardened towards her, he quickly changes his mind.
Lailya's friends are interesting, and the author sets up possible future relationships for them. I'm interested in learning more about them and seeing what's in store for them.
With interesting, entertaining characters and a great second chance romance, In Too Deep is one romance fans won't want to miss.
Book Info:

Publication: July 6, 2020 | Cygnet Books | Wildfire Lake #1
I've got one hell of a life–the business of my dreams, a close-knit family, and the title of elusive but most-eligible bachelor in town.
The only thing I'm missing now is my heart. I gave it away as a teenager and never got it back.
I didn't think I'd see that girl again. She was my best friend, my first love, the person I couldn't wait to see arrive in June and couldn't stand to see leave in September. But the summer she turned eighteen, she flew off to Paris and never looked back.
When she resurfaces twelve years later, I don't want to want her. I don't even want to care. I really just want my fucking heart back so I can move on with a normal life–marriage, kids. Hell, I'd settle for a cease-fire in my romantic life.
It turns out we've got a shared interest in her grandfather's land. This could be the perfect opportunity to settle the past. Or it could be the biggest mistake of my life, the one that destroys my heart for good.