Today, HJ is pleased to share with you

RC Boldt's

new release: 

Hell Hath No Fury

RC Boldt brings us an unforgettable tale of loss, betrayal, and revenge in the romantic suspense standalone, Hell Hath No Fury…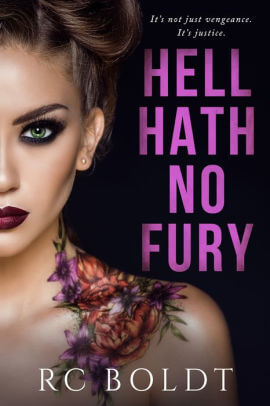 Seven years ago, they took everything from me. My father. My husband. My child.
When they stole my chance at justice, I vowed to get revenge.
Then I met him.
He tempts that long-lost part of me, but his presence is a reminder that betrayal lurks around every corner.
Their biggest mistake is underestimating my commitment for vengeance.
They don't realize that when it comes to a woman like me, hell hath no fury.
Enjoy an exclusive excerpt from Hell Hath No Fury 
"Fuck!" I grit my teeth so hard against the pain of the metal staple cinching my skin closed that my molars begin to ache.
I need to hurry the hell up. I've already been here too long, but fuck if that damn whiskey hadn't been necessary to help with the pain before I begin repairing myself.
I'm not hammered because I can't risk being intoxicated, but I've drunk enough to at least take the edge off. Enough to keep my grip steady on the staple gun.
It's moments like this when I miss the old days. Times when I didn't have to worry about the odds not being in my favor.
There'd been twenty-two of them tonight. Twenty-fucking-two-to-one aren't pretty odds. Although I had the upper hand for most of it, the element of surprise working in my favor, one asshole had landed a kick to my upper thigh. The force of his steel-toed boot had nearly sent me dropping to my knees.
Goddamn, it'd been so painful, my vision had blurred. I lost grip of my knife and we'd wrestled for it, but he managed to leave me with a nasty gash along my right side in the void between where my bulletproof vest cinched together.
I drag in shallow breaths, trying to psych myself up for the remaining staples. It hurts like a bitch, but it has to be done.
When I press the staple gun's trigger again, I nearly draw blood biting back a loud whimper from the pain as the metal cinches my wound together tightly. After a few more shaky huffs of breath, I punch out four additional staples before my fingers release the gun, letting it drop to where I'm slumped on the chair in one of the clinic's exam rooms.
"Fuck." I try to will away the pain-induced nausea because I need to keep my eye on the prize.
I'm so damn close to getting to them. Not to mention, when I'd been lying in wait, listening and assessing before I attacked, I overheard the men talking about their boss and his second-in-command never showing their faces anymore.
"I heard a rumor a fire or somethin' disfigured 'em," one of the men had said. That detail definitely piques my interest.
With a pained wheeze, I pick up the staple gun knowing I need to finish this. I brace myself for the next few staples and grit my teeth against the wail that tries to escape.
"Goddammit."
The muttered curse has me whipping my head around to stare at the person standing in the open doorway, gun gripped in my other hand and aimed directly at him.
He waves me off dismissively, as though I'm an annoying insect. "Put that damn thing down and let me look at you."
"No." With the gun still trained on him, I glare at him. "I'll be out of here in a minute."
He stares at me before scowling. "Put the damn gun down."
I don't move. And I hate it, but I don't know if he's changed in seven years. Sure, my homework indicated he hasn't, but I can't take a risk.
Not before I'm finished.
Hurt bleeds into his expression, and it twists an invisible knife in my chest. Slowly, he raises his hands. "I'm not a threat." Then his eyes turn misty, his voice lowering to a broken whisper. "I've missed you, Caitlin."
I suck in a sharp breath at the pain welling up within me but don't lower my gun.
"If you turn me over to them, I swear I'll kill you." I hold his eyes as I make the vow. And I mean it. It would gut me, but if he betrays me, I can't allow him to live. Not if he's in bed with these assholes.
"Agreed." Gaze darting to the staple gun in my other hand, he lifts his chin, gesturing to it. "Now, you gonna let me patch you up, or do you insist on doing a shitty job of it?"
Our gazes hold for a long beat before I lower my weapon with a curt nod. "Thank you."
Doc Hogue doesn't hesitate in his approach, only drawing to a stop once he's in front of me. His features soften. When his fingers graze the wound, I hiss but manage to stay still.
"What in God's name have you gotten yourself into, young lady?" he murmurs.
"The wrong end of a knife." I lift my gaze to study him as he tends to my injury. "I'm sorry, but I needed to use your—"
"Hush." His reprimand is stern, but there's also the familiar affection in it. Blue eyes dart up to mine briefly before focusing on cleaning my wound better. "You're family."
I swallow hard past the lump of unfamiliar emotion assaulting me. I haven't let myself feel anything but anger for so long that…affection is foreign to me now.
It's better that way. I steel myself against it and change the subject. "The cash is on your desk. To cover what I needed."
The gauze and antiseptic. The staple gun.
The whiskey he keeps locked in the bottom drawer of his desk in his office.
He tosses a sharp glance at me before he inserts a needle a few times to numb the area surrounding my injury, then he picks up the staple gun. "You know I could've done a better job of stitching you up than with this thing."
I remain silent because I didn't—don't want him involved. I refuse to risk the one man I trusted implicitly. The man who helped me escape years ago.
Excerpt. ©RC Boldt. Posted by arrangement with the publisher. All rights reserved.


Giveaway:

One Signed Paperback copy of Hell Hath No Fury by RC Boldt
To enter Giveaway: Please complete the Rafflecopter form and post a comment to this Q:

What did you think of the excerpt spotlighted here? Leave a comment with your thoughts on the book…
Meet the Author:
About RC Boldt
RC Boldt enjoys long walks on the beach, running, reading, people watching, and singing karaoke. If you're in the mood for some killer homemade mojitos, can't recall the lyrics to a particular 80's song, or just need to hang around a nonconformist who will do almost anything for a laugh, she's your girl.
Connect with RC Boldt
Facebook:http://bit.ly/RCBoldtFB
Website: http://www.rcboldtbooks.com
Twitter: https://twitter.com/RC_Boldt
Instagram: http://bit.ly/RCBoldtIG
Bookbub: http://bit.ly/RCBoldtBB
Amazon: https://amzn.to/2Kq1H9C
Goodreads: https://www.goodreads.com/author/show/14543027.R_C_Boldt

Pre-order today!
Amazon: https://amzn.to/2YMROJr
Amazon Worldwide: http://mybook.to/HellHathNoFuryRCBt
Apple Books: https://apple.co/3dstQaD
Nook: https://bit.ly/2Aeh3KB
Kobo: https://bit.ly/3fvvrhP
Google Play: https://bit.ly/3bduneY
Goodreads: http://bit.ly/2uzMKeS