In Shadow Flight (Shadow Riders #5) by Christine Feehan, Nicoletta Gomez was thrown into the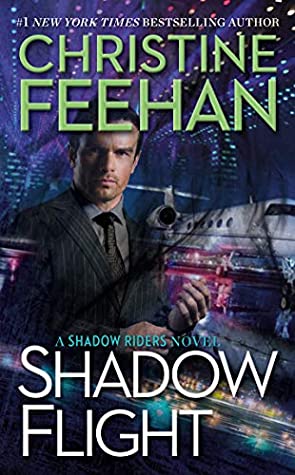 Ferraro family at the lowest point in her life. A teenager with years of abuse clouding her head and damaging her self-worth, they took her under their collective wing to keep her safe and cared for. But it is Taviano Ferraro who captivates Nicoletta. Her savior, literally, having been one of the family members to come to her rescue, he has been in her corner from the start. As she learns more about the supposed crime family, Nicoletta knows there is something more to the Ferraros than meets the eye. And when she and her friends are suddenly in danger, Taviano confirms her thoughts when she finds out they are shadow riders. Nicoletta is soon entangled in the hunt for criminals from her past as well as falling more and more for Taviano. But could it work between them? She's as broken as a woman can get, yet somehow he makes her want to try.
'The horror of her past didn't have to destroy her future with the man she loved.'
Taviano understands the demons that torment Nicoletta all too well. So it seems fitting that he–and his beloved family–will be doling out justice on her behalf, whether she ever finds out or not. He'd prefer to keep her safe and let her experience more of the good things life has to offer before bringing her further into his world and pursuing a relationship with Nicoletta. Because that part is inevitable. Taviano *will* capture her heart and show her what true love is. He knows it will be an uphill battle. His tesoro has been badly hurt in the past. But between the loving care his siblings show Nicoletta and the fact that he would move heaven and earth for her, Taviano is hopefully they will both get the future of their dreams. One step at a time.
"I love you beyond all reason, Nicoletta… You are my sanity."
Even after reading dozens of her books, it's still an absolute joy getting lost in the worlds Christine Feehan creates. Shadow Flight had all of the thrilling action and intriguing family dynamics I love from the Shadow Riders series, but it was the touching, achingly tender romance between two broken souls that utterly stole my heart.
"When you're there in that dark place where it feels like a thousand demons are tearing you apart, know I'm there with you. Always, tesoro, because you are my treasure and my only."
Trigger warning: View Spoiler »Human/sex trafficking, some details of rape and assault. « Hide Spoiler
If I sound like I'm fangirling about Shadow Flight, I apologize in advance. But oh. My. Word. What an epic installment in the series. I've loved each couple's journey so far (and I'm sure I will love future couples of course) but there was something oh so very special about Taviano and Nicoletta together. I will mention two things right away, though. First, you can read this as a standalone if you can tolerate some spoilers from previous books and with "meeting" a huge cast of characters. Second, this dealt with some pretty heavy subjects so parts of it might be disturbing for readers when a few of the character's memories of abuse are recalled.
I have to tread lightly here so I don't give away too much. I can say that Feehan wove together a lot of POVs from the majority of the Ferraro family throughout the book which I think added depth to the storytelling. It also continued the narrative of the changes going on within the family and brought in some other Ferraros to aid in their hunt for the bad guys. Speaking of which, there was a lot of action with some incredible fight scenes I think fans will enjoy that truly showed off the skills of each shadow rider.
This was mostly Nicoletta and Taviano's story, though. And what an amazing, courageous team they made. If you've read previous books then you know a good chunk of what Nicoletta endured in her mid-teens but there were still some surprises with her backstory–and especially with Taviano's past. Oh boy, will fans be angry on his behalf. But with everything he went through, it makes me understand his reactions now with how he treated Nicoletta when she was first brought into their family's protection. But there was no denying that Taviano and Nicoletta were just *so* right for each other. I think readers will be floored with the romance that blossomed and the directions it took. Definitely sigh-worthy.
Shadow Flight was a suspenseful, *powerful* new novel that took the Shadow Riders series to all new heights. From exploring the importance of family bonds to good vs. evil to the strength of love healing emotional wounds, Christine Feehan gave her readers a story to cherish.

Book Info:

Publication: Published May 5th 2020 | Berkley | Shadow Riders #5
Chicago's Ferraro crime family will do anything to protect one of their own in this thrilling entry in the Shadow Riders series from #1 New York Times bestselling author Christine Feehan.
Nicoletta Gomez was a terrified teenager when Taviano Ferraro and his brother saved her life. Ever since, she's been trying to rise above what was done to her, molding herself into a survivor under the protective eyes of the Ferraro family. All the while, she's been falling hopelessly in love with the man who knows her darkest secrets.…
With one look, Taviano knew that Nicoletta was his, just as he felt their shadows connect. But no matter how much he wanted to claim her, he knew she needed time to become her own woman. When Nicoletta once again finds herself in the sights of dangerous men, a split-second decision has Taviano breaking all of the Ferraro family's rules to keep her safe. And as far as he's concerned, the reward is more than worth the risk.