Today it is my pleasure to Welcome author
Cynthia Breeding
to HJ!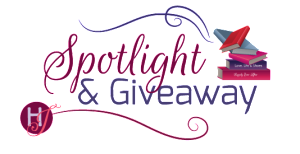 Hi Cynthia and welcome to HJ! We're so excited to chat with you about your new release, Highland Renegade!

So glad you stopped by!

Please summarize the book a la Twitter style for the readers here: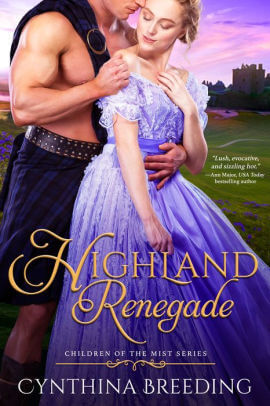 When a dowager English countess receives title to his Scottish castle, Laird Ian MacGregor is determined to run the old lady off… he just expect that she'd be young and beautiful!

Please share the opening lines of this book:
"I do not understand why you are taking us into Barbarian country," Juliana Caldwell complained as their carriage hit a rut in the road and rocked precariously.
"We could very well get killed," her sister Lorelei agreed,grabbing a side strap to keep from slipping off the seat.
Emily Woodhaven shook her head at her younger siblings. "Scots do not go around murdering innocent women. "
Please share a few Fun facts about this book…
The last thing Emily wants to deal with is a bossy Scot who feels the same way about stubborn women.
Sister Juliana and Ian's brother Rory are like water and oil except neither will let the other win an argument.
Younger sister Lorelei wants to practice her flirtation skills so she'll be prepared for a London Season when she returns… Scots find her actions very strange
Meanwhile, Scottish Faeries are suspected of having a hand in all that goes wrong.
What first attracts your Hero to the Heroine and vice versa?
Incredibility. He expects an elderly dowager, but instead she's young and beautiful. She's used to London dandies and he's all brawn and muscle.

Using just 5 words, how would you describe Hero and Heroine's love affair?
They resist attraction, but succumb.

The First Kiss…
Stolen. He thinks she's fainted but she's very much aware of the brushing of lips

Without revealing too much, what is your favorite scene in the book?
Their initial meeting:
Ian MacGregor watched incredulously from the battlements of Strae Castle as a carriage followed by three… no, four…wait, FIVE wagons made their way up the perilously steep, winding road that led to his home. The carriage must belong to the Countess of Woodhaven, but by the Devil's own horns! How long did the old dowager plan to stay?
If your book was optioned for a movie, what scene would be absolutely crucial to include?
After receiving a note she thinks Ian sent, Emily takes a shortcut through a bog to go to him and gets stuck, the goop sucking her down. Ian arrives just in time.
"I'll get he out. Just Donna move!"
Ian pondered a moment, knowing he couldn't wade out or they'd both be pulled down. He calculated the distance… he could tie his breeches and shirt together to form a sort of rope to throw to her. In one deft motion he began stripping.
Readers should read this book …
If you like an English Regency-era heroine meeting a rugged Highlander whose opinion of Sasssenachs isn't too great.
What are you currently working on? What other releases do you have planned?
This is the first book of the "Children of the Mist" trioligy. The second and third books are titled "Highland Hero" and "Highland Champion".
Thanks for blogging at HJ!
Giveaway:

An e-copy of Highland Renegade by Cynthia Breeding
To enter Giveaway: Please complete the Rafflecopter form and Post a comment to this Q: There are five MacGregor brothers, all of them braw and brawny with long black hair and piercing eyes in various shades of blue and green… and all wary of Sassenachs
What would you do, as the English countess, stepping out of the carriage to face them?
Excerpt from Highland Renegade:
Ian MacGregor watched incredulously from the battlements of Strae Castle as a carriage followed by three…no, four…wait… five wagons made their way up the perilously steep, winding road that led to his home. The carriage must belong to the Countess of Woodhaven, but by the devil's own horns! How long did the old dowager plan to stay?

He knew his lands—MacGregor lands—had been annexed by the Crown and sequentially leased to an earl years ago simply because his father had refused to change his surname. He had refused to do the same when his father died. MacGregors were the purest branch of Gaels in Scotland , descended directly from Albiones! Their motto wasn't My Race is Royal for nothing. That their name, and the clan itself, was still considered banished by the English government made no sense. The grievances that had impelled Queen Mary to issue the edict were long past. Hopefully, Lord Mount Stuart would be able to persuade the present monarch to restore their rightful name and place in history. And soon. Ian wanted to start the process of gaining back the legal right to his lands. MacGregor lands.

Meanwhile, there was this… He squinted at the caravan plodding its way closer. He'd received notice a fortnight ago from the local magistrate that the widow of the Earl of Woodhaven had decided to visit. The earl had been in his mid-sixties and Ian had no idea why his wife, who had to be close in age, would make the trip all the way from London . He'd been careful in the reports he had to make to undervalue both the crops and livestock so the Englishman wouldn't come snooping up here.

Now it seemed the old dowager had decided to come sniff around. He grimaced when he looked at the line of wagons. She wouldn't need to unpack any of it. He'd already come up with a plan, aided by his brothers and uncles, to make sure her visit was neither comfortable nor accommodating. The grimace turned to a smile. She'd soon be relishing a return to the luxuries of London .

Turning, he made his way down the steps and across the bailey to the massive front door where his sister, his ward Glenda, and three of his brothers awaited him. He had no idea where Devin might be, but then no one ever really knew where his fourth brother was most of the time.

"Ye must have heard the noise of them approaching," he said.

"Aye," his brother Carr answered.

"Sounds like a cavalry unit comin'," Alasdair added.

"Why would they be bringin' so many wagons?" Fiona asked, her eyes growing round as the whole line came into sight.

Rory snorted. "'Tis just like a woman thinkin' she canna exist less she changes her gown every five minutes."

Ian had an uneasy feeling those wagons didn't just contain clothes, but he kept his thoughts to himself as he watched the carriage come through open arch of the gateway. The portcullis always stayed up these days and the drawbridge down since Scotland was not at war, but for a brief moment he almost wished he had barred the entrance. Then he shook his head. He was nine and twenty. It was ridiculous to let some little old lady intimidate him.

The carriage finally rolled to a stop in front of them. Ian motioned for a groom to open the door and assist the woman down. He had no intention of paying homage, but Highland ways did call for hospitality. At least, initially.

His eyes widened as a girl stepped down who couldn't have any older than Fiona, except where his sister's hair was as black as his own, this one's was pale as moonlight. Her eyes had a silvery cast that made her look almost other-worldly. He caught Alasdair, who always had an eye for the ladies, staring and gave him a poke. "Probably a daughter."

Then another one stepped out whose hair was the coppery color of sunset. She looked around, her ginger-colored eyes practically snapping as she frowned.

"Looks like she wants to pick a fight," Rory grunted. "Women should nae argue with a man."

Fiona shot him a look. "Ye doona do so well keeping me quiet—"

"Probably another daughter," Ian interrupted before a real fight did break loose. At least that might explain the need for a lot of gowns. Even though Fiona preferred breeches, he knew most young women didn't.

"How many children do you think the dowager has?" Carr, ever the analytical one, asked as a third woman stepped down.

"I…doona…ken." Ian's breath caught. This last one looked like an angel descended from heaven. Her hair was like spun-gold, her complexion like fresh cream, and her eyes a deep blue that reminded him of Loch Awe on a cloudless day. He found himself moving forward in spite of planning to wait at the steps.

"I am Ian MacGregor, the…" He'd almost said laird, but since the word was banned, he didn't need to stoke any English fires. "…one in charge here. The missive I received dinna say the dowager would be bringing three lovely daughters." He smiled at her, then peered inside the carriage, which was empty. "Where is your mother?"

"Resting in peace beside my father," the angel answered.

Even her voice sounded heavenly, clear and melodious as harp strings being plucked. Then the words registered. He drew his brows together.

"Your mother is…nae with ye?"

One golden brow arched. "It would seem not."

He suddenly felt like a green lad or, at least, a dolt. Of course her mother wouldn't be here if she was dead. But what the devil… He straightened to his full height and squared his shoulders. "Where is the dowager Countess of Woodhaven?"

Her lips curved in the slightest of smiles and he noticed how full and lush they were. Very kissable. Mayhap…

"I am she."
Excerpts. © Reprinted by permission. All rights reserved.


Book Info:
Emily, Dowager Countess of Woodhaven, has received title to a Scottish castle–and MacGregor lands–forfeited by the king since the clan is proscribed. After surviving an abusive marriage, she is determined not to let any man ever control her again.
Ian MacGregor plans to scare the aging Countess away by showing her the hardships of living in the Highlands, only she turns out to be young and beautiful and more territorial than a she-wolf.
Despite his determination, things between them heat up and he must a dire choice. His clan or the English aristocrat who has stolen his heart.

Meet the Author:
Cynthia Breeding lives on Corpus Christi Bay with her not-very-spoiled Bijon and loves horseback riding and sailing.
Website | Facebook | Twitter |