Today, HJ is pleased to share with you

Catherine Bybee's

new release: 

Home to Me

A brave woman's flight from the past leads her toward new love in a novel about courage, hope, and second chances by Catherine Bybee, New York Times bestselling author of My Way to You.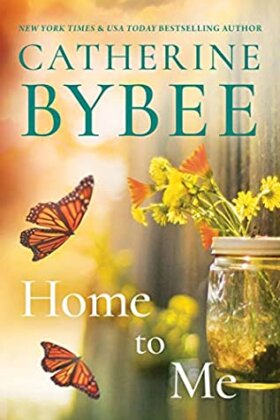 After Erin Fleming escapes from her controlling and abusive ex, she finds refuge in the heart of Santa Clarita, California. Eager to start over, she has a new name, a new look, and a new career. Settled into a private guesthouse, Erin can breathe free. Far from the shadows she's outrun, Erin is finally learning to live for herself.
Her new unexpected friendship with her landlord starts to crack open the armor Erin's enclosed herself in. But it's Matt who speeds up the pace of Erin's heart and makes her wish for things she believes she can never have.
Matt Hudson, a firefighter in one of California's wildfire epicenters, has a passion for danger. He lives for the adrenaline rush his profession awards him. But his protective instincts take over once Matt meets Erin. So does an attraction he can't deny. Above all else, he's determined to prove to Erin that she can trust him. As the sparks between them ignite, so does a real-world danger. Erin's past is not letting go. It's just in hiding.
Before Erin's ex finds her, she and Matt have to find him. And finally put an end to everything that's becoming a threat to their love, and to Erin's life.
Enjoy an exclusive excerpt from Home to Me 
She glanced in the mirror and took a long look at herself. "One day at a time," she said to the air. She pulled the tie out of her thick hair and brushed it back into place before twisting it on top of her head. The red was fading fast, and her natural blonde was trying to show.
She hardly recognized herself.
But that was the point, wasn't it?
New look, new name, new home . . . new everything. She'd legally changed her name, social security number . . . Nothing was as it used to be.
She heard her phone ringing from the kitchen where she'd left her purse. The sound caught her by surprise. Very few people had her num¬ber, and as of yet, the telemarketers hadn't discovered her.
Caller ID said restricted number, so instead of answering it, she let it go to voice mail. After a minute, she pressed the playback button.
A familiar female voice brought gooseflesh to her arms. "It's me. I have an update."
All at once, every nerve stood on end and her sympathetic nervous system moved into hyperdrive.
Erin moved to her small dinette table, pulled out a chair, and sat down before the dizziness took over and she ended up on the floor.
Renee picked up on the first ring.
"Hello, Renee."
"It's so good to hear your voice. How are you? Did you try that coconut water yet?" Renee, her advocate, attorney, and savior, asked their coded question.
"I'm fine, and yes. The coconut water was delicious."
There was no coconut water. Or beet juice, or whatever organic food Renee came up with next. Didn't matter. The answer was always yes if Erin was safe and not being overheard. So far, she hadn't needed to respond with a no. God willing, she never would.
"You sound good."
"I'm a little better every day."
"Are you eating?"
Erin considered her diet, decided to keep things positive. "I'm a good five pounds overweight."
Renee huffed. "Lying sack of shit."
They both laughed.
"I'm good. Truly." She wanted to tell her that the sunshine was doing wonders for her, but that wasn't allowed. Renee didn't know where Erin was or even the name she was using. "Tell me the news."
Renee sighed. "None of it's what you want to hear."
Erin swallowed. "Are my sister and her family okay?"
"They're fine. I wouldn't have started with chitchat if they weren't."
Erin squeezed her eyes shut, felt the familiar pain in her chest with the memories of everyone she left behind. "Spit it out."
"You're not divorced yet," she told her. "And Asshat is seeking another hearing to contest the protection order."
Erin placed her head in her hand. "This is never going to end."
Excerpt. ©Catherine Bybee. Posted by arrangement with the publisher. All rights reserved.


Giveaway:

Happy to offer 2 Paperback copies of HOME TO ME by Catherine Bybee. US only please
To enter Giveaway: Please complete the Rafflecopter form and post a comment to this Q:

What did you think of the excerpt spotlighted here? Leave a comment with your thoughts on the book…
Meet the Author:
New York Times, Wall Street Journal, and USA Today bestselling author Catherine Bybee has written thirty-four books that have collectively sold more than eight million copies and have been translated into more than eighteen languages. Raised in Washington State, Bybee moved to Southern California in the hope of becoming a movie star. After growing bored with waiting tables, she returned to school and became a registered nurse, spending most of her career in urban emergency rooms. She now writes full-time and has penned the Not Quite series, the Weekday Brides series, the Most Likely To series, and the First Wives series. For more information on the author, visit www.catherinebybee.com.
Buy Link: Amazon