Rumors Behind the Greek's Wedding by Pippa Roscoe: After not getting of onto the best of starts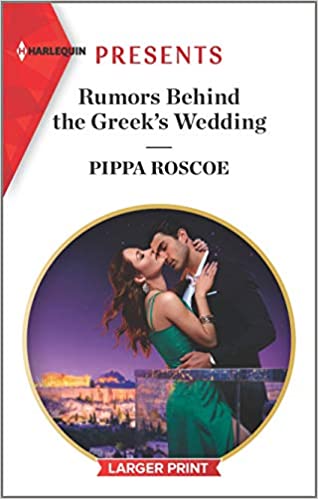 Loukis Liordis all but demands that Célia fix his mangled public image. Already rather reluctant to get involved with anything to do with the infuriatingly good looking Greek jerk that is Loukis Liordis, Célia finds herself getting far more than she bargained for when a flurry of very suggestive rumours surface that suggests there is more to the story than has been revealed. With Loukis demanding that Célia stand in the role of his fake fiancée, she finds herself stuck between a rock and a very influential man, saying no to Loukis is just simply not possible but what is she really agreeing to get herself into.
For the first time in his life Loukis finds himself having to consider someone else while making all his decisions, but the temptation beauty might be just want he has always needed. The only problem will the two actually be able to turn this once fake engagement into a very real marriage.
Rumors behind the Greeks wedding was a super cute fast steamy read. I loved the chemistry between Loukis and Célia, there spark was evident right from the very first page. The only thing that came through very strongly, that I enjoyed, was the emotional rollercoaster that Célia went through, I liked that Roscoe did not shy away from portraying this. Showing Célia's emotional journey made her that much more relatable.
As for our demanding alpha hero, Loukis was definitely what we have come to expect with a Harlequin Presents novel, he check all the boxes for he strong hero with a soft melty heart waiting for his lady love to show him how to be the softer man. I loved the relationship that Loukis had with his sister and that he was so willing and ready to step up and stand in such a big parental role for Annabelle.
Overall this novel was definitely a good read, I loved the twists in this story. I think what really won me over was the ending, I love the way the case played out and that Loukis and Célia got their own little happy ending.

Book Info:

Publication: August 1st 2020 | Harlequin Presents |
The engagement was a lie.
But their connection was all too true.
She'd been hired to repair Loukis Liordis's public reputation, not become involved in his private affairs. Yet spiraling rumors have Loukis demanding Célia play the role of his fiancée. To deny the Greek would be the end of her career, but to agree…?
For years, Loukis focused on one goal. Now he has the gorgeous Célia to consider. She is tempting beyond reason, and perhaps just the woman he needs. They may have already indulged in their wedding night…but will they make it to the altar?