After Hours Seduction by Janice Maynard It's one of the hardest things to do when you break up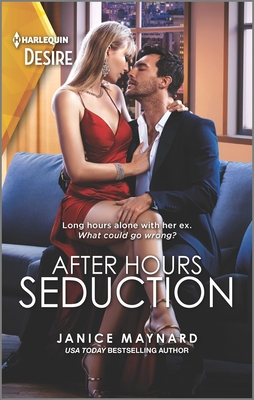 with your boyfriend because as much as you love him there is no future. It's made even harder when you work for him.
Katie Duncan knew that dating the boss wasn't the smartest thing in the world, but he wasn't technically her boss, his brother was. They were good though and were able to keep things under wraps. However what she couldn't do was get him to open up and that was just something she couldn't live with so they broke up and were okay until she has to go and "work from home" with him for six weeks.
Quinten Stone was always one to go after what he wanted. He had had a good thing with Katie and was never really sure why she had broken it off with him. After all he had money, was good looking and they were compostable in bed. He had started to put it out of his mind though until the accident and then the follow up accident and until his well meaning brothers sent her to "work from home" with him for six weeks. Now all he could think of was how he didn't understand what had happened and why they weren't still burning up the sheets.
Six weeks is a long time to be thrown together, throw in a weekend getaway and a tropical storm? Well you might have the beginnings of something great. Or of something horribly, horribly wrong.
The beginning of a trilogy and this one has a hell of a hook. As a reader you will fall in love with a woman who knows her mind, and a man who just doesn't get it yet. Through the skillful writing of Ms. Maynard though you are able to see the transformation of these two as they realize it's not all or nothing, it's about compromise. This story has a HEA but does lead into the other Stone brother stories. Which if they are anything like this are about to be gobbled up by readers looking for a well written escape where you might find yourself on the coast of Maine.
Book Info:

Publication: Published May 5th 2020 | Harlequin Desire |
Long hours alone with her ex.
What could go wrong?
Wanting him was a mistake,
And still she said yes…
When Katie Duncan agrees to work with her boss's brother, she knows she's stepping into the lion's den. The man she'll be living with is her former lover, billionaire Quinten Stone. Their passion sizzled until Katie couldn't accept Quinten's wealthy world. She'd walked away to save herself. Now the alpha CEO is back in her life, tempting as ever…and hell-bent on seducing Katie back into his bed…