Today, HJ is pleased to share with you

Teagan Hunter's

new release: 

I Knead You Tonight

From the author of the hit romcom Let's Get Textual comes a hilarious, sassy, standalone single mom/enemies-to-lovers romance that's sure to make you laugh and swoon.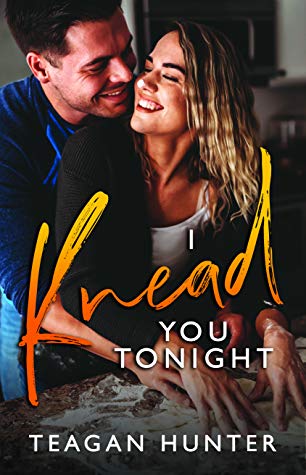 I hate Drew Woods, and she hates me.

Even so, I'm not the cold jerk most make me out to be, and I have no problem moving the single mom and her baby into my home. I do, however, draw a line when it comes to acting on the way her loose lips make me feel.

Alive.

She's too mouthy, too prying, and her curves are way too distracting.

I might have lost my way after a nearly fatal car accident, but I'm not stupid. Giving in to Drew would be a short-lived fix for this pain I'm saddled with, and I knead something permanent.
I'd be insane to think what we have could be anything other than temporary…right?

Enjoy an exclusive excerpt from I Knead You Tonight 
"It's beautiful tonight," she comments.
"It really is. Wish I had my camera right now, but I'm too lazy to go grab it."
"You, lazy? Never," she mocks with just enough bitterness in her tone that I can't tell if she's teasing or not. "Do you shoot often?"
"Every morning."
"Seriously?" I don't have to glance at her to know her brows are probably into her hairline. "You get up every morning and take photos?"
"Yep."
I don't elaborate, because it's none of her business what I do in my free time, and because I don't like sharing my hobby with others.
She drops it.
"Does the father ever come around?" I ask, flipping the tables on her as a distraction.
Pot gives me loose lips, and I'd rather not talk about me and start spilling feelings and shit.
"Chadwick?" She wrinkles her nose, frowning. "No. I haven't heard from him since I was three months along. He was half-ass there and then he wasn't there at all. I didn't bother trying to get him involved when it was clear he didn't want to be."
"Did he even reach out when Riker was born?" I take another hit, waiting for her answer.
"Not even a text."
"Is that really a bad thing though?"
She sighs. "I don't know. I mean, on one hand, I'm glad he's not around because I'm so fucking angry at him and the way he reacted when I found out I was pregnant. On the other, I want Riker to have a father figure. I didn't get the chance to grow up with one and look how I turned out."
I huff out a laugh, the smoke trailing around us. "Stubborn. Obnoxious. Strong. Independent. Yeah, those are all real shit qualities to have."
"I'm sorry, did you just say something nice about me?"
I point at her. "I called you stubborn and obnoxious too."
"Yeah, but you like me."
"I tolerate you on a good day."
"Uh-huh," she singsongs. "You like me."
I take a long step toward her, and because the deck is so small, I can feel her chest brush against mine as her breaths quicken.
She looks so small and fragile staring up at me with big, brown eyes. With the moonlight shining down, they almost look like bourbon.
I fucking love bourbon.
Her tongue darts out to wet her lips, and my eyes trace the movement.
She's not like me, just pretending. Drew truly loathes me, and she has no idea she's playing with fire right now.
So, I pull myself back, talking my dick down like I always do. I find the words to throw at her, the ones I know will send her into a rage.
Ones that might even make her laugh.
It's my go-to.
She's a bitch to me, so I'm a dick right back.
It's how we work, how we've always worked.
Why mess up a good thing?
"Like you, Drew? No, I don't like you. But I do like the way you stare at my cock."
Her mouth drops open and she sputters.
"I-I-I—"
"You what?" I taunt. "You like staring at my cock? Like the way it makes you feel?"
She huffs, rolling her eyes. "Shut up."
"If you ask me nicely, I'll let you touch it."
"Shut the fuck up, Winston!"
"Why?" I laugh again. "Am I hitting too close to your deepest, darkest desires? Do you not hate me as much as you think you do?"
"Oh, I do."
"Then why are your nipples hard right now? Someone like the idea of touching my cock?"
She glances down. Realizing I'm right, she crosses her arms over her chest, achieving nothing but pushing her tits up higher. "It's just cold out here."
"It's sixty degrees."
"With a breeze," she mumbles quietly, taking a step back, though it doesn't help as much as she hoped. We're still standing close to one another, so close I can smell her pear-scented perfume.
So close I can feel her slide her legs together, trying to relieve the ache building between them.
Drew can hate me all she wants.
But her body doesn't.
"Tell me, Drew, is it really the breeze? Or are you thinking about how good it would feel for me to slide between your legs?"
"Jesus, Winston."
"See? I already have you saying my name twice." I wink.
"Stop it. I don't want to hear any more."
"Why? Because I'm right?"
She snaps her heated gaze toward me, my words having come out harsher than I intended.
"I—"
A high-pitched shriek comes drifting through the open door and both our heads turn toward Riker.
"Move." She shoves at me. "I have to go get my son."
"Saved by the fucking bell," I mutter as she hauls ass past me.
I don't know if I'm referring to her or myself.
Excerpt. ©Teagan Hunter. Posted by arrangement with the publisher. All rights reserved.


Giveaway:

A Signed paperback of I KNEAD YOU TONIGHT plus swag. Open internationally.
To enter Giveaway: Please complete the Rafflecopter form and post a comment to this Q:

What did you think of the excerpt spotlighted here? Leave a comment with your thoughts on the book…
Meet the Author:
TEAGAN HUNTER is a Missouri-raised gal, but currently lives in South Carolina with her Marine veteran husband, where she spends her days begging him for a cat. She survives off coffee, pizza, and sarcasm. When she's not writing, you can find her binge-watching various TV shows, especially Supernatural and One Tree Hill. She enjoys cold weather, buys more paperbacks than she'll ever read, and never says no to brownies. For more information, please visit www.teaganhunterwrites.com.
SOCIAL MEDIA
Instagram: https://www.instagram.com/teaganhunterwrites/
Book+Main: https://bookandmainbites.com/TeaganHunterWrites
Twitter: https://twitter.com/THunterWrites
Pinterest: https://www.pinterest.com/thunterwrites/
Goodreads: http://bit.ly/TeaganHunterGR
EXCLUSIVE CONTENT
Newsletter: http://bit.ly/TeaganHunterNews
Reader Group: http://bit.ly/TeagansTidbits
NEW RELEASE ALERTS
Amazon: http://bit.ly/TeaganAmazon
BookBub: http://bit.ly/TeaganBookBub

Buy Links:
US: https://amzn.to/2oZx9Cc
UK: https://amzn.to/2oSfpZh
AU: https://amzn.to/2of8mtC
CA: https://amzn.to/2mGMdnw