Bound by Their Nine-Month Scandal by Dani Collins: Pia is a painfully shy genius who just wants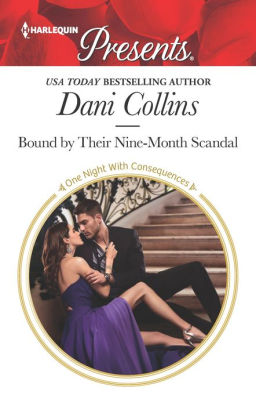 her parent's approval. She's about to complete yet another advanced degree as she is much more comfortable doing research than attending events and making small talk. Pia is awkward and uncomfortable in crowds and deliberately dresses to not attract attention. As a member of the Spanish royalty, she is preparing to cave and marry a man of her mother's choosing.
Angelo is a man on a mission. He grew up as the well-kept family secret and then had to make his own way. He has since made his own fortune and is a force to be reckoned with, but he's more concerned with settling the score with his half-brothers. He doesn't have time for anything outside of work and revenge.
When Pia and Angelo meet, the attraction is immediate. Their encounter is as unexpected as it is memorable. Neither expected to see each other again, but Pia decides to track him down after learning she's expecting. Pia is expected to marry, but Angelo is determined that he be her groom.
"And you waited until I found you before you came to see me. Until I told you I was pregnant
before you asked me to dinner. I bring more to a marriage than a womb, Angelo. I expect my future husband to want and value me. So, no," she said firmly. Frigidly. "I will not marry you."
"Oh, querida, you're right that you don't know me. You shouldn't have revealed your deepest fear."
Angelo is quite persuasive and goes after what he wants and now he's set his sights on Pia and their baby. Angelo is blunt and not at all like the men Pia is used to, but he makes her feel and he actually pays attention when she talks. Pia may come across as frigid, but she's so smart and very passionate. She's logical and practical, yet she finds another side of herself after agreeing to marry Angelo.
"So you don't trust me, but I'm supposed to trust you?" she asked huskily. "Even if you keep secrets?"
He smiled. "Your intelligence is one of your most attractive qualities. Do you know that?"
"Almost as high a compliment as having a great personality."
Bound by Their Nine-Month Scandal is passionate with family drama, conflict, and surprises. Dani Collins created an entertaining and sexy opposites attract story. Ms. Collins provided an interesting cast of characters in their families. Fans of Clare Connelly and Abby Green will enjoy Bound by Their Nine-Month Scandal.
Book Info:

Publication: Published October 1st 2019 | Harlequin Presents |
Her bombshell: "I'm pregnant."
His demand: "Marry me…"
Painfully insecure and media-shy heiress Pia is duty-bound to marry well. So illegitimate Angelo is completely unsuitable husband material. Yet this irresistible Spanish tech tycoon seduces Pia with an evening of bliss…that leaves her pregnant!
Pia can't afford a scandal, but Angelo wants to publicly claim his heir. Now to control the headlines, Pia must wed the only man who has ever made her feel. With Angelo posing a danger to her well-guarded heart, can she step into the spotlight—with the wedding of the century?