Today it is my pleasure to Welcome author
Amy Sandas
to HJ!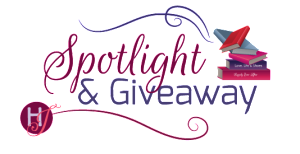 Hi Amy and welcome to HJ! We're so excited to chat with you about your new release, The Outlaw's Heart!
Please summarize the book for the readers here: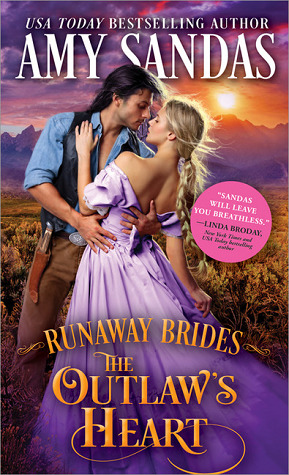 The Outlaw's Heart is the third book in my Runaway Brides series which takes place in the American Old West. Evelyn Perkins runs from her privileged life in Boston in a desperate attempt to escape an abusive husband. While on a train westward, she is abducted by a gang of outlaws who mistake her for someone else.
Gabriel Sloan was taken from his Cheyenne tribe as a boy to be raised by missionaries and eventually found his place with a gang of outlaws. Tasked with bringing the fancy eastern woman safely through the Wyoming Rockies to the gang's hide-out, he discovers he'll do anything to keep her safe from the secrets that haunt her.
This is a slow-burn romance that builds to seriously steamy passion between two people who have every reason not to trust each other, but find themselves falling in love anyway.
Please share your favorite line(s) or quote from this book:
My favorite quote is probably one said by the outlaw, Johnny, after first seeing Eve and Gabriel interact.
"I've never in my life seen two people say so much with so few words."
Please share a few Fun facts about this book…
We've met these outlaws before. If you've read some of my previous work, you might remember this outlaw gang from a novella I wrote for a Christmas Anthology in 2017. The anthology was Christmas in a Cowboy's Arms and my contribution was titled A Christmas Reunion.
I always find images of real people (usually actors) to use as visual inspiration for my main characters as I write. For this story, my inspiration for Gabriel was the unbelievably handsome Martin Sensmeier while actress Gabrielle Wilde represented my vision for Eve.
The Outlaw's Heart is the third book in my Runaway Brides series, but it's not the end. In addition to the Christmas novella that preceded it, I wrote Through the Storm, a sequel novella. So, if you'd like to see another outlaw get his HEA, you can check out my contribution to the recently released anthology, Longing for a Cowboy Christmas.
If optioned for a movie, what scene would be the audition for MC & why?
There is a small scene that takes place shortly after Gabriel and Eve arrive at the outlaw camp where they discuss the choices Eve has in regard to her future. They've been together long enough at this point to have acknowledged to themselves that there is something powerful between them, but they are not ready to admit this to each other. It is a scene where the most important things are what is unsaid so it would challenge the actors to convey that underlying meaning.
A little snippet:
"Luke said I could stay here in the valley for a while," she said.
Her soft gaze slid to meet his. The depth of her vulner¬ability was difficult to witness. He wondered how she man¬aged to carry it inside her. "You told him…what you saw?" she asked. The words were raw and exposed, rising barely above a whisper.
The guilt of feeling as though he'd betrayed her was like a rock in his chest. "It's important for him to know the circumstances."
She nodded and averted her gaze, staring off across the valley. There was vulnerability in her eyes, but also so much pride. In her bearing, in her silence, in her determination and courage. But there was also something else. Something Gabriel recognized and could not stand for.
He stopped walking and she stopped as well, turning to face him with a question in her eyes. He lowered his chin and met her gaze with steady insistence. "There is no shame in what you've endured."
Her lips parted on his words, and something flickered in her gaze before it was closed off. "I know that now. But knowing and feeling are two different things."
What do you want people to take away from reading this book?
I'd love for people to see an example of how personal empowerment can develop in many forms. Evelyn is not one of those boldly kick-ass heroines that we all love. Her strength and courage are quiet and internal. Through the story she learns how to trust herself and believe in herself again. She acknowledges her fears and the false beliefs created by someone else and forges ahead despite her uncertainty to claim her future and her happiness.
Thanks for blogging at HJ!
Giveaway:

Paperback copy of The Outlaw's Heart by Amy Sandas
To enter Giveaway: Please complete the Rafflecopter form and Post a comment to this Q:

I fell in love with Western Historical Romances by reading Johanna Lindsey, Elizabeth Lowell, Lorraine Heath, and others. I always loved the sense of adventure and the true grit inherent in this sub-genre. What do you love most about Western Historical Romance?
Excerpt from The Outlaw's Heart:
Eve came to a stop at the edge of the river where the stepping-stones could take her across to Gabriel's meadow. She stood there in a sort of breathless reverie. The urge to go to him—to look into his eyes and hear his voice—ran deep in her blood, but she resisted.
Gabriel's privacy and solitude were sacred to him. She would not intrude upon that.
If he had wanted to see her, he would have come to the bunkhouse.
As she stood there—surrounded by the call of night birds and the scent of wildflowers swirling on a breeze that lifted the long strands of her hair and sighed through the tall grass—Gabriel stepped through the doorway.
His hair was free down his back, his feet were bare, and he wore a buckskin tunic over his denims. His gaze found her immediately.
The connection she'd been pondering flared to full life.
Eve's heart leapt to a furious pace. It was as though with his return he brought life and warmth and hope back into her existence. That and something else, she realized, as heat and heaviness spiraled outward from her core in a delicious dance of physical yearning.
He walked slowly down the slight slope to the bank of the river, his movements graceful and strong. Then he lifted his hand toward her. "Come."
He'd spoken the single word to her many times, in com¬mand or instruction. But something in the way he said it this time felt different. Richer, more intimate, and slightly uncertain.
As though he'd been waiting for her.
Excerpt. © Reprinted by permission. All rights reserved.
Book Info:
Three runaway brides
Determined to escape their fates
Flee West to find freedom that can only be had
in a cowboy's arms…
Desperate to escape an unhappy marriage, Boston socialite Evelyn Perkins flees west in hopes of losing herself to the dusty frontier. But when her train is boarded by outlaws, Evelyn is taken for ransom. Despite her terror, Evelyn fears being returned to her husband more. Refusing to cooperate, she becomes the responsibility of a man whose steady gaze threatens to pierce her brave façade and reach the wounded heart within.
Gabriel Sloan has his orders, but the haunting shadows in the pretty young woman's eyes spark an intense protective instinct he can't deny. Every look, every touch brings them closer together. He would do anything to protect her, but dangerous men are on their trail, and soon the two must face Evelyn's darkest nightmare—or risk losing the unexpected joy they've found forever…
Book Links: Amazon | B&N | iTunes | kobo |
Meet the Author:
Amy Sandas writes historical romance about dashing and dangerous men and women who are often reckless, bold, and unconventional. She holds a Bachelor's degree with an emphasis on Creative Writing from the University of Minnesota-Twin Cities. She lives with her husband and children in Wisconsin.
Connect: amysandas.com