Today, HJ is pleased to share with you

Christina Lauren's

new release: 

In A Holidaze

One Christmas wish, two brothers, and a lifetime of hope are on the line for hapless Maelyn Jones in In a Holidaze, the quintessential holiday romantic novel by Christina Lauren, the New York Times bestselling author of The Unhoneymooners.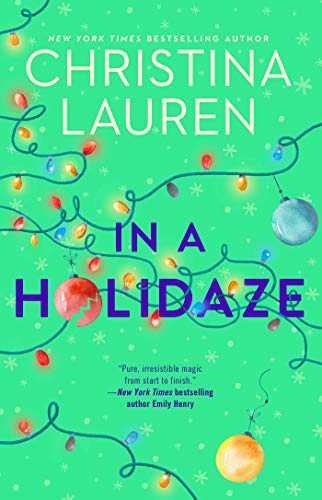 We drafted this book before we knew how crazy the world was about to get, but even at the time it was a complete escape from everyday life. Kissing, time-jumping, winter holidays, and chosen family—it was an absolute delight to write. And then the pandemic hit around the time we were reading through the proofs, and we felt like this book as a choice was such serendipity: it really is lighthearted, escapist fun meant to transport the reader for a few hours or days.

So, five of our favorite scenes reflect that joy, and we hope when you pick up a copy of In A Holidaze, you will feel the same way!

1. The Opening Scene: Mae wakes up realizing she got drunk and kissed the wrong brother the night before. Her entire life, she's been in love with Andrew, but she and his brother Theo hooked up. Panicked, she runs up to tell her 'uncle' Benny
"Benny. Wake up."
He pushes up onto an elbow and, with his other hand, wipes the sleep from his eyes. His Aussie accent comes out hoarse: "What time is it?"
I look at the phone I have gripped in my clammy palm. "Five thirty."
He stares at me with squinty, incredulous eyes. "Is somebody dead?"
"No."
"Missing?"
"No."
"Bleeding profusely?"
"Mentally bleeding, yes." I step deeper into the room, wrap myself up in an old afghan, and sit in a wicker chair that faces the bed. "Help."

2. We Meet Andrew: Later, while she's in a mental spiral outside, Andrew finds Mae on the porch.
I lean forward and hug my knees. I am a mess.
"You're not a mess."
I startle, looking up to find Andrew standing over me, grinning and holding a steaming mug of coffee. With a view of his face in the bright morning light—mischievous green eyes, the shadowy hint of stubble, and pillow creases on his left cheek—my body reacts predictably: heart takes a flying leap off a cliff and stomach sinks warm and low in my belly. He is both exactly who I wanted to see right now and the last person I want to know what's bothering me.
Trying to remember what my hair looks like, I pull the blanket up to my chin, wishing I'd taken the time to put on a bra. "Was I talking to myself?"
"You sure were." He smiles, and Lord if the sun doesn't come out from behind the clouds. Dimples so deep I could lose all my hopes and dreams inside them. I swear his teeth sparkle. As if on cue, a perfect brown curl falls over his forehead. You have got to be kidding me.

3. Mae Makes a Wish: The book's premise is set into motion when Mae, defeated by her brother-mishap and the news that her favorite place in the world will be sold, makes an innocuous wish . . .
I close my eyes and make a silent plea. Universe. What am I doing with my life? Please, I want . . .
I'm not even sure how to finish the sentence. I want to be happy, and I'm petrified that the path I'm on now is going to leave me bored and alone.
So I ask the universe, simply: Can you show me what will make me happy?
I lean my head against the window, my breath fogging up the glass. When I reach up to clear it away with my sleeve, I'm startled to see a grimy Christmas wreath decorated with an equally grimy bow. A blaring horn, a blur of shaggy green hurdling toward our car.
"Dad!" I shriek.
It's too late. My seatbelt locks, and we're hit from the side. Metal screams and glass shatters in a sickening crunch. Whatever was loose in the car is airborne, and I somehow watch the contents of my purse escape and float with surreal slowness as we roll. The radio is still playing: Through the years, we all will be together, if the fates allow . . .
Everything goes black.

4. Mae Gets a Second Chance to Go After the Guy She Loves: Throughout the time-jumping, Mae has to figure out whether she's done something wrong to keep sending her back in time—and whether she shouldn't kiss either brother for fear of displeasing the Universe. But being near Andrew and his sweet charm proves impossible for her to resist, and she confesses her feelings.
"I've known you your whole life, Mae." He grins at me again. "And here you are this year, impulsive and taking up space and flipping all expectations. You're all take-charge and bossy."
"I'm just seeing things with fresh eyes, I guess. It's time to grow up."
Andrew bats at some fluffy snow on a branch. "Coming into this holiday like a wrecking ball?"
A rebellious streak races through me. "It's more like, I see my life stretching out ahead of me and figure, why not go for what I want?"
"Jam and applesauce on your blintzes," he jokes. "Cocktails on the porch. Snowball fights."
The word rockets from me: "You."

5. Andrew Confesses: While sledding together, Andrew admits to Mae that he never had any idea how she felt, and he never thought she could be his.
His mouth comes right up beside my ear. "After what you said last night, I thought you were going to kiss me. Really kiss me."
It's my turn to lose my breath. I can't turn around and look at him, can't read his tone.
"Like on the mouth?" I call out over my shoulder, but my voice disappears into the wind as we go screaming down the mountain.
Andrew leans forward, spreading his hand across my side, pulling me closer into his body. When he speaks, he sounds breathless. "Yeah, on the mouth."
I stare ahead of us, and the figures on the slope start to blur. My eyes water with the cold wind.
His voice is quieter, but everything else has fallen away somehow and I can hear him perfectly. "You've never been for me, Maisie. I never knew you were an option."
"What do you mean?"
We hit a bump and veer to the left, and his fingers tighten at my waist. When we straighten out, he doesn't let go; if anything, he tightens his grip, pulling closer and wrapping more of his arm around me. His fingers curl, brushing just under my jacket.
His breath comes out warm against my neck, voice shaking: "It never occurred to me you might be mine."

Excerpt. ©Christina Lauren. Posted by arrangement with the publisher. All rights reserved.
We hope you truly love In A Holidaze and thank you for always supporting and reading our books! Sending seasonal swoons and massive affection,
Lauren & Christina


Giveaway:

One print copy of IN A HOLIDAZE by Christina Lauren (US only)
To enter Giveaway: Please complete the Rafflecopter form and post a comment to this Q:

What did you think of the excerpts spotlighted here? Leave a comment with your thoughts on the book…
About the Book:
It's the most wonderful time of the year…but not for Maelyn Jones. She's living with her parents, hates her going-nowhere job, and has just made a romantic error of epic proportions.
But perhaps worst of all, this is the last Christmas Mae will be at her favorite place in the world—the snowy Utah cabin where she and her family have spent every holiday since she was born, along with two other beloved families. Mentally melting down as she drives away from the cabin for the final time, Mae throws out what she thinks is a simple plea to the universe: Please. Show me what will make me happy.
The next thing she knows, tires screech and metal collides, everything goes black. But when Mae gasps awake…she's on an airplane bound for Utah, where she begins the same holiday all over again. With one hilarious disaster after another sending her back to the plane, Mae must figure out how to break free of the strange time loop—and finally get her true love under the mistletoe.
Jam-packed with yuletide cheer, an unforgettable cast of characters, and Christina Lauren's trademark "downright hilarious" (Helen Hoang, author of The Bride Test) hijinks, this swoon-worthy romantic read will make you believe in the power of wishes and the magic of the holidays.

Buy:
https://www.indiebound.org/book/9781982123949?aff=simonsayscom
http://www.amazon.com/exec/obidos/ASIN/198212394X?tag=simonsayscom
https://bookshop.org/books/in-a-holidaze-9781982163631/9781982123949
http://www.anrdoezrs.net/click-7567305-11819508?SID=simonsayscom&url=
http://www.barnesandnoble.com/w/?ean=9781982123949


Meet the Author:
Christina Lauren is the combined pen name of longtime writing partners and best friends Christina Hobbs and Lauren Billings, the New York Times, USA TODAY, and #1 internationally bestselling authors of the Beautiful and Wild Seasons series, Dating You / Hating You, Autoboyography, Love and Other Words, Roomies, Josh and Hazel's Guide to Not Dating, My Favorite Half-Night Stand, and The Unhoneymooners. You can find them online at ChristinaLaurenBooks.com, @ChristinaLauren on Instagram, or @ChristinaLauren on Twitter.