Guarding His Midnight Witness by Anna J. Stewart is the fourth book in her Honor Bound series.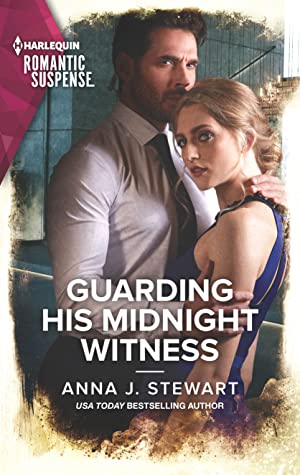 Greta Renault is a very talented artist who is preparing for her first official show of her paintings at the Camellia Art Museum. Greta owned the building where she lived and was the only occupant. She had been working on a piece for her art show when she looked out her window at the Fremont Complex building across the street. What she saw horrified her. A man had just been murdered. She called 911 but when the police arrived Greta questioned if she should have. When the police officer and the detective arrived Greta told them what she saw. Officer Bowman clearly didn't believe her. Detective Jack McTavish might have believed her. He, at least, came back to follow up. Part of the problem was that the man Greta saw committing the murder is a well-known business man with very influential connections. Yet the handsome detective stuck with her and promised to get to the bottom of things.
Detective Jack McTavish has been off the job for eight months after having been shot and almost dying on his last case. The call to Greta Renault's apartment was his first case upon returning to duty. There was something about Greta that had Jack taking her story seriously. He was sure the murderer realized the murder had been witnessed by her. Her life was probably in danger. She needed protection for sure and he was the man for the job. Their attraction to each other was strong but Jack knew he had to keep his mind on the case and Greta's safety, No easy job!
This story had plenty of action and suspense. The main characters, Greta and Jack worked well together to gather the evidence to solve the case. Greta insisted on being part of the investigation. She fought the relationship because of her family history. Fortunately Jack persevered.
This story had a different flavor than the first three books in the series. Those three had an overall arc of a cold case involving the three heroines. Jack McTavish played a significant role in those three books and I was happy to see him get his own story and HEA. This is a super series. I loved all four books!
Book Info:

Publication: October 1st 2020 | Harlequin Romantic Suspense | Honor Bound #4
She knows what she saw…
Can he believe her?
Detective Jack McTavish can't afford another slipup. So when artist Greta Renault claims to have witnessed a murder without a shred of evidence, he's tempted to walk. Jack's gut propels him to pursue this case—and his attraction to Greta. Soon, not only is his job on the line, but Greta's life is, too…and only Jack can keep her safe.
USA TODAY Bestselling Author