Today it is my pleasure to Welcome author
Fiona McArthur
to HJ!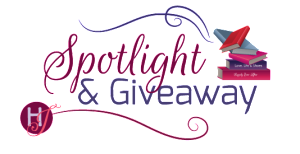 Hi Fiona and welcome to HJ! We're so excited to chat with you about your new release, The Outback Brides of Wirrralong: Lacey!
Please summarize the book for the readers here: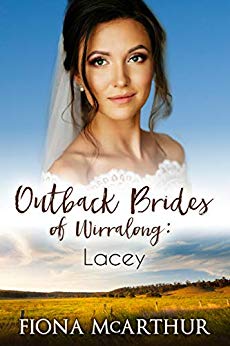 Wirralong, an outback town revived by the gorgeous Wirra Homestead Wedding Centre, is a place which seems to draw people in need of love. Mysterious Lacey, the housekeeper with the shrouded past is driving our local copper, Cameron, crazy. But charismatic Cameron is returning the favour until they can't resist that one-night stand after a wedding. Now Lacey has returned to Wirralong with a bigger secret and a lot of getting to know the father of her child when their baby arrives in a hurry. Can Lacey learn to trust– will Cameron find the family he's always dreamed of? Find out in the first of the new series of The Outback Brides Of Wirralong.

Please share the opening lines of this book:
A soft breeze ruffled the feathers on an inquisitive kookaburra as he scrutinised the crowd at Wirra Station Wedding Centre.
Please share a few Fun facts about this book…
I'm a midwife so of course babies appear in my books. Cameron has a childbirth phobia and Lacey is a midwife, too. It makes for fun in the scenes I love to write. 'Lacey' started out as another book entirely but the township of Wirralong grabbed this book by the throat and took over. The working title was Lacey's Baby, and for a while even Lacey's Lawman but just "Lacey' works so beautifully.
Please tell us a little about the characters in your book. As you wrote your protagonist was there anything about them that surprised you?
Cameron is a man with a deep-seated fear about childbirth and parenthood. He didn't have the ability to open up to any partner let alone a midwife having his child. Lacey married the wrong man across the country and her escape to Wirralong had been shrouded in secrecy. Falling pregnant the day after her divorce was not the independence she'd planned by a long shot.
As their attraction claws around them they don't know or trust each other – but they have no choice for the baby's sake to find common ground fast. And then there's that darn attraction…
If your book was optioned for a movie, what scene would you use for the audition of the main characters and why?
I love the first time Cameron is exposed to a fast birth at the side of the road –
Lacey asked Cameron to stop.
Funny how hard that was to do when every fibre of his being screamed for him to press the pedal to the metal and get to the hospital. Maybe there was still time for the ambulance to catch them before the baby came.
He moved his foot to the brake pedal and pulled over in a truck parking area. Thanked his lucky stars Lacey was here and he wasn't alone out here with this. Though he would have managed, he told himself. Yeah, right, with Penny screaming assault the whole time and the back of his mind yelling that this was how his mother had died.
The sound of the door opening behind him as Lacey eased out backwards coincided with Lacey's calm, soothing voice and the unmistakable sounds of the last moments before birth.
Then he heard a baby's cry and the murmur of Lacey's congratulatory voice.
Cameron pushed himself out of the car and gulped air. He felt as if someone had burst a large paper bag in his face. Holy heck someone just had a kid in the back of his car and he hoped to heaven she didn't start to bleed to death like… Stop it, he told himself.
This was why he was careful.
This was why he ran a mile from marriage and inexperienced women.
This was why he shouldn't get involved with Lacey Jerome because she shook the foundations of what he believed in and left him far too freakin' vulnerable.
What do you want people to take away from reading this book?
That people help people, that true love finds a way and can heal deep wounds, and while hospitals are where I birthed all my babies, that warmth, faith and gentle hands can catch babies if needed in adversity.
What are you currently working on? What other releases do you have planned?
Lacey – 13 March 2019 – TULE Publishing – so excited and so glad to be back in Wirralong!
The Desert Midwife – my fab outback amnesia story, out 16 July 2019 – Penguin Random House, Australia. It will pull your heartstrings.
Final tweaks for book 3 of The Midwives Of Lighthouse Bay for HMB Medicals, another secret baby book, which has the most fab cave scene opening and a very sexy Italian.

Thanks for blogging at HJ!
Giveaway:

Tule tote, copy of ebook The Outback Brides of Wirrralong: Lacey, tule swag
To enter Giveaway: Please complete the Rafflecopter form and Post a comment to this Q:

Dear Reader I love babies but did you enjoy reading the birth scenes? Or, did they terrify you? All of those scenes could happen. So I'd love to know. Fi.
Excerpt from The Outback Brides of Wirrralong: Lacey:
Wirralong, Victoria, Australia
Summer
A soft breeze ruffled the feathers on an inquisitive kookaburra as he scrutinised the crowd at Wirra Station wedding centre. Similar eddies of breeze must have filtered through the green eucalyptus leaves a hundred years ago when determined men had panned along Wirralong's meandering river in search of gold.
Today, in March, at the wedding of Holly Peterson and Ben Brierly, perhaps some of that long-ago gold sparkled on the cushioned ring. A ring held by a small boy as he waited with his new dad for the bride.
Lacey Jerome stroked her memorabilia fan as she sat beside her friend, Maggie.
Maggie ran the wedding centre at Wirra Station and had eased down next to her for a moment to unobtrusively observe the gathering. Really, Lacey knew, Maggie was doing a welfare check on her, the newly divorced woman she felt sorry for.
She was okay.
Maggie glanced around and raised her brows at the happy people. 'It all looks smooth at the moment.'
'As it does with your events,' Lacey said. 'Where's your beautiful baby?'
'Her father.' Maggie smiled. 'Unless someone's snaffled her for a cuddle.'
Lacey clasped her empty hands. 'I wouldn't mind a cuddle.' Maggie was the only one who knew about Lacey's life before Wirralong. She whispered, 'It's a little ironic I divorced my nightmare of a husband yesterday and sit here for a wedding today.'
Maggie patted her arm. 'I think it's auspicious. A sign of a fabulous new start for you.'
Lacey lifted her head. Friends were wonderful. 'It is a glorious day. And your garden feels olde-worlde romantic.' She held up her hands in mock horror. 'Not that I'm looking for romance. But the fairyland grotto does make me laugh.'
Maggie glanced to her left. 'I'm glad. I love it. Those twin nephews of Holly's had a ball searching for the fairies and elves.'
The boys were a delight. 'You know Miranda has plans to add something similar with Holly and the boys moving to Brierly Park?'
Maggie raised mocking brows. 'And you as jack-of-all-trades will do the work while Miranda directs from the sidelines.'
Lacey smiled toward her boss in the front row of white chairs. 'All good. I'll have it done before I go.'
Maggie's voice lowered. 'When do you leave for Perth?'
'A week. When the house sells over there—fingers crossed—I hope to buy here.'
Maggie nodded decisively. 'Now that you don't have to hide from an ex-husband with connections in every maternity hospital in Australia.'
True. She so wanted to get back to the job she loved. 'My days as a housekeeper are coming to an end, though it's been fun.' They glanced toward Lacey's boss.
Then both winced, as an exuberant teenager bumped a large ornate vase askew and it teetered on falling. Maggie squeezed her arm as she rose to correct the floral arrangement. 'I think you've been incredibly strong through it all. Hang in there.'
Lacey felt her throat tighten and waved her friend away. 'Thanks, Maggie. You go.'
She would hang in there.
No more subterfuge about her past or her future.
No more stiff upper lip as the silent, hiding housekeeper.
Thank goodness.
Elsa Hargreaves waved her husband Jack on to get them seats and plonked down beside Lacey for a quick hello.
'Hey, stranger. Come visit me so I can play with your hair. Now that the cold war between your boss and I is over, I'll bet you're happy not to do the cutting?'
Lacey laughed. Miranda was a sweetie under the snappy exterior Elsa seemed to draw from Lacey's employer. 'Very happy to relinquish that task into more skilled hands.'
'Hi, Lacey. Hi, Elsa.' Isabella Martensen called softly as she and her winemaker husband, Harry Harrison, walked past and Lacey waved. Isabella, the celebrant who would officiate at the impending nuptials, moved to where Ben waited with young Sam under the daisy-covered arch at the front.
All the members of the Smart Ladies Supper Club, Wirralong's business women's group, were here, and Lacey thought how she would miss the fun set she'd only just joined if she left.
But she wasn't planning to leave for good. Just go back across the great red expanse of Australia and clear the debris of her marriage.
Then she'd return to Wirralong, because this was the first place in a long time that felt like home.
But it would be unpleasant going back to Perth.
Gerry, her ex, would not make it easy. Not since she'd stopped saying yes to everything. She glanced down at her bare hand and straightened her spine. Toughen up, Lacey.
Because now she could come out into the open safely and return to the profession she loved, once Perth was done. But it had been harder than she expected to end that one-sided marriage.
Elsa peered at her. 'Are you nervous?'
'Just a little.' She searched for a reason. 'Mostly about my first gig playing with the band in front of a crowd.'
'You'll be awesome.'
They both saw Maggie had returned with her baby and her local grazier husband, Max, to take their seats. Elsa jumped up. 'Better go sit with Jack and be romantic.'
'Young love,' Lacey teased, and waved the hair stylist away.
Processional music drew the attention of the stragglers and the last people took their seats.
She patted her small purse and grimaced. She'd forgotten her handkerchief and today she suspected she might weep at a wedding.
A movement to her left had Lacey lift her chin and quickly stare straight ahead as a tall, well-built man slipped in beside her.
Damn. There was that ripple of awareness and, of course, a tendril of expensive aftershave drifted across like a wisp of sin without her even having to turn her head.
Naturally she knew who it was.
Great.
Cameron James, Wirralong's sexiest single policeman had arrived. The first time she'd seen the man all her receptors had spun like dervishes and she'd been calming them down ever since. He exuded raw masculine power and a devil-may-care sinfulness that made her want to sigh from behind a curtain as she watched him walk by.
Lacey's skin prickled and warmed and she fixed her gaze on the floral archway. Pretended she didn't know Cameron was there. One would have thought she'd have learned her lesson about men with seduction skills and my-way-or-the-highway issues.
The last one had made her life hell, with his blatant infidelity. Then he'd rant about the way she dressed and finally forced her to give up the profession she loved, to be his homebody.
Cameron probably wasn't like Gerry. Just an upfront ladies' man and, unfortunately, that made her remember the first time she'd realised her husband had been unfaithful.
Cameron had absolutely nothing to do with her reasons for choosing to face her past.
Or decide to settle here.
Weddings for happy people made her feel on the outside and she needed to put down a new foundation for her life. Which ruled out Cameron.
Cameron James the seducer did not go with either noun—wedding or foundation—he was a surface dweller and she knew it. Which was fine. The last thing she needed was another man.
Excerpt. © Reprinted by permission. All rights reserved.


Book Info:
Nine months later…
Lacey Jerome had always fought her attraction to sexy police officer Cameron James, but one crazy night, she let her hair down and fell into bed with him. Their night together turned more passionate, more soul-scorching than she'd imagined it could be, but mixed messages from Cameron had her fleeing the scene.
Now, she's back in Wirralong with the memories of their one-night stand etched into her mind and a mission to reconnect with the man who made her lose her head in the most delicious manner.
Cameron never forgot Lacey — and not for lack of trying. He has his own restrictive code, but somehow his thoughts always manage to wander to the newly returned beauty. He has questions and Lacey knows all the answers.
Book Links: Amazon | B&N | iTunes | Kobo | Google |


Meet the Author: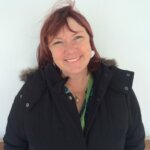 Fiona McArthur has written more than forty books and shares her medical knowledge and her love of working with women, families and emergency services in her stories. In her compassionate, pacey fiction, her love of the Australian landscape meshes beautifully with warm, funny, multigenerational characters as she highlights challenges for rural and remote families, and the strength shared between women. She always champions the underdog, and the wonderful, ordinary people doing extraordinary things. Then that bit of drama thrown in because who doesn't love a few tears, a heartfelt sigh of relief and a big happy smile at the end? Make that gorgeous man earn the right to win his beautiful and strong-willed heroine's heart because that's something she believes in. And, absolutely, happy endings are a must.
Website | Facebook | Twitter | Instagram | GoodReads |