Today, HJ is pleased to share with you

Alison G. Bailey's

new release: 

Lip Smacker

Hi readers! Thank you for having me Sara! I'm so excited for you all to read Lip Smacker!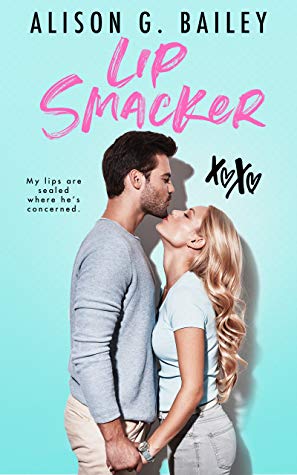 Logan Heath was the sweetest and most beautiful boy I had ever seen. He was popular, smart, and the star quarterback of Fort Johnson High. Every girl in school followed him around in hopes of getting his attention. I was no different, except that I admired Logan from afar. With him being a superstar junior and me being an awkward freshman at a new school our coupling was a mere pipedream.

Implementing my topnotch investigating skills I learned from reading The Nancy Drew Mysteries, I followed Logan's life from high school through his college career, and then some. Fearing that my stalker-ish tendencies were becoming more of a mental health issue, I purposely lost track of him five years ago. I admit since that time I have thought of Logan. And when I say thought I mean he has popped into one or forty R-rated dreams of mine.

The day he walked into my bakery, butterflies fluttered in my stomach, tingles tingled my skin, and a sequence of R-rated dreams flashed through my head. But I was no longer that awkward teenager, too scared to speak to him. I had grown into a confident woman. A woman who wanted to admire Logan Heath up close and personal. Unfortunately, from the very beginning Logan wanted something from me that I was not willing to give him.
Enjoy an exclusive excerpt from Lip Smacker 
Logan's head popped up, his eyes fixed on me. "Do you react disproportionately to everything?"
"Disproportionately? Who talks like that? Is that diplomatic code for hysterical woman?"
He inhaled a couple of deep breaths, no doubt trying to quell his anger.
That's right, I said quell. I know things.
His gaze traveled down my body, leaving goosebumps in its path. When Logan's eyes returned to mine, there was something different in them. Lust? Part of me wanted it to be lust. It could have been lust. It probably was not lust. Mother of God! What was wrong with me? One minute I was acting like a giddy schoolgirl, the next I was ready to rip him a new one. Now I was back to wanting him to want me.
Frankly, I was perplexed and disappointed in myself. It was as if I had no control over my own body. And when my stomach fluttered, my skin tingled, and every inch of me heated up, my mind shut down. But I could not and would not let my immature reaction to him cloud my adult senses.
"Why were you trying to break into my kitchen?"
"When I saw the light I wanted to make sure everything was okay, so I came around back to investigate."
"Aw, my hero. It's nice to know deep down you still have a smidge of decency left to help others. "
Logan looked at me confused. The motherfucker was even cuter when off kilter.
"Fort Johnson High," I said.
"Wow, you really did your research on me. I think you like me."
"We attended the same school."
"That was a long time ago. Are you sure?"
"Yes, I'm sure," I insisted.
Tapping his chin with his index finger, Logan looked up at the ceiling. Either he was wracking his brain or stalling for time so as to not offend me.
"Relax. I don't expect you to remember me. I was a lowly freshman in a new school and you were the star football player."
A prideful expression took over his face. "Those were great years."
I shrugged. "Eh."
"So, our paths have crossed before. Small world."
"Not small enough."
"I'm not your enemy, Lip."
"You're certainly not my friend."
"I'd like to be."
My knees felt wobbly and my heart skipped a…
Goddammit! Lip! Not more than five seconds ago you were spouting about what a strong woman you were. Logan utters four little words in his deep husky voice and you turn into goo. They weren't even dirty words.
"Oh, you're good. You're very good. But I'm better. I'm immune to all of this." I waved my hand up and down indicating his body. His tall, toned body.
Logan chuckled. "I like you, Lip Smacker."
Tilting my head to the side, I said, "Of course you do. I'm very likable."
Excerpt. ©Alison G. Bailey. Posted by arrangement with the publisher. All rights reserved.


Giveaway:

A Signed paperback copy of Lip Smacker, open international
To enter Giveaway: Please complete the Rafflecopter form and post a comment to this Q:

What did you think of the excerpt spotlighted here? Leave a comment with your thoughts on the book…
Meet the Author:
Alison G. Bailey is an award winning, Amazon, and International bestselling author living in Charleston, South Carolina. At the age of ten she discovered her inner author, rewriting scenes from her favorite TV shows and movies. Alison wrote and produced several stage plays before turning her sights on the book world. Under the influence of large amounts of Diet Pepsi and her Spotify playlists, Alison writes thought provoking, emotional stories, full of love, and romance.
SOCIAL MEDIA CONTACTS: Website | Facebook | Twitter | Instagram | Pinterest | Goodreads | Newsletter