In The Goddess Gets Her Guy by Ashlyn Chase, Fate and Karma decide their sister, Gaia (a.k.a.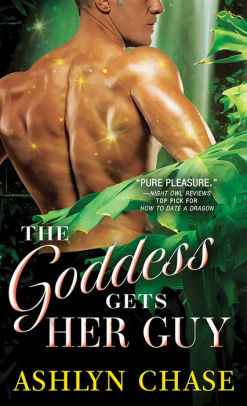 Mother Nature), needs to find love so she won't be so uptight. They search high and low, by Gaia finds it herself in Dr. Aaron Samuels, a human with witch powers. But will Gaia get over her rule about paranormals revealing their powers to humans, and when someone else decides he wants her affections, will he ruin it for the couple?
I had a hard time making it through this book and, at several points, I thought about just giving up reading it. First, if you haven't read any of the other books by this author, you're going to have a hard time keeping up with all the characters. I've read some of them and I had trouble. It felt like the author was not only trying to get Gaia's story out there, but also trying to wrap up the couples that appeared in her previous books. So not only are readers reading about Gaia and Aaron, but there's several side-stories going on as well, and the cut over to each is not smooth or clear. Having so many things going on also takes away from what is supposed to be Gaia's and Aaron's love story. As a result, I didn't feel their romance was built up enough and the chemistry between them was lacking.
At one point, Gaia and Aaron have a fight over something, and then the next thing you know, they're getting along. There's no talking it out. There's no explaining why something was done or why they were upset. Nothing. Just a fight and then moving on with no resolution, when it's something they should have discussed since it involved one of Aaron's daughters.
I also didn't care for the attitudes of some of the characters. Gaia, for example, comes across as a know-it-all. She's hard on everyone and has unrealistic expectations for paranormals who mate with humans. She eventually thaws a little, but it doesn't make her a very likable character. Then there's Dawn, who was upset because her mother might not be able to make it to her wedding because she was in jail. It felt like she kept whining about it, and she even gets mad at her fiancé, Luca, when he explains that there was probably nothing they could about it. He was only telling the truth but because he wasn't feeding her what she wanted to hear, she gets angry.
There's a reoccurring theme of humans ruining everything Mother Nature created, and Gaia's unhappiness with it. It would have been fine if it was mentioned once or twice, but it started to feel like I was being hit over the head with just how awful people are.
Unfortunately, this book was not for me. There are too many characters, too many side stories, and definitely not enough development of the main romance.
Book Info:

Publication: November 26, 2019 | Sourcebooks Casablanca |
After leaving his job as a cardiac surgeon, Dr. Aaron Samuels needs a new purpose in his life. Wanting to help his patients even if he can't operate, he heads to the Puerto Rican rainforest to find a cure for heart disease. He never imagined he'd meet a beautiful, mysterious woman, especially not one talking to a frog in the middle of the jungle…
Gaia–a.k.a. Mother Nature–has had it with paranormals breaking her number one rule: Never reveal your supernatural powers to humans, not even your mate. Fed up, she transports to the rainforest, happy to converse with amphibians who don't talk back. But Dr. Samuels is a much better conversationalist, and Gaia can't wait to help him mend all those broken hearts he told her about.
When her attempts to help only complicate things between them, Gaia begins to wonder what would happen if she opened her heart and was honest with Aaron…and herself. Maybe her number one rule has been wrong all along…