Today it is my pleasure to Welcome author
Stacey Agdern
to HJ!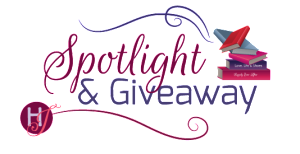 Hi Stacey and welcome to HJ! We're so excited to chat with you about your new release, Love and Latkes!
To start off, can you please tell us a little bit about this book?: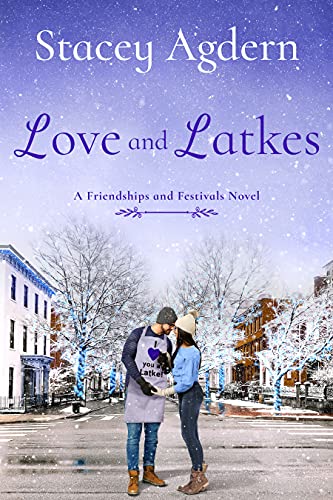 Web designer and aspiring kosher foodie Batya Averman returns to the hometown she fled years ago in order to design the website for the town's inaugural latke fry off. But when she arrives, she discovers both the celebrity host has pulled out of the competition and her high school crush, Tax Accountant and part time purveyor of Kosher BBQ Abe Neumann, is one of the competitors.
When Batya resolves take on the hosting job, she learns that the most important things in life are Love… and Latkes.

Please share your favorite lines or quote(s) from this book:
"I'm engaged to the man my childhood sweetheart has become. If I were engaged to my childhood sweetheart, things would have gone downhill really quickly." Anna, heroine of History of Us, explaining the importance of seeing people as they are, not as they were, no matter how long you've known them

"There was a bubbly soda feeling inside of Batya. It was fun to be able to feel it as opposed to spending all of her energy fighting it, suppressing it and making it burn her from the inside." Batya, enjoying the feeling of just…being with Abe
What inspired this book?
Tons of different cookie and other food related competitions related to Christmas, and their fictional counterparts both in movies and in books
The various ways that Jewish food has been maligned in mainstream publications and the Jewish voices who are doing their best to change that
The work that people like Guy Fieri and Jose Andres were doing, especially at the beginning of the pandemic to help both the world and the restaurant industry
There were so many movies that focused on the idea that 'senior year is freedom' and I wanted to explore what happens years after a senior year graduation party confession of love that went wrong, and how that particular sort of baggage actually affects you when you live in a small town and EVERYBODY knows your business.
How did you 'get to know' your main characters? Did they ever surprise you?
I think it was so much fun watching Batya come into her own through the series, where she spent three books trying to figure out what her place was, and ended up in a position where she was strong enough to face the demons of her past, though not directly and not in a way she would have chosen, for sure. Abe was my dark horse, my big hearted tax accountant who like so many of us, have to split time between their job and their passion because of the financial requirements of both. One fuels the other. As usual, they told me their stories through music; a lot of classic Bon Jovi for Abe and some really cool mixes for Batya.
What was your favorite scene to write?
One of the big themes for this story is food as a love language, and Batya invites Abe back over to her house after a very challenging week. This where you see them start to believe they can be a couple, and there are bits that show up later. This is just a small snippet of the banter that flow out of them when they're comfortable :
"I can't take you anywhere," she said, continuing to chop something.
He stepped closer and gawked. "You're cutting potatoes by hand?!"
"Maybe I'm a traditionalist."
He shook his head. "No. A masochist is what you are."
She snorted. "Maybe I don't have a food processor."
"I could go get mine if you want."
"Why don't you help me chop?"
He considered the idea, and then took a knife, joining her as she chopped potatoes to the sound of a parody song's joyful recitation of a recipe for latkes.
"We're cutting onions here too?"
"I am," she said, "but only one."
He nodded. "Do you cry over onions?"
"Why? Would the fact that I cry over chopped vegetables be a problem?"
(can you see I had a hard time picking where to stop? )
What was the most difficult scene to write?
When you're writing a series, you always have to be aware of why you're including characters who appeared in the previous books. And when you have pretty strong previous series characters, the characters in this book need to make it clear whose story it ACTUALLY is as opposed to letting others take over. It was so hard to get to this point in a scene that takes place towards the end of the story.
Finally, Abe threw up his hands and said ENOUGH.
If the two of them didn't stop, Abe wasn't just going to climb the walls, but also out of the window. "Okay, wait. Stop the show, not the car."
And in the sudden silence, Abe wasn't sure whether to be relieved or scared. But it didn't matter. This wasn't about Isaac and Jacob or whatever was going on between the two of them. "Now could one of you, and honest to god I don't care which one, possibly tell me what the hell is going on?"
Would you say this book showcases your writing style or is it a departure for you?
I think it's absolutely an evolution. It's published one year after my first book, Miracles and Menorahs, and I can absolutely see the growth in both the writing and the kind of topics I'm willing to write about and how I'm willing to analyze them through the course of the story. And the chances I take in this story never would have been possible had I not taken the chances I took in History of Us.
What do you want people to take away from reading this book?
Jewish food in general isn't exactly what you think it is, and Ashkenazi food deserves so much more respect than it gets.
-The importance of seeing childhood crushes as an adult and the amazing part of seeing someone in a way you never saw them before 🙂
-Hanukkah food and goodness *grins*
What are you currently working on? What other releases do you have planned?
-A between the books feature for newsletter subscribers, featuring Anna, Jacob, Batya and what happens at comic con 🙂
-I've been working with a friend on figuring out how to rerelease the four stories I contributed to the four rogue anthologies and their companion story 'the fifth question'. Look for more news on 'the hope connection' soon 🙂
– I have a few other things I'm working on, and having some fun with, so again, look for more information when I have it 🙂
Thanks for blogging at HJ!
Giveaway:

An ebook copy of Love and Latkes & 3 Tule ebooks
To enter Giveaway: Please complete the Rafflecopter form and Post a comment to this Q:

Which do you prefer: applesauce or sour cream and why 🙂 There are no right answers
Excerpt from Love and Latkes:
October
The subject line of the email burning a hole in Batya Averman's inbox was written in bold.
LATKE FRY-OFF HOSTED by George Gold/Golden Road Productions
She'd sent in her résumé to the town and the production company a few months before on a whim fueled by possibility. She was a good web designer, but she also knew food. Knew it well, especially after building her own website, full of interviews and the kinds of things that might possibly be, for a person with less stage fright, the basis of a television show.
But she couldn't stop dreaming, and maybe, maybe if she could design the website for this event, she could talk to George Gold himself? Ask him some questions. Get some guidance.
Who knew. The man probably wasn't going to give the time of day to a web designer, but being on one of his sets would be educational for sure. If she got the job.
And now, amidst the email that told her she needed to schedule the next dress fitting at the shop designing the bridesmaids' dresses for Anna's wedding in six months, client emails, and random emails from Sarah telling her she was convinced Isaac was going to propose on the first night of Hanukkah, was The response.
She held her breath and clicked on it.
To: BAverman@foodworld.com
From: KTakayama@Rivertown.NY.gov
Batya,
I was very pleased to receive your email. And I am absolutely thrilled to offer you the position.
Looking forward to seeing you back in Rivertown,
Kiyoshi
RTQB Alum with Distinction
She clicked the message shut and sighed before putting her head on the kitchen table. "Why?" she asked. "Why the heck is this my life?"
She heard footsteps and looked up to see her aunt. "What's going on?"
Her aunt was in her seventies—bright haired, bright-eyed, and with a mind like a steel trap. She'd come to Hollowville from California five years before because Tante Shelly had needed family. Now she couldn't imagine her adult life without the close relationship she'd built with her aunt.
But a discussion about the mistake she'd made and the past she'd left behind in Rivertown wasn't going to be a comfortable one, even with Tante Shelly.
"Rivertown," she said, hedging just a little bit, "is hosting a latke competition."
Tante Shelly raised an eyebrow, and it was obvious the older woman could see past the story Batya wanted to tell. "I don't understand."
Now she had to spill the details, and hope Tante would understand. "I'd read somewhere that George Gold is hosting a latke-making competition in some town," Batya said, feeling like she was driving backward through quicksand. "And, so I sent an inquiry to the committee about doing the website. I didn't realize that the town was Rivertown."
Tante Shelly snickered. "Oh my dear. You know exactly why this is your life?"
"I don't. I mean, I was excited to see how a small town would run a latke-making competition. For abstract, and maybe website purposes, and more importantly as a way of working with George Gold. He's really hands-on for the things he hosts, because he doesn't want his name attached to anything inferior. So I offered my services. Website build, onsite consultation at most hours during the event itself, which I normally offer in conjunction with websites I'm doing for specific pop-up events."
"And you didn't check to see where the competition was before you offered?"
Which was the part of the story Batya was most embarrassed about. "I'm usually more circumspect about checking the information and locations of places I send my résumé to," she admitted. "But this time I wasn't."
"Why?"
And that was the million-dollar question. "I can work anywhere, you know, and honestly I kinda would for George Gold. I figured it would be California or Florida or somewhere like that, knowing his usual filming trajectory. The last thing in the world I expected was for Rivertown, the village that barely even acknowledged their Jewish population when I lived there, to have a latke competition."
Tante Shelly nodded. "You know, places change, Batya. People change. Towns change. Apparently, the new rabbi at the synagogue has a very different outlook on community outreach than the last one had. And from what I hear, he's got a seat on the council."
"Why do I not believe you?"
"Maybe the other thing you should think about," Tante Shelly continued, shifting into lecture mode, "is that a large number of people come here, to the next town over from Rivertown, to celebrate Hanukkah. Tourist dollars are on the table. And not thinking about those tourists costs Rivertown money. A lot of money."
Batya nodded. "That I believe. And I understand the facts, Tante Shelly, but I just…"
"You just what?"
Batya sighed. "Why, of all places, does it have to be…there?"
Tante Shelly sat down at the table, settled herself in and smiled, her wide hazel eyes soft yet trained directly on her. "Bashert, maybe."
Thankfully, Batya wasn't drinking anything; she would have spewed liquid all over her aunt if she had. Instead, she tried to tamp down her sarcasm. "Rivertown is not my soul mate."
"No," her tante replied, "but you've been successful at everything life has thrown at you. It's bashert, fated, that you take the next step toward your dreams there. Where you started."
"I didn't start there," Batya replied as if she couldn't get the words out fast enough. "I left there as quickly as possible. You could see the burn marks under my tires as I went across the country."
"Yes, and you didn't return." Tante Shelly smiled. "You know I never thanked you."
"For what?"
"For coming here when I needed you. Thank you."
"There's no reason to thank me," she said, reaching a hand out and placing it over her aunt's wrinkled one. "You needed me; I needed a change. You did everything for me when I was a kid. I adore you, Tante Shelly."
She smiled, and Batya could see that smile was still bittersweet, her uncle's loss still just below her aunt's skin. "I love you, dear," she said. "And I know that it's time for you to take the next step."
"Even if it's going backward?"
"This isn't backward," Tante Shelly said, rubbing her wrist with her thumb. "No, mamaleh. This is forward."
"Forward." Batya tried desperately to hide her disbelief. Yes, building a website for a food competition was a logical next step, but nothing in the world would make her think returning to Rivertown for any reason was moving forward. "Okay."
She opened her email app, then went to Kiyoshi's email and hit reply.
This was happening. Whether she wanted it to or not.

Abe Newman locked the front door to his childhood home.
Two years before, he'd realized that his fire was for barbecue and not the intricate tax work he'd spent so much time poring over. So, he'd sold his Manhattan apartment and moved back to Rivertown, a phrase he never thought he'd say.
Yet here he was, with a house transferred over to him from his recently retired father, which meant bigger space. And that led to a brand-new smoker. And a pellet grill, of course. Definitely a good trade-off for the increase in his commute time—and his increasingly expensive monthly commuter ticket.
Yet another thought he hadn't expected to ever have.
But he'd made his choice, and now he had both the time and space to make more barbecue. Every weekend, for the select number of people who ordered early enough.
And, boy, did they order.
Enough so that he needed an assistant to get through the weekend, which usually meant his friend Artur joined him…as long as he was able to sample some of the day's product at the end of the night.
But as Abe pulled into his friend Leo's driveway, all he thought of was home.
Home for him was really this group of friends he'd had since forever, since his mother died during the summer between fourth and fifth grade and Mrs. Fratelli watched him every afternoon until his father came home from work.
Leo Fratelli, Leo's girl-next-door-turned-wife, Sapna, and his best friend and barbecue assistant Artur Rabinovich, who'd joined the group as a snot-nosed fifth grader newly arrived from Brighton Beach.
They'd been there for his best triumphs and worst moments.
And on Tuesdays, the night both Leo and Sapna had off from their family restaurants, dinner was at their place. Just the four of them.
"So," Leo said as he brought the plate of steaming rice to the table, "you signed up to compete yet?"
He blew out a breath as he finished folding napkins. "I'm not interested in making three rounds of latkes."
"Not even if the winner of the town latke fry-off gets a George Gold mentorship?" Sapna asked as she came out of the kitchen carrying a huge bowl of curry that smelled like heaven.
"George Gold, as in…?"
"Let's walk the golden road," Leo said with a laugh, echoing the famous Meal Network host's catchphrase. "And yes. Gold is from Rivertown, and he is not only mentoring the winner, but he's also hosting the competition."
George Gold was mentoring the winner of the fry off.
That changed everything.
The possibility of having someone like George Gold as a mentor would help him. Because if Abe let himself think about it, backyard barbecue was a means to an end. What he really wanted was to open a Jewish deli that would, in his heart at least, replace Goldbergs, the deli that had closed its Rivertown location three years before.
And having George Gold and that prize money in his corner? Would make the otherwise impossible dream of deli ownership within his reach.
But he didn't say anything like that. Instead, he nodded, having let all of the information sink in. "Latkes, huh?"
"And," Leo quipped, "if your latkes are as good as your barbecue—"
"Speaking of which," Sapna interjected, "did you?"
Abe nodded. He'd put together a special portion of barbecue for Leo, saved sides for Sapna, wrapped it all up and put it in their fridge. "It's in there."
"Good. You don't deserve my family's best curry without that meal ticket of yours."
He bowed as Leo laughed. "This," Leo said, "is why I love you."
"You love me because I tolerate your unspiced food."
"It is not unspiced." Leo turned to Abe. "And don't bring up the pepper."
"A little horseradish would go a long way," Abe joked.
"When he's not even defending you," Sapna added, her brown eyes twinkling, "you are in deep trouble."
"He never defends me. Ever." Leo shook his head.
"But you love me anyway," Abe said, laughing as Leo led him to the table.
As they were finishing up, the doorbell rang.
Leo and Abe both laughed. "Artur," they said as Sapna got up to open the door.
"Should I let you in?" they heard her ask him.
"No!" he and his best friend yelled, and they nearly doubled over in laughter, playing the same lines they always did.
"So I get to eat the soofganiyot and macaroons I brought all by myself then?"
"Touch one of those," Leo yelled back, "and I will have your head, Rabinovich."
"I," Sapna said, "will take them myself because these two yahoos don't deserve it."
"What?" Artur said as he came into the room, a bottle of wine and two bags in his hands. Abe could see the exhaustion in his friend's features, the sign of way too many late nights fixing other people's problems. "You didn't spice the food?"
"I didn't make the main," Leo said with a smile. "I made the rice."
"And if you continue to act like this," Sapna said with a smile, "I might not let you make that anymore."
But Abe smiled. They'd been doing this back and forth since they were young. They argued as much as they loved, and it was the most amazing thing to see. "So, Mr. Artur come lately, what did you bring?"
"Nothing for you," Artur said with a smirk, "unless you tell me that, dear God, you did actually sign up for the fry-off."
Did Abe want to do this?
"Oy," Artur interjected. "You didn't sign up. What exactly could convince you that you can do this?"
"You're too good a cook to sit on the sidelines," Leo added, dropping into the conversation. "You have to compete."
Abe took a macaroon from the bag. "Okay. Fine. I'll sign up to be a contestant. Officially."
"Yes," Leo said as he swiped a soofganiyah from the bag, "you make three nights' worth of latkes and you win the competition. And keep me posted."
"I will," Abe confirmed, "prepare to make three nights worth of latkes." He was going to do this. It was going to work.
Artur nodded, seemingly satisfied with the situation. "And I'll come over Saturday afternoon to be your assistant as per usual?"
Abe nodded. "Yes," he said. "Appreciate it."
He was lucky. That he knew. But getting through this competition was certainly going to depend on the roll of the dice.
Excerpt. © Reprinted by permission. All rights reserved.


Book Info:
You can't make a latke without breaking a few eggs…
Batya Averman is ecstatic when a latke fry-off committee chooses her as its web designer—until she learns the event is in Rivertown, New York, the hometown she fled years ago. But she's no longer the girl with an embarrassing history and an unrequited crush on Abe Neumann. This delicious competition is Batya's chance to further her career, and this time she won't run.
Abe Neumann can't pass up the opportunity to enter the town's latke contest. He dreams of throwing caution to the wind and leaving his accounting firm, opening a Jewish deli, and choosing his own happiness. The prize money would bring him closer to making his dream a reality, but when Batya comes back to town, Abe remembers that a deli isn't the only thing he's wished for.
When the fry-off's celebrity host has to pull out of the competition, Batya is determined to step up to the challenge. This Hanukkah, can Abe fix the past and convince Batya that dreams, like latkes, are better when they're shared?
Book Links: Amazon | B&N | iTunes | Kobo | Google |


Meet the Author:
Stacey Agdern is an award-winning former bookseller who has reviewed romance novels in multiple formats and given talks about various aspects of the romance genre. She incorporates Jewish characters and traditions into her stories so that people who grew up like she did can see themselves take center stage on the page. She's also a member of both LIRW and RWA NYC. She lives in New York, not far from her favorite hockey team's practice facility.
Website | Facebook | Twitter | Instagram | GoodReads |