A Holly Jolly Diwali by Sonya Lalli: Niki has always been the responsible practical one but after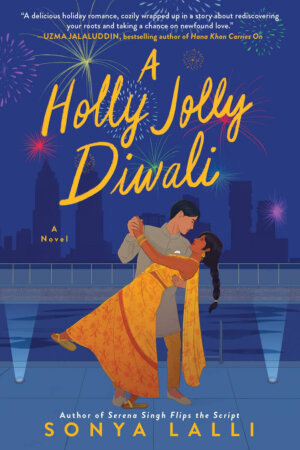 being laid off from her job she finally realizes that playing it safe all this time has really lead her no where! Which is why she decides to be completely impulsive and book a last minute flight for her friend Diya's wedding in India. This should be exactly the thing Niki needs, spread her newly found impulses wings, explore a beautiful country, learn a bit about her culture and party it up with her friends, the last thing Niki expected was to get swept up into a journey of self discovery or find her perfect match in a man that is her polar opposite!
However somewhere between the sparkling lights, flowing champagne and the sweet words from Sam, Niki cant help but find herself falling for the charming musician but what happens when she receives new job offer back home, will the new Niki live wild and carefree or is she going to cling to the straight and narrow?
I loved the sound of the books and more so because it was largely set in India. I have to say the random insta love story really worked well for Niki and Sam, I really liked that they were so different from each other but in other ways they were a lot alike. However I did have a few issues with the general story and that largely took away from what could have been a 5 star read.
Niki was a pretty relatable character, I think almost everyone can say that they have at one time or the other wanted to please their parents as much as Niki. However I liked her even more once she let go and gave into just living. I really enjoyed following her on her journey in finding herself and getting to see her with Sam.
Sam was such a cute character, I loved that he went completely against all the cultural and society norms and pressures of what to do and the way in which he should do it. I loved that Sam followed his passion and made it into a career. I absolutely loved every bit of Sam and getting to see him interact with Niki and that he was the one to help her see that there is more to life. Also I have to mention  Sam's mother Asha Aunty! Oh how I loved her, one of the best characters in this book by far.
Now as much as I like parts of this book there were a few hang ups for me; one of the big issues have to be the way that India was portrayed in general. I just felt that the description of life in India and people were largely over exaggerated and not in the best light. Also how was it possible that not a single person was able to give Niki a proper explanation behind Diwali? That was just to much for me, the story behind the entire festival is such a beautiful and detailed tail and for Lalli to just have everyone say it the festive of lights was just a waste in my opinion.
Overall A Holly Jolly Diwali was a super fast paced, clean insta love story that follows a lost girl trying to find what makes herself happy while still maintaining calm with her parents.
Book Info:

Publication: October 5th 2021 | Berkley Books |
One type-A data analyst discovers her free-spirited side on an impulsive journey from bustling Mumbai to the gorgeous beaches of Goa and finds love waiting for her on Christmas morning.
Twenty-nine-year-old Niki Randhawa has always made practical decisions. Despite her love for music and art, she became an analyst for the stability. She's always stuck close to home, in case her family needed her. And she's always dated guys that seem good on paper, rather than the ones who give her butterflies. When she's laid off, Niki realizes that practical hasn't exactly paid off for her. So for the first time ever, she throws caution to the wind and books a last-minute flight for her friend Diya's wedding.
Niki arrives in India just in time to celebrate Diwali, the festival of lights, where she meets London musician Sameer Mukherji. Maybe it's the splendor of Mumbai or the magic of the holiday season, but Niki is immediately drawn to Sam. At the wedding, the champagne flows and their flirtatious banter makes it clear that the attraction is mutual.
When Niki and Sam join Diya, her husband and their friends on a group honeymoon, their connection grows deeper. Free-spirited Sam helps Niki get in touch with her passionate and creative side, and with her Indian roots. When she gets a new job offer back home, Niki must decide what she wants out of the next chapter of her life–to cling to the straight and narrow like always, or to take a leap of faith and live the kind of bold life the old Niki never would have dreamed of.