Today, HJ is pleased to share with you

Kandi Steiner's

new release: 

Make Me Hate You

If he kisses me right now, I'll drown.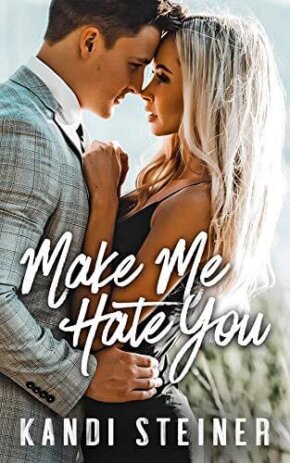 Every sip of air is shallow and burning, because in the arms of my best friend's brother, I'm the closest I've ever been to sin.
His eyes flick to my lips, and I remember the first time I tasted him, seven years ago before I left this town and vowed never to return. His hands grip my waist, and I remember the pain when he rejected me, when my entire world crashed down at his command. His jaw clenches, and my senses come alive with one stinging reminder.

I'm not his to kiss, and he's not mine.

I tried to stay away from Tyler Wagner, putting an entire country between us. But when his sister's wedding brings us back to the same town, to the same house, I can't avoid him, no matter how hard I try.

He's always there, his dark eyes bewitching, luring me into their depths. The memory of us pulls me under like a rip current, and when he flashes that smile, I lose my breath, along with my will, unable to escape his grip and find the surface.

Now, hours before our plus ones arrive for the wedding, I'm in his arms, begging him to make me hate him, knowing he never could.

If he kisses me right now, I'll drown.

And I'll take him down with me.

Make Me Hate You is a best friend's brother romance that will have you on the edge of your seat from start to finish.
Enjoy an exclusive excerpt from Make Me Hate You 
Another moment stretched between us, and then Tyler slipped his hands farther into my hair, his hands cradling my neck, thumbs still running the length of my jaw. Somewhere in the house, the air conditioning kicked on, the soft hum of it finding my ears but doing nothing to cool the heat in that bedroom. Then, Tyler pulled — just a little, just enough — and my head lifted, our foreheads still touching, but now our noses touched, too.

His hot breath met mine in the center of that space between us, and I blinked several times, eyes still blurry when I found his gaze.

Tyler's eyes flicked back and forth between mine, then fell to my lips, then slowly crawled back up. He swallowed, his Adam's apple bobbing hard in his throat, and something sharp and hot and unfamiliar hit me like a lightning bolt, shooting from the point where his hands touched me all the way down between my legs.

I should pull back.

I should pull away.

This is Tyler.

This is my best friend's brother.

Each thought came faster and more urgent than the first, but I didn't have time to listen to them, to act on them.

Because in the next breath, Tyler traced my bottom lip with the pad of his thumb, sucking in a breath at the contact.

And then, he tilted my chin, and lowered his own, and he kissed me.

My chest tightened in a completely new way — not from pain, or from abandonment, but from a yearning desire so deep and demanding that it stole my next breath and every other thought I had. I was completely frozen in his grasp, so focused on the way his warm lips caressed mine that I couldn't concentrate enough to move a single muscle.

He kissed me slowly, surely, as if he hadn't had a second guess about it before in his life. And when he pulled back, he waited, watching me carefully, asking for permission to do it again.

I answered with my hands sliding up his chest, over his shoulders, and into his hair, slicking my lips before I pulled him into me and kissed him back.

I kissed him back.

His response was instant, his arms full around me, crushing me into him as he deepened the kiss. A throaty moan came from his chest, and I gasped at the way it shook me to the core.

Oh my God.

I'm kissing my best friend's brother.

I'm kissing Tyler Wagner.

And I never want to stop.

And just like I hadn't known that a heart could break the way mine did when my mother left, I didn't know what it felt like to be touched like that by a boy. Sure, James and I had slept together, but it had been quick and clumsy most of the time, and I'd been mostly lost and confused, assuming that was just what it was like for the girl.

But this… this was something else altogether.

I didn't know what it was to be wanted so desperately that each kiss felt like a fire searing every inch of skin covering my bones. I didn't know what it was to tremble and shake, to be lowered back into pillows and sheets with hands so careful and confident that every other thought left my head completely. I didn't know what it was to feel a mixture of extreme passion and somehow familiar safety all at once, to succumb to something so forbidden, and to love it like nothing I'd ever loved before.

We crossed every line that night — and I went from loving my best friend's brother in secret to wanting nothing more than to love him out loud.

I lost myself inside that moment, inside that room, inside that night with Tyler.

But of course, that was because I didn't know what tomorrow would bring.

I didn't know that the next day, Tyler would ignore me completely, avoiding my eyes in his house and ignoring my texts when I left later that evening.

I didn't know he would call me three days later and tell me it was all a mistake, that we could never tell anyone, that it could never happen again.

I didn't know that the first time I felt truly wanted, and truly loved, was all a lie.

But I found out quickly.

I finished the last week of high school with a broken heart — broken from my mother, from Tyler, from my expectations on life — and I walked across the graduation stage in a numb trance.

One week after that, I left my New England hometown on the first day of summer.

I promised myself I'd never go back.

And that I'd never talk to Tyler Wagner again.
Excerpt. ©Kandi Steiner. Posted by arrangement with the publisher. All rights reserved.


Giveaway:

One print copy of Make Me Happy, US only.
To enter Giveaway: Please complete the Rafflecopter form and post a comment to this Q:

What did you think of the excerpt spotlighted here? Leave a comment with your thoughts on the book…
Meet the Author:
Kandi Steiner is a bestselling author and whiskey connoisseur living in Tampa, FL. Best known for writing "emotional rollercoaster" stories, she loves bringing flawed characters to life and writing about real, raw romance — in all its forms. No two Kandi Steiner books are the same, and if you're a lover of angsty, emotional, and inspirational reads, she's your gal.
An alumna of the University of Central Florida, Kandi graduated with a double major in Creative Writing and Advertising/PR with a minor in Women's Studies. She started writing back in the 4th grade after reading the first Harry Potter installment. In 6th grade, she wrote and edited her own newspaper and distributed it to her classmates. Eventually, the principal caught on and the newspaper was quickly halted, though Kandi tried fighting for her "freedom of press." She took particular interest in writing romance after college, as she has always been a diehard hopeless romantic, and likes to highlight all the challenges of love as well as the triumphs.
When Kandi isn't writing, you can find her reading books of all kinds, talking with her extremely vocal cat, and spending time with her friends and family. She enjoys live music, traveling, anything heavy in carbs, beach days, movie marathons, craft beer, and sweet wine — not necessarily in that order.

Free to read in KU!
Amazon: https://amzn.to/2XLic4v
Amazon Worldwide: http://mybook.to/MakeMeHateYouKS
Add to Goodreads: https://bit.ly/2Xo2Gg1