Puppy Kisses (Forever Home #3) by Lucy Gilmore: A heist, a chase, sweet puppies and lots of fun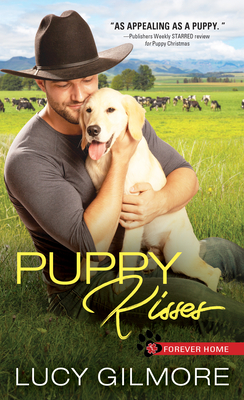 and sexy times will have readers laughing out loud and loving this story.
Dawn Vasquez had the heist planned out. She had her partner-in-crime Zeke Dearborn as her able accomplice. The loot was gold, a Golden Retriever puppy that is. Dawn had passed by this poor puppy chained up with a big heavy chain that looked to weigh more than the poor puppy, who had no access to shade in the 100 degree temperatures or shelter from the rain, several times. She knew she had to rescue the poor baby or she wasn't worthy of being part of the Puppy Promise training facility. They got in, got the chain off and were about to escape when a dirty old man who lived in the house on the property where the poor, abused puppy prisoner was chained came to the front door of the house trying to pull his pants on and site his shotgun at them at the same time. Oops! Time to rush their escape. They got in Dawn's car and took off with No Pants Shotgun in hot pursuit. Just as they lost him the the sheriff's car, lights flashing, pulled up behind them. The only excuse for speeding they could come up with was the puppy's precarious condition making the pup's need to get a vet's care stat. Saying the puppy was to be a service dog for Adam Dearborn kinda got them off the hook except the sheriff insisted on escorting them to the Dearborn Ranch and that meant facing Adam Dearborn. Yes, that Adam Dearborn, the one Dawn shared a dirty little secret with. This was not going to be pretty.
Adam Dearborn lost his sight as a youngster but had adapted quite well. As the oldest Dearborn sibling he raised his younger twin brother Zeke and sister Phobe since the death of their father when the twins were fifteen. He has run their cattle ranch with their help since then. Ranch life is not easy and certainly not a nine-to-five job, but working this ranch is Adam's life. He wouldn't have it any other way. When he first met his brother Zeke's friend Dawn Vasquez he was floored. No woman had ever made such an instant impression on him and the sexual attraction was over the top. Stolen moments of carnal knowledge was the highlight of his life but he's sure someone like Dawn would never want to be a rancher's wife. This was no life for her. But he sure did love the Golden Retriever puppy she brought into his life.
I loved the first two books in Lucy Gilmore's Forever Home series, Puppy Love and Puppy Christmas but this one, Puppy Kisses, is my favorite. Dawn was always known as the party girl of the three sisters but she is so much more. Her charm lights up the lives of the people around her and she has the biggest heart in the world. Adam is the epitome of the sexy hunk of a man who hasn't let the loss of his sight hold him back and is strong, dedicated and caring. He sings to his cows to calm them down. What a guy!
The dialogue in this book is what makes it so outstanding. The quips back and forth between Dawn and Adam are filled with provocative sexual innuendo while they flirt with each other and this made me smile all throughout the story. Ms. Gilmore's voice is so attractive to me in this type of story. Her writing style is the perfect blend of serious and fun. This seems to be the end of the series as all three sisters have found a HEA. I can't wait to see what Lucy Gilmore has in store for her readers next.
Book Info:

Publication: June 30th 2020 | Sourcebooks Casablanca | Forever Home #3
These adorable service puppies
are matchmakers in the making…
Dawn Vasquez never takes life too seriously. But when she rescues a golden retriever named Gigi, Dawn begins to imagine what it'd be like to settle down and let someone rely on her for a change. Unfortunately, Adam Dearborn–a handsome, hopelessly buttoned-up cattle rancher in need of a guide dog–has also fallen in love with the little ball of fluff and stubbornly insists that no other animal will do.
Adam isn't sure what drives him to fight to keep Gigi for himself, but he suspects it has something to do with his growing–and unfortunate–attachment to Dawn. Her whirlwind spirit and sunny disposition might make her a delight to be around, but they also make her unsuited for the difficult life of a rancher. He should be able to put her out of his head. But what's a love-struck cowboy to do when what he wants and what he needs have never seemed so far apart? And can he allow himself to take a chance on everything Dawn has to offer: puppy kisses, puppy love…and her.
Service Puppies Series:
Puppy Love (Book 1)
Puppy Christmas (Book 2)
Puppy Kisses (Book 3)