Small Town, Big Secrets by Elsie Davis: Becky McAllister's life revolves around her beloved son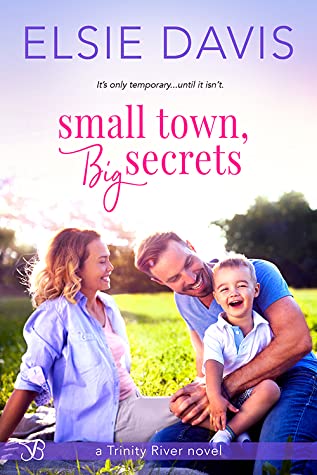 Byron. The father of the young boy wants nothing to do with his child, has given no support and has even blackmailed Becky into never revealing he's Byron's father. Right now, Becky could really use some financial support. Her little boy needs surgery and her co-pay will be twelve thousand dollars. She and her mother both work very hard, but there is no way they can come up with that much money. Even a donation jar Becky has at the counter of the restaurant where she works as a waitress in falling short of the goal.
Her luck is about to change after she meets Steve Parker when he comes into the restaurant for lunch one day. After talking over several days, Becky agrees to marry Steve for a year to help him rise in the polls in hopes he will be elected DA. Byron will get his surgery paid for and there will be no long term commitment. Can all this work out as secrets are lurking beneath the surface and emotional attachments are hard to avoid?
I am a huge fan of small town stories. There is such a closeness that seldom exists anymore. Of course, at the same time everyone knows you and there is always a certain amount of gossip. All these factors make for a great story and Elsie Davis has written the perfect example of this sort of genre. She is a new to me author and I was very impressed with her writing style. Small Town, Big Secrets is the second in a series, but it stands quite well on its own.
There are characters to love and empathize with, as well those who make you cringe with their sense of entitlement and rudeness. Little Byron brings pure joy into this sweet romance with his ability to love others unconditionally and enthusiasm.
I read the last page of this terrific novel with a smile on face and hope for tomorrow in my heart.
Book Info:

Publication: June 8, 2020 | Entangled: Bliss | Trinity River
To save her son, shy but determined waitress Becky McAllister would do just about anything. But she never expected "anything" to include the brother of the man who broke her heart.
Steve Parker needs a wife, now, if he has any hopes of winning his local DA election and becoming the advocate for the underserved he's always dreamed of being. The sweet waitress seems like just the person—if he can get her to agree.
One year of marriage—no strings, no personal attachments. Becky gets the insurance funds she needs for her son's surgery while Steve's poll ratings soar. Neither planned on a commitment in their future, so they should have no problem making it through the year without getting emotionally involved, right?
Except Becky's holding on to a secret from her past—one that would change everything.