Today, HJ is pleased to share with you

Katy Evans's

new release: 

Million Dollar Marriage

From New York Times bestselling author Katy Evans comes a hot romance about two strangers and their race to fall in love.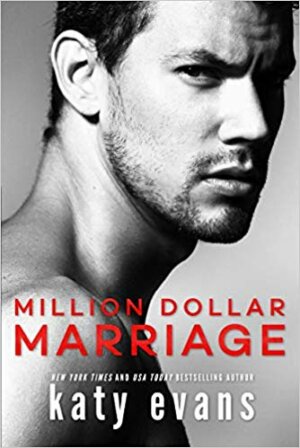 If someone had bet Nell a million dollars that she would be saying "I do" to a complete stranger on national television, she'd have called them crazy, but with her crushing student loan payments sending her deep into the red, she's out of options. This should be nothing more than a business transaction—until she sets eyes on her groom, and everything changes.

The game is on the instant Luke spots Penelope "Nell" Carpenter. He's out for the money, yes, but getting a little dirty with Nell doesn't sound too bad either. Everyone knows he's not the marrying kind, so it's a good thing it's just for show. God knows he's the worst guy his pretty wife should pick for real.

They have nothing in common, but if they want the grand prize, they'll have to beat out eight other couples. Proving that total opposites attract should be easy enough…as long as they don't fall in love in the process.
Enjoy an exclusive excerpt from Million Dollar Marriage 
"What are you reading?" Joe asks me.

"A Compendium of Ancient Chinese Philosophy," I say, not looking up because if I lose my spot one more time, I might go crazy.

"Riveting," he says.

"It is." The line moves again. This time I don't get up. I crawl with it, my nose buried in the book.

I try to read more, but the people in front of me are talking too loudly. The big topic of conversation is the premise of this Million Dollar Marriage show. The craziest rumors are flying around. The bouncy blonde girls in front of me with their surfer-dude boyfriends seem to think that they're going to offer people a million dollars to get married to their respective partners on live television.

Which sucks for me, because the only partner I have with me is my giant textbook.

"You know what I think?" Courtney says to me, leaning on Joe's shoulder. "They said adventure. I think they're going to split teams up into men and women and send them through an obstacle course. And whoever wins has to get married on live television or else forfeit the money."

I stare at her. All the more reason for me to get the eff out of here. I am not athletic. I am beyond two left feet. I am all soft and squishy curves, and I'm happy that way. The only reason I'd run is if something were chasing me. And marry a complete stranger? No to the thousandth power.

I look longingly in the direction of where Joe parked his Jeep.

"They wouldn't do that, would they? Force strangers to marry?" I ask, alarmed.

She shrugs. Oh god. They would. "Haven't you ever seen Married at First Sight?"

Married at what? She does know who she's talking to, doesn't she? "So wait . . . you'd get married to a stranger, even though you're dating Joe?"

She nods. "For a million dollars, yeah. He'd do the same."

Joe wraps an arm around her and says, "Hell yes."

Who are these people? Romance is truly dead in this world.

A bit later, a woman in a polo shirt with a name tag that says "MDM—Hi, I'm Eve!" comes by. She has a very official-looking headset on and is murmuring into it.

"Excuse me," I say to her. "Can you tell me if the contestants will be required to marry?"

She just looks at me and laughs like I'm an idiot. Oh god. She's handing out sheets of paper and pens. "Please fill out this survey and have it ready for when you approach the check-in table. Thank you!"

Check-in table? I stretch out my neck, trying to see anything other than Siberian wasteland. Just as I do, Courtney laughs. "Oh my god, these questions are a riot."

I look down at my paper. Besides all the regular info, it has this:

Please indicate on a scale of one to five (one being "fits me perfectly" to five being "does not fit me at all") how well each of these statements fits you:

I love to meet new people.

I like being alone.

I have a huge social circle . . .

And on and on. I page through it and realize there are more than five hundred of these personality questions, on everything from sociability to athleticism to intelligence.

Well, happy day. I love taking tests.

I get right down to it, using my book as a desk, filling out ovals excitedly. For some reason, this has always relaxed me. I actually loved taking the SAT and the GRE. I smile the whole time, or at least until Nee nudges me.

"Anyone ever tell you that you look like a serial killer when you take tests?"

I smack her.

The thing that takes me longest is listing all my degrees and awards, but I still finish before everyone else. As I do, I sense someone's presence hovering over my shoulder. "You did that fast."

I turn and look up, up, way up at the dirtiest hunk of man I've ever seen. All his ripped muscles look like they're fighting to escape from an inadequately small T-shirt. He has tattoos—I'd say way too many, but one is too many for me. He's hairy, too, unshaven, with a mess of brown hair falling over his eyes. I detect a whiff of tobacco. He's a . . . thug.

And his eyes are on me. Beautiful, sparkly green eyes that don't fit with the rest of him. Penetrating to my core.

Ohhhkay. I stiffen and face my back to him, hoping that if I ignore him, he'll go away. I pretend to be really interested in what Courtney's doing.

That's when Joe says, "Holy crap. Aren't you Jimmy Rowan?" to the men behind me.

"Yep," the dirty guy's friend says.

"That's crazy. You going out for this thing?"

Oh no.

Behind me, Jimmy says, "Nah. Just here to support my friend."

"Really? They'd probably pick you in a second. They'd totally want a celebrity," Joe gushes. Courtney's ears prick up at the mention of the word celebrity. She stands up and stares closely at him as Joe says, "He's a famous YouTube star."

Courtney's jaw drops. I roll my eyes. What the hell is a YouTube star, and why do my goofy friends find it so appealing? The guys behind me are thugs.

Joe starts to go through his backpack. "Can I have an autograph?"

Oh god. I stand on my tiptoes and try to see if the line is moving, then cross my arms, completely not willing to turn around and engage. Courtney yanks on my sleeve, but I tear it away and give her a death look.

"Nell," she murmurs in my ear, dazed. "He's famous. And did you see his friend?"

She fans her face. Is she insinuating what I think she's insinuating? "I don't care," I singsong.

"You should care. Flex your flirting muscles for once in your life. Maybe then you'd get Gerald the Goofball out of your head."

"Um. One, I don't have flirting muscles. Two, I don't have Gerald in my head. And three, even if I did, that thug isn't going to get him out of it. He's like . . . an animal."

"A dirty, hot animal. Mmm."

"Nee! Put your tongue back in!"

Joe gets the autograph and stares at it like it's his most prized possession as he continues to talk the dirty guys' ears off. I try to walk as close as I can to the people in front of me so that I can get as far away from the thugs as possible. I open my book and read.
Excerpt. ©Katy Evans. Posted by arrangement with the publisher. All rights reserved.

Giveaway:

eBook: MILLION DOLLAR MARRIAGE by Katy Evans
To enter Giveaway: Please complete the Rafflecopter form and post a comment to this Q:

What did you think of the excerpt spotlighted here? Leave a comment with your thoughts on the book…
Meet the Author: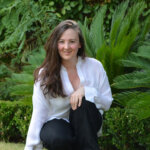 Katy Evans loves family, books, life, and love. She's married with two children and a dog, and she spends her time baking healthy snacks, taking long walks, and taking care of her family. To learn more about her books in progress, check out www.katyevans.net and sign up for her newsletter. You can also find her on Twitter @authorkatyevans and on Facebook at AuthorKatyEvans.
Social Media Links
Website: http://www.katyevans.net
Facebook: https://www.facebook.com/AuthorKatyEvans
Twitter: https://twitter.com/authorkatyevans
Goodreads: https://www.goodreads.com/author/show/6997072.Katy_Evans