In Million Dollar Marriage (Million Dollar #2)  by Katy Evans , Luke Cross has skated by financially his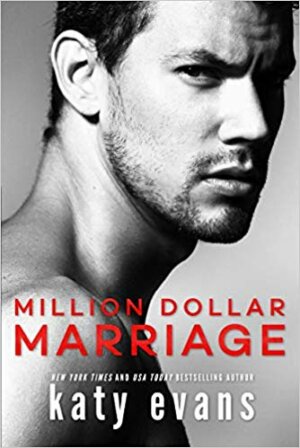 whole life by the skin of his teeth. After some very dark days, he's turned things around, and has turned running his beloved his grandfather's bar in Atlanta into his priority. But when the bank comes knocking on his door, Luke has to act fast. Which is why he's now on a reality show–to make some cash and save the bar. He didn't expect to end up married to the cute woman he was paired up with. Or to fall for her sassy, wicked smart ways. But Luke is pleasantly surprised by their success as a couple: both on and off the television screen. Would it be enough, paired with their intense attraction and growing feelings for each other, to make their marriage real when it's all said and done?
The cameras are focused on our faces, and I know something is up.
"Yes, in fact, John happens to be a justice of the peace."
The crowd gasps. Next to me, Penny's body stiffens.
"Yes. In order to participate in the next challenge and any challenges going forward, you and your partner must be man and wife!"
Nell is buried in a mountain of student loan debt. That's what happens when you're disowned by your parents and you have an unquenchable thirst for knowledge. After earning her PhD, though, she has to admit it's time for a job. Or a way to make some money quickly. When Nell's best friend, well, her only friend, Courtney suggests going on the new reality show Million Dollar Marriage, she scoffs at the idea. But honestly, what does she have to lose? Aside from being embarrassed in front of millions of people weekly, that is. Then Nell is paired up with super hunk Luke Cross and her world shifts. At first she puts up a fight against their obvious chemistry and ends up taking out her frustration on him. But Luke is just so darn kissable, er–likable, that she falls for him more with every challenge they face down. And when he calls her his Penny? Sigh. It's too bad they're so different that it will never work in real life. Or will it?
'He's the first person who gets me. The first person who took the time to take care of me. And the first person in this world I think I might actually trust.'
Million Dollar Marriage was an exciting swoonfest of an opposites attract romance that left me breathless and oh so happy. Not that I expect anything less from Katy Evans and her stellar romances.
"Did you listen to a single thing I said?" I demand as my temperature skyrockets. "No touching?"
He stares at me for a long time, then licks his lips. "Yeah. I heard. But I have a thing against following directions. Especially from someone as lickable as you."
How fun! It's going to be difficult to explain Million Dollar Marriage, though, and why it was so exciting until you sit down and read it for yourself. But thanks to Katy Evans' awesome characterization and the level of sexual tension between Nell and Luke, plus the crazy adventure they went on, this was a mile-a-minute novel that kept surprising and thrilling me at every turn.
Now, I will admit I don't really watch any reality television, but to me this seemed like a mix of Married At First Sight and The Amazing Race. Luke and Nell were literally thrown together after only meeting for a few brief minutes and became a team who had to travel the country and compete in outlandish challenges. The mix of Nell's brain and Luke's brawn, I have to say, was perfect. But more than that, I liked that as the animosity between them–they were SO different personality-wise–changed into camaraderie and their attraction broke through their barriers, we could see that there was much more to both of them. Nell might not have been socially adept, but Luke's charm and ease of making friends made up for it. And he might not have had the educational background she did, but he was street smart and intelligent regardless of his lack of degrees.
Like I've come to expect from Evans, the heat level was pretty high between Luke and Nell. Eventually. (lol) They had chemistry right away. But it took a while for them to see eye to eye and to be willing to admit said attraction was there. I was a bit perturbed with Nell and with Luke a time or two as they battled against other couples–usually it was a lack of communication, which is to be expected. Although Nell's perception of herself as compared to Luke made me sad, with how down on herself she could be. Her self-doubt and her actions based on it might be a sticking point for some readers, especially towards the ending. But it did (of course) all work out in the end. Boy did Evans make them work for that HEA!!
A race across the country. Simmering attraction. Two strong-willed people butting heads in the most amusing of ways. Katy Evans found the winning recipe for a modern romance that still had genuine emotions but was entertaining each step of the way. Highly recommended.

Book Info:

Publication: Expected publication: July 23rd 2019 | Montlake Romance | Million Dollar #2
From New York Times bestselling author Katy Evans comes a hot romance about two strangers and their race to fall in love.
If someone had bet Nell a million dollars that she would be saying "I do" to a complete stranger on national television, she'd have called them crazy, but with her crushing student loan payments sending her deep into the red, she's out of options. This should be nothing more than a business transaction—until she sets eyes on her groom, and everything changes.
The game is on the instant Luke spots Penelope "Nell" Carpenter. He's out for the money, yes, but getting a little dirty with Nell doesn't sound too bad either. Everyone knows he's not the marrying kind, so it's a good thing it's just for show. God knows he's the worst guy his pretty wife should pick for real.
They have nothing in common, but if they want the grand prize, they'll have to beat out eight other couples. Proving that total opposites attract should be easy enough…as long as they don't fall in love in the process.