Today it is my pleasure to Welcome romance author
Ophelia London
to HJ!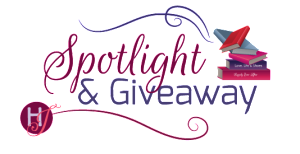 Hi Ophelia and welcome to HJ! We're so excited to chat with you about your new release, Never an Amish Bride!

Hi guys! It's been a while since I've been on HJ. So happy to be back!

Please summarize the book a la Twitter style for the readers here: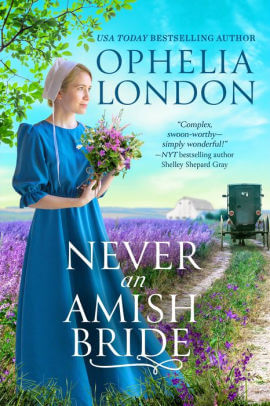 After 10 years away, reformed Amish bad boy, Lucas, secretly returns to his tight-knit hometown. Sheltered yet educated, Esther, recognizes the cute boy of her childhood daydreams the second she lays on on him again. Sparks fly! But any kind of relationship is forbidden due to past entanglements, family pride & a truth neither of them wants to face. Will love be enough for them to take the ultimate leap of faith?

Please share the opening lines of this book:
Esther Miller stood at the screened back door, shading her eyes from the sun. The comical scene playing out before her had become almost common: Louisa shooing away Levi from the house. Only this time, her best friend was chasing him off with a pitchfork.
"Lou!" Esther called through a laugh. "You nearly caught him that time!"
"Ach jah," Louisa muttered. "Crazy boy thinks he can sneak in here and steal my hot cross buns whenever he wants."
Please share a few Fun facts about this book…
I've written sweet romances in the past, but this is my first Amish story. And I loved every minute of it!
My current obsession with baby goats makes an appearance in this book. hee-hee
If you love stories with lots of bed-hopping, this might not be the book for you; but if you're looking for a delicious, slow-burning romance, you'll totally dig this one!
Esther's beloved white mule is named Peanut. Same as my darling white puppy!
I learned how to make homemade "Amish" soap while writing this story.
What first attracts your Hero to the Heroine and vice versa?
Esther is intrigued by the mystery surrounding Lucas's return to Honey Brook. That and his striking good looks.
Lucas is obsessed with Esther's beautiful blue eyes.

Using just 5 words, how would you describe Hero and Heroine's love affair?
Sweet, forbidden, joyful, goofy, and swoony!

The First Kiss…
Without giving too much away… Because this is an Amish (super-duper sweet!) romance, Esther and Lucas don't get to share their first smooch until almost the end of the story. But in the meantime, there is definitely plenty of delicious hand holding, cheek stroking, and fluttery feelings.

Without revealing too much, what is your favorite scene in the book?
Omigosh, I adore the scene when Esther and Lucas crash their buggy in the rain. Anything that throws my two love birds together! Here's a little sample…
The most important thing was to remain calm. The second was to make sure—if it overturned—that it would fall over on his side, not Esther's. Maybe due to the recent rain, Lucas felt the moment the right-hand wheel hit a deep, soft spot of dirt. Next he heard a loud crack. Esther shrieked and leaned into him, clutching his arm.
"Keep ahold of me," he shouted, feeling her grip tighten.
As if in slow motion, the left side of the buggy began to tip up. After another loud snap of wood, despite all his efforts, everything began sliding to the right. The sound of bending iron coupled with Esther's screams was deafening as the buggy rotated.
When all was finally silent, Lucas opened his eyes. He was facedown, staring directly at a pair of closed eyelids, while he lay flat over Esther's body.
"Hey," he said, trying to roll off, but he was wedged in there pretty darn tight. "Are you okay? Esther, can you hear me?" When she didn't answer, he sprang into action, fearing the worst. Had she hit her head or had a dangerous internal injury? It hadn't been a hard
landing, but after working in trauma for two rotations, he knew anything was possible.
Before he'd had time to even get to his feet, he heard a soft laugh. The sound slowed his panicking heart.
"What's so funny?" he asked, lifting himself onto his elbows so he could look at her.
While she continued to giggle—tears in her eyes now—he rolled onto his knees and got to his feet. After a quick assessment, he noted that her body wasn't at any awkward angles; therefore, nothing major was broken.
"What's so funny?" he repeated, wanting to join in her laughter out of pure relief.
"Everything," she said. "That was so much fun."
"You were screaming bloody murder."
"While having fun."
If your book was optioned for a movie, what scene would be absolutely crucial to include?
I totally love the little scene with Lucas taking care of Esther's mule, Peanut. It's just so sweet and cute!
"The fire needs stoking," Esther said as she moved toward the sink. "You add some wood while I wash up. Check on Peanut, please, too, would you?"
"Peanut?" Lucas asked, standing.
"My jenny mule. I can hear the wind howling through the trees. She's probably scared to death to be away from home. Just give her some long strokes down her back and feed her this—make sure she eats the whole thing, but no sugar cubes." She handed him a carrot.
He couldn't help chuckling. "Anything else?"
She tossed a dish towel across her shoulder. "Do you know 'You Are My Sunshine'?"
"The song?"
She nodded. "She likes it best in Dutch, calms her right down." And with that, she turned back to her work.
"Um, okay?" A bit bemused, Lucas headed out to the barn.
She was right, he could tell her mule—Peanut—was skittish. First, he fed her the carrot. "Good girl," he said. "But don't think I'm about to serenade you. You smell!" The mule looked at him, blinked her long lashes, and shook her head, white mane hitting him in the face.
"Fine," he grumbled, then glanced over his shoulder to make sure no one was watching. "You
are my sunshine…" he began in Dutch, his voice unsure, as he hadn't sung a note in years. "My only sunshine." He patted her rump. "You make me happy when skies are gray." The mule whinnied and nodded. "You like that, little girl?" Surprisingly unabashed, Lucas finished the song, all the verses he could remember—the Pennsylvania Dutch returning to his mind without even thinking.
Readers should read this book …
Readers should read this book because it might show them a different side to Amish romances. My characters laugh a lot, are silly but intelligent. It's light and fun with lots of swoony chemistry.
What are you currently working on? What other releases do you have planned?
I'm currently working on the next book in the Honey Brook series. It's called An Amish Cowboy's Homecoming, and releases next year!
Thanks for blogging at HJ!
Giveaway:

Homemade, "Amish-style" organic soap–made fresh by yours truly!
To enter Giveaway: Please complete the Rafflecopter form and Post a comment to this Q:

Peanut the mule is Esther's favorite pet. Peanut the Italian Greyhound is my favorite pet. If you're into animals (and who isn't?), what is the name of your favorite fur baby? And why do you love 'em so dang much?
Excerpt from Never an Amish Bride:
"Do you remember the time you ran over to our house because you heard something in your barn?"
Esther blinked twice, as if jogging her memory. "Yes," she said, sitting down in a chair. "My folks were over at the Lambrights', looking in on their new bobbeil. Simon and Anna were on their own dates that night. I was alone with the kinnahs."
"And you heard something banging in the hayloft."
"Yes, I…" Those blue eyes suddenly flashed toward Lucas, and he couldn't help grinning. "What…?" She pointed at him. "What did you do?"
"Nothing," Lucas said, letting his eyes drift off to the side. "Nothing much."
"Lucas Brenneman. Tell me what you did!"
He stared down at his palms and laughed. "It started off as a contest to see who could hit the hacksaw hanging on the wall with the most rocks. A kind of misplaced target practice. When we saw the flashlight coming, we hid."
"You hid?" She stood up and walked toward him, probably attempting to look menacing, but she was too darned cute to pull that off. "What were you doing in our barn in the first place when your father had that huge cow barn? And who was we?"
Lucas had to think for a moment, the memory still not all the way clear. "It was Noah Otto."
Esther sighed. "Oh. Him again."
Lucas laughed hard. "He and I got into a lot of trouble when we were kids. I'm sure he was the bad influence on me."
"Noah Otto moved to Ohio a few years ago," Esther said. "He's deacon out there and runs a foster home for orphans."
"Okay then. I suppose I was the bad influence."
"Finish the story," Esther said, taking her seat again. "You said you hid when you saw me come into the barn with a flashlight."
"We didn't know it was you yet," he said, his heart lifting as the memory returned. "We thought it might be your pa, so we didn't make a sound."
"And then?"
"Once we saw it was you, I guess we tried to…"
"Frighten me."
"More like scare the dickens out of you." Lucas couldn't help laughing, not only at the memory, as clear now as if he was watching his favorite episode of Iron Chef, but also at the slight tick to Esther's mouth. Was she angry with him? Or was she trying not to laugh?
Just in case it was the former, he raised his hands in surrender. "In my defense, we were only kids."
"And whose idea was it to make the howling noises?"
Lucas had to think for a moment; then he jabbed a thumb at his chest.
"I see." She crossed her arms. "Exactly what kind of animal were you trying to be?"
"Hmm…" He tapped his chin with one finger. "I believe it was an aardvark."
"Aardvarks don't growl."
Lucas shrugged. "We didn't know that. I think we'd read about them in a library book and thought they looked ferocious."
"Boys," Esther said, shaking her head. Then she looked at him, her lips pressed together as if trying not to smile. A moment later, they burst out laughing in unison. Lucas's soul hadn't felt light like this in years.
"An aardvark," she said, holding her hands out to her sides. "It's too much."
"Up until then, I'd had a very limited education."
"And now you're an expert on African nocturnal mammals?"
Lucas chuckled again. "Well, I don't like to brag, but I now know that aardvarks are not related to anteaters. Another fact: though they don't actually growl, they do make a noise."
"Fascinating," Esther said. "And what might that sound like?"
"I suppose it's a sort of grunting when they're looking for food."
"Like a pig?"
Lucas pointed at her. "Exactly like a pig."
"Though a bit more guttural, I'd think," she suggested, a new smile twitching at the corner of her mouth.
"Yes. Very guttural."
Esther puckered her lips then pushed them to one side. "Hmm, I'm not sure what you mean. Would you mind demonstrating?"
"Well, you know, kind of a soft…" Lucas Brenneman, professional physician assistant, actually snorted. Just to make a girl laugh.
Excerpts. © Reprinted by permission. All rights reserved.


Book Info:
Welcome to charming Honey Brook, Pennsylvania, where bestselling author Ophelia London will bring you on a moving and unforgettable journey through faith, forgiveness, and ultimately love.
Everything changed for Esther Miller with the death of her beloved fiancé, Jacob. Even years later, she still struggles with her faith and purpose in the small, tight-knit Amish village of Honey Brook—especially now that her younger sister is getting married. All she wants is to trust in the Lord to help her find peace…but peace is the last thing she gets when Lucas, Jacob's wayward older brother, returns to town.
Lucas Brenneman has been harboring a secret for years—the real reason he never returned from Rumspringa and the truth behind his brother Jacob's death. Honey Brook still calls to him, but he knows his occupation as a physician's assistant must take precedence. With sweet and beautiful Esther he finds a comfort he's never known, and he feels like anything is possible…even forgiveness. But she was Jacob's bride-to-be first. And if she knew the truth, would she ever truly open her heart to him?
USA Today bestselling author Ophelia London brings a sweet, heartfelt, and surprisingly funny take to the popular Amish romance cannon.
Book Links: Amazon | B&N | iTunes | Goodreads |


Meet the Author:
USA Today bestselling author Ophelia London was born and raised among the redwood trees in beautiful northern California. Once she was fully educated, she decided to settle in Florida, but her car broke down in Texas, and she's lived in Dallas ever since. She enjoys cupcakes, treadmills, reruns of Dawson's Creek and obsessing over her Italian Greyhound, Peanut. Ophelia is the author of NEVER AN AMISH BRIDE (Honey Brook series), her very first Amish romance! As wells as the Sugar City series, the Perfect Kisses series, the Abby Road series, and other adult, NA and YA sweet romances. Visit her at ophelialondon.com, but don't call when she's streaming The Walking Dead.
Website | Facebook | Twitter | | Instagram |