The Wedding War by Liz Talley  finds former childhood best friends reunited when their children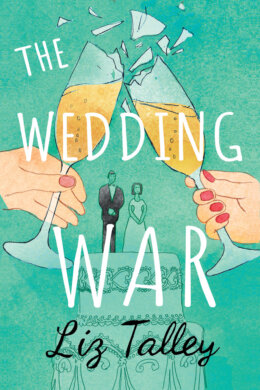 decide to marry each other. Forced to plan the wedding together, Mel and Tennyson have to work through the pain of past with the hopes of reigniting their friendship for the sake of their children.
I had a hard time with this book from the get-go. The writing style just wasn't for me. I could have overlooked that, but then I didn't like the characters, either. Everyone is just mean to one another. Mel is married to Kit, who had been Tennyson's boyfriend throughout high school. At times Mel says they never meant to hurt her, but then at other times she mentions that she wanted to win Kit from her. Based on this book, I don't know why. Kit's no winner. His partner at work flirts with him right in front of Mel. He admits he likes the attention, and brushes off Mel's concerns about the woman.
Tennyson harbors a lot of guilt for what happened at Mel's wedding and the aftermath. Mel and her family blamed Tennyson, but while her actions were mean spirited, she couldn't be held responsible for how Mel's father responded, nor was it really clear why he ended up doing what he did.
There were a couple of funny moments in the book, but it was mostly two hurt women who were being petty. They were also selfish, turning what should have been a joyous occasion in their children's lives into a stressful and worrisome one.
It felt like some things were unresolved. What happened to Mel and Kit? Did their marriage survive? Also, what happens with Tennyson and her boyfriend, Joseph, who seem like they're complete opposites? The ending of the book was very anti-climatic.
Unfortunately, this book just wasn't for me. I found it to be too angsty and mean-spirited for my liking. I think the only two people who weren't mean in this book were Andrew and Emma, Tennyson's son and Mel's daughter, but they weren't enough to save it for me.
Book Info:

Publication: April 21, 2020 | Montlake |
Once upon a time, Melanie Layton and Tennyson O'Rourke were inseparable—but their friends-4ever promises were shattered when an explosive secret was revealed at Mel's wedding, a secret that destroyed her family. The two haven't spoken for the past twenty some odd years, and they'd be happy if they never crossed paths again.
But now Mel's daughter and Teeny's son have fallen in love—and announced their engagement.
Which means the two women must tolerate one another and play nice long enough to plan their children's dream wedding. From the beginning, they clash. Melanie imagines a classy, elegant event, in keeping with tradition. Teeny's vision is a bit more extravagant, and thanks to her habit of marrying well, she's got the cash to plan the flashiest wedding of the season.
Complicating matters are the men in their lives: Tennyson is falling for the wrong guy, and Melanie is trying to hold on to a flailing marriage. Amid the flurry of cake tastings, dress fittings, seating charts, and bridal showers, Mel and Teeny confront their past mistakes—with twenty years of pent-up drama.
When the day of the wedding finally arrives, their friendship might just be something old and something new.