Today, HJ is pleased to share with you

Katy Regnery's

new release: 

Nome-o Seeks Juliet

New York Times bestselling author Katy Regnery returns with the second book in her Odds-Are-Good series!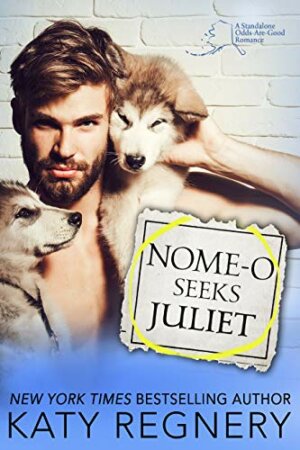 When a lonely vet(eran) and an ambitious vet(erinarian) work together to win the Qimmiq 200, sparks will fly…

Montana-born veterinary student, Juliet Sanderson, is disappointed when her project on the treatment and care of sled dogs falls through due to the illness of a local musher. In an effort to salvage her study and graduate, she answers the personal ad of Alaskan musher, Cody Garrison, who is desperately seeking a teammate for an upcoming co-ed race, The Qimmiq 200.

Cody Garrison, a retired U.S. Marine, doesn't tell Juliet that he was left permanently disabled during his time in active service, fearing that she wouldn't agree to race with him if she knew. But once she arrives in Alaska, discovering the truth about Cody's past will be inevitable. Will the partnership they've agreed to, and the off-the-charts chemistry between them, be enough to see them through the rigors of training and secure them the win of their lives?
Enjoy an exclusive excerpt from Nome-o Seeks Juliet 
There are levels of drunk.
There's lightly drunk, when you're still pretty much in your right mind, but some of your inhibitions have flown the coop.
There's pretty drunk, when you're starting to get wobbly, but you still remember everything that's happened, you know you need to eat something before bed, and you remind yourself to take two Advil to stave off a hangover.
There's very drunk, when responsibility goes out the window, everything's hilarious, everyone's beautiful, and you can't walk so well but who cares, because it's been the best… night… ever.
And there's so sloppy drunk that you'll barely remember a thing in the morning, the world's about to start spinning, and it would be great if you were near a toilet.
I'm pretty (very?) drunk when we get back to Cody's house with a medium pizza to share. I had six beers in two hours, which probably sounds like a lot, but I built up a decent tolerance in undergrad.
Plus, I had the presence of mind to order a pizza from Rita before we left…and I'm sure I have some Advil somewhere.
I plop down on the couch and wrestle my boots off as Cody calls to me from the kitchen.
"What do you want to drink with your pizza?"
"Beer," I say.
"Sure you want another?" he asks. "The dogs will still expect us up by seven, hungover or otherwise."
"Taskmaster," I grumble. Viola jumps up beside me, and I hug her, crooning into her ear. "You fill up my senses…like a night in the Far East…like a fountain in sunshine…like the talking in Spain."
"John Denver's rolling over in his grave," says Cody, putting the pizza box on the coffee table, and placing an open bottle of beer and two glasses of water beside it. After he sits down beside Viola, he picks up a glass of water and takes a sip. "How about some water?"
"No water! I need to sing to Vi," I inform him. "She loves it." I lean back and cup her cheeks, singing earnestly in my very bad voice: "Like a dorm with a concert…like some Calamine lotion…you fill up my senses…I forget the rest of the words…"
"The rest?" scoffs Cody, tugging a slice of pizza from the pie. "Try all."
Viola looks at me like I've lost my mind, then jumps down, standing politely in front of Cody and hoping for a handout.
"Why'd you name her Viola?" I ask, picking up the beer and taking a swig.
"Her full name is Viola de Lesseps, the Fire-Frightener."
"Oooo. Fancy." Suddenly, I chortle, thinking of my favorite TV show. "And I am Juliet Montanaborn, the Mother of…" I raise my beer bottle, looking at the canine face on the label. "Huskies."
My hilarious sense of humor is lost on Cody, who clears his throat and says, "Viola de Lesseps was a character from a movie."
"What movie?" I ask, taking a slice of pizza and balancing it on my knee as I take another long sip of beer. Fuck, but I like beer a lot.
Shhh. But I also like Cody a lot.
"Shakespeare in Love," he says.
"Shakespeare in Love?" I shrug. "I don't know it."
"Gwyneth Paltrow played Viola, and she was…beautiful. Blonde hair like yours. You look a little like her," he says, looking at me thoughtfully before taking a bite of pizza.
"You think I'm beautiful?" I ask him.
"You know you're beautiful," he answers, glancing at me with an annoyed expression.
The compliment is grudging, but I'll still take it.
"Hey," I say, nudging his knee. "Did you ever see A River Runs Through It?"
He pulls another slice of pizza from the box. "Yes."
"Brad Pitt is in it," I tell him. "I thought you looked like him the second I saw your picture."
There's a short pause, and then he asks, "When did you see my picture?"
"When I was still at home. Your picture is on the Copper Basin 300 website."
"Is that right?" he asks, turning a little to face me.
"That's right," I tell him, taking another bite of pizza. "Oh, my God! This pizza is sooo good."
"You Googled me?" he asks.
"Uh-huh. Of course. I had to see what you looked like…and find out if you ever killed anyone."
His lips twitch. "And what did you find out, Nancy Drew?"
"Murders? Zero. Face? Hot."
"What?"
"You have never been convicted of a murder, and you are extremely hot."
Cody blinks at me in surprise, then sits back on the couch and stares at me. Finally, after a good thirty seconds, he purses his lips and says, "You need to go to bed."
I throw my half-eaten slice of pizza back into the box, grab my beer, and bend my knees so they're under my butt. Then I put my elbow on the back of the couch and stare at Cody just like he was just staring at me.
"You are," I whisper, taking a long gulp of beer, "hot."
He blinks again, his nostrils flaring just a touch, and his pupils dilating. He shifts in his seat, and it makes me want to arch my back and push my tits in his face. Instead, I just grin at him.
"Cut it out," he growls.
"No," I murmur, taking another sip of beer, which cashes the bottle. I lean it against my hip so that my hands are free. "True or false: the Christmas lights around my room were your idea."
He searches my eyes for a second, then nods. "True."
"I love them."
"I'm glad."
"You're hot, Cody."
His cheeks redden. "Stop it, Juliet."
"I'm an adult. I can say what I want."
"You're a drunk adult," he points out, "so you should probably shut up."
Here's the weird thing: I know what I'm doing. I know exactly what I'm doing.
I'm doing what I've wanted to do for weeks.
I'm making a move on Cody.
Excerpt. ©Katy Regnery. Posted by arrangement with the publisher. All rights reserved.


Giveaway:

2 eBook copies of NOME-O SEEKS JULIET by Katy Regnery
To enter Giveaway: Please complete the Rafflecopter form and post a comment to this Q:

What did you think of the excerpt spotlighted here? Leave a comment with your thoughts on the book…
Meet the Author:
New York Times and USA Today bestselling author Katy Regnery started her writing career by enrolling in a short story class in January 2012. One year later, she signed her first contract, and Katy's first novel was published in September 2013.
Over forty books later, Katy claims authorship of the multi-titled New York Times and USA Today bestselling Blueberry Lane Series, which follows the English, Winslow, Rousseau, Story, and Ambler families of Philadelphia; the seven-book, bestselling ~a modern fairytale~ series, including Katy's "Beauty and the Beast" story, The Vixen and the Vet, which was a 2015 RITA© nominee; and several other stand-alone novels and novellas, including the critically-acclaimed, 2018 RITA© nominated, USA Today bestselling contemporary romance, Unloved, a love story.
Katy's books are available in English, French, German, Italian, Polish, Portuguese and Turkish.
Author Links:
Website: https://www.katyregnery.com
Facebook: https://www.facebook.com/KatyRegnery/
Instagram: https://www.instagram.com/katyregnery/

Buy Links:
Amazon: https://amzn.to/36pBdN9
Apple: https://apple.co/336uuG6
B & N: https://bit.ly/34gmuSU
Kobo: https://bit.ly/34h7y6Z