Today it is my pleasure to Welcome author
Kylie Scott
to HJ!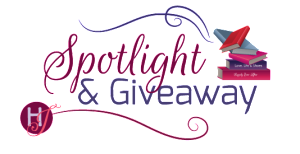 Hi Kylie and welcome to HJ! We're so excited to chat with you about your new release, Repeat!

Thank you so much for having me!

Please summarize the book for the readers here: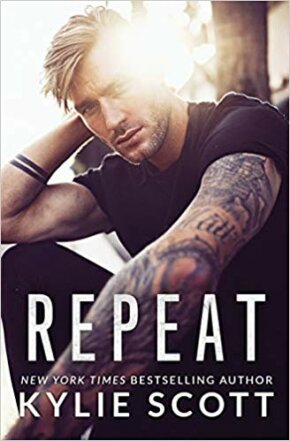 Repeat is about how a young woman building a new life after losing her memory during a vicious attack. She's helped by her older sister and ex-boyfriend. It's about her figuring out who she is and why she left the love of her life.

Please share the opening lines of this book:
The shop sits on a busy street in the cool downtown neighborhood of Portland, Maine. Larsen and Sons Tattoo Parlor is written on the window in elegant script. Inside, music plays, two guys lounge on a green velvet chaise flicking through books.
Please share a few Fun facts about this book…
For research with the book, I talked to a psychiatrist and doctor about personality disorders and head injuries. It was fascinating. This book also enabled me to name drop some of my favorite reads as the heroine rediscovers her love of reading. I had a lot of fun with that.
Please tell us a little about the characters in your book. As you wrote your protagonist was there anything about them that surprised you?
I always find you discover your characters through the process of writing their story. Clem was a lot tougher than I initially gave her credit for.
If your book was optioned for a movie, what scene would you use for the audition of the main characters and why?
Her second scene with Ed, her ex-boyfriend, in the bar. The dynamic in that scene was a lot of fun to write. Her lack of understanding and suitable depth of emotion due to the loss of her memories. And him trying to catch up and understand what it all means while still nursing a broken heart.
What do you want people to take away from reading this book?
I just hope they enjoy it. That it takes them away from the real world for a while. That's all I hope for all of my stories.
What are you currently working on? What other releases do you have planned?
I'm working on an action/romance which I hope to have out sometime mid-year. It's been fun to do something a little different. I also have a novella coming out later this year with 1,001 Dark Nights.

Thanks for blogging at HJ!
Giveaway:

One signed copy of REPEAT for one winner. Open International.
To enter Giveaway: Please complete the Rafflecopter form and Post a comment to this Q:

What is your favorite romance trope to read?
Excerpt from Repeat:
The shop sits on a busy street in the cool downtown neighborhood of Portland, Maine. Larsen and Sons Tattoo Parlor is written on the window in elegant script. Inside, music plays, two guys lounge on a green velvet chaise flicking through books. It's all very clean and neat and awesome looking. And there's a sound like an electric drill in the air.
The girl behind the counter stops, mouth gaping when she sees me. She's pretty and petite with a shaved head.
"Hi," I say, attempting a smile. "Can I speak to—"
"Are you fucking kidding me," a deep voice booms.
I meet the eyes of a tall man covered in tattoos. Shortish, light brown hair, lean but muscular. He wears jeans and designer sneakers, a T-shirt advertising some band. For sure, he'd be handsome if he wasn't scowling at me. Actually, strike that. He's handsome period, irrespective of his glare. His angular jaw is covered in stubble and it frames perfect lips. Straight nose, high cheekbones. Unlike me, this man is a work of art.
"No, not happening," he says, striding over. His large hand wraps around my upper arm, grip firm though not cruel. "You don't get to come back."
"Don't touch me." My words are ignored as he marches me back toward the door. Panic bubbles up inside and I slap his chest hard. "Hey, buddy. Do. Not. Touch. Me."
At that, he blinks, a little startled. "Buddy?"
I don't know what he was expecting, but he lets go. It takes me a full minute to get my breathing back under control. Dammit. Meanwhile, everyone is watching. The girl behind the counter and the two guys waiting on the chaise. The woman with brown skin and big beautiful hair holding a tattoo gun and the older woman she's working on. We have quite the audience assembled. The man screaming about being back in black over the sound system is the only noise.
"You need to leave," he says, voice quieter this time, though no less harsh.
"I have a few questions I need to ask you first."
"No."
"Did you do this?" I ask, pullin gup the sleeve on my T-shirt to display my shoulder. It's a beautiful piece. A cluster of violets with olive-green stems and leaves. It's almost like a scientific drawing, but missing the root structure.
His gaze narrows. "Of course I did it."
"I was your client. Okay." That's now a definite. Good. Definites give my world structure and help things make sense. Unknowns just piss me off. "Did I not pay you or something?"
"The hell are you talking about?"
"You're angry."
And it's obvious the moment he sees my brow. The hostility and confusion in his eyes changes to surprise.
I immediately smooth down my bangs, trying to hide. Stupid to get self-conscious, but I can't help it.
He gently brushes my hand aside, parting my hair to see. An intimate gesture that sets me on edge. As hands-on as tattooing must be, the way he's touching me and getting in my space is…more. I try to step back, but there's nowhere to go. Besides, he's not actually hurting me, just making me nervous. And as much as I abhor being crowded, some part of me doesn't mind him touching me.
Weird. Maybe I need sex or something. Maybe he's my type. I don't know.
Deep lines are embedded in his forehead as he studies me. This is exactly the reason I cut my hair in the first place. The scar starts an inch into my hairline, ending below my right eyebrow. It's wide and jagged, dark pink.
That's enough. I put a hand to his chest, pushing him back. Happily, he goes. A small step, at least.
"So you know me?" I ask, trying to clarify things. "Like, as more than a customer."
The man just stares. I don't know what his expression means. A mix of unhappy and perplexed, maybe? He really is quite handsome. A new song starts, this time it's a woman singing.
"Well?"
Finally, he speaks. "What the fuck happened to you?"
Excerpt. © Reprinted by permission. All rights reserved.


Book Info:
From New York Times bestselling author Kylie Scott comes an irresistible new romance.
When a vicious attack leaves 25-year-old Clementine Johns with no memory, she's forced to start over. Now she has to figure out who she was and why she made the choices she did – which includes leaving the supposed love of her life, tattoo artist Ed Larsen, only a month before.
Ed can hardly believe it when his ex shows up at his tattoo parlor with no memory of their past, asking about the breakup that nearly destroyed him. The last thing he needs is more heartache, but he can't seem to let her go again. Should they walk away for good, or does their love deserve a repeat performance?
Book Links: Amazon | B&N | iTunes | Kobo | Google |


Meet the Author: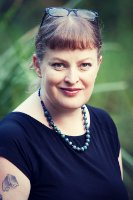 Kylie is a New York Times and USA Today best-selling author. She was voted Australian Romance Writer of the year, 2013 & 2014, by the Australian Romance Writer's Association and her books have been translated into eleven different languages. She is a long time fan of romance, rock music, and B-grade horror films. Based in Queensland, Australia with her two children and husband, she reads, writes and never dithers around on the internet. You can learn more about Kylie from http://www.kylie-scott.com/
Website | Facebook | Twitter | Instagram | GoodReads |