Engaging the Enemy by Reese Ryan is the latest sexy romance in her Bourbon Brothers series, set in the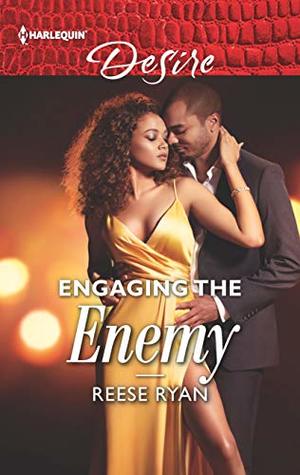 small town of Magnolia Lake, Tennessee.
Parker Abbott is in a bind. His father wants to surprise his wife with the purchase of some property that had once belonged to her family. The trouble is that Parker's estranged childhood friend Kayleigh Jemison owns the jewelry shop in the building he wants and she's got no need to make life easy for him by selling to his family. Their history is complicated by mistakes he made, and also by Kayleigh's belief that Parker's father Duke had taken advantage of her mother years ago and bought their own land out from under them at a pittance of the real value.
Kayleigh is all set to reject Parker's offer (even though he's willing to shell out much more than the property is worth) when she gets a call from her old friend Kira, the sister of her ex-boyfriend Aidan. Kira wants Kayleigh to come to her island wedding and be a part of the bridal party. An all expenses paid Caribbean vacation? Kayleigh can't turn down her friend, or the holiday. Kayleigh isn't dating anyone at the moment but she's not going to show up alone since she knows Aidan is now married so she makes a deal with Parker. If he agrees to be her fake fiance and join her for the week long wedding festivities, she'll sell him the property.
Parker reluctantly agrees to Kayleigh's bargain and with his family involved in the contract negotiations, they agree to ten 'dates' before the wedding to get to know each other so that they'll be convincing as a couple. But once they start spending time together and getting to know each other as adults, it becomes harder to deny their mutual attraction. Will their fake relationship turn into a real one?
I've been enjoying this small town series featuring the wealthy Abbott family who run the King's Finest Distillery and their friends. Parker is hoping that by showing his father that he can get Kayleigh's property he'll convince his father to name him as his successor at the distillery, instead of his older brother Blake so it's important enough for him to do just about anything to make it happen. The deal he and Kayleigh eventually make is going to be challenging, since he's attracted to Kayleigh but she hasn't given him the time of day since he foolishly tried to get in with the 'in' crowd at school by revealing some personal information of Kayleigh's. That betrayal had cost him her friendship and he'd regretted it ever since, but she'd never let him get close enough to apologize. Spending time with her with the express purpose of learning about each other to pull off their ruse means he finally gets that chance, and they can rekindle their long ago friendship.
Kayleigh grudgingly comes to admit that Parker isn't such a bad guy after all. Opening up to each other creates a new kind of intimacy, and leads them to admitting their attraction to each other. With a definite end date for their arrangement, they both agree to a sex-only fling and share some sensual love scenes. Parker is the one who realizes first that he wants to see where things will go with Kayleigh after the wedding, but there are a few complications before they can get to their happy ending. I love seeing the close knit Abbott family and there are some especially touching scenes between them and Kayleigh where long held family secrets are revealed. It's a fun and sexy romance and I look forward to reading about more of the Abbott siblings!

Book Info:

Publication: Apr 01, 2019 | Harlequin Desire | The Bourbon Brothers #3
'That's the deal, Abbott. Take it…or leave it.' How far will an ambitious heir go to secure his future?
Parker Abbott will do whatever it takes to be the next CEO of King's Finest Distillery, even play fake fiance to his childhood nemesis, Kayleigh Jemison. Yet as he and the fiery redhead get reacquainted, sparks fly and real passion emerges. But when her ex wants a second chance, who will Kayleigh choose?