Today it is my pleasure to Welcome author
Janna MacGregor
to HJ!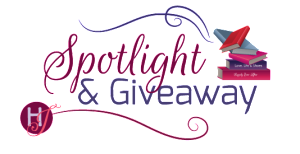 Hi Janna and welcome to HJ! We're so excited to chat with you about your new release, Rogue Most Wanted!

Hello, everyone! It's an honor and a delight to be here at Harlequin Junkies. This is one of my go-to spots to catch reviews and learn about my favorite authors. *big wave*

To start off, can you please tell us a little bit about this book?: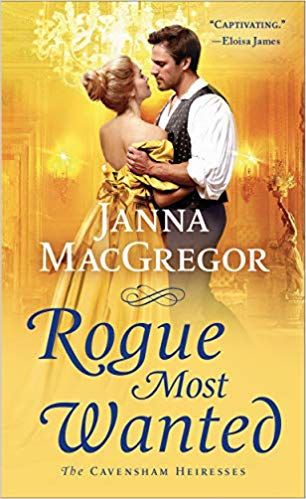 Imagine if the historical romance tables were turned, and it was a heroine who was the person in need of a suitable husband to ensure that she inherited her rightful title. That's the case in Rogue Most Wanted: The Cavensham Heiresses #5. This is Lord William's story (as in William Cavensham). He's the last of the Duke of Langham's children who hasn't met the right person to sweep him off his feet. The heroine of the book, Lady Theodora Eanruig, is a Scottish countess who inherits an entailed Scottish property along with a Northumberland estate. When her right to the title is questioned, she has to marry quickly to satisfy the powers at be.

Please share your favorite lines or quote(s) from this book:
"Sharing a glass of whisky is akin to a kiss."

"How so?" Will moved just a tad nearer to her.

But it was close enough that the whisky on his breath and his bergamot fragrance combined into a potion she wanted to lose herself in. "Our lips touched the exact same spot on the glass, and our mouths tasted the same whisky."

"Thea, what did my family teach you yesterday? Perhaps I need lessons." He groaned, and without taking his eyes from hers, he took another swallow.
What inspired this book?
Thea's character was inspired by the real-life Elizabeth Sutherland Leveson-Gower, Duchess of Sutherland and 19th Countess of Sutherland, who lived from 24 May 1765 to 29 January 1839. After her parents perished, her guardians had to defend her right to the Scottish title of the Earldom of Sutherland when she was an infant. Several of her male relatives challenged her right to inherit. I managed to find the original trial transcript from the House of Lords. Fascinating research!
How did you 'get to know' your main characters? Did they ever surprise you?
I always love your questions. They make me think. I've known William ('Will') for quite a while. He's appeared in four separate Cavensham Heiresses books. Though he has a certain persona in the series, I knew there was more to the man than meets the eye. In fact, I've known since the first book, The Bad Luck Bride, that Will had had his heart broken. That's why he's been such a pill in some of the previous books. But of course, he more than makes up for it in Rogue Most Wanted. Will needed to meet a woman who wasn't a typical society miss. He'd have no interest in that sort of woman. That fact became the foundation upon which I built Thea's character.
You'd asked if either of my characters surprised me. Will definitely did. As I wrote his story, there was a gentleness about him that I didn't know existed. It's a side of him that he never showed to others outside of his immediate family. Of course, you get to see his acerbic wit in places, but with Thea, he's a pure romantic and a delightful companion.
What was your favorite scene to write?
There were so many, but my absolute favorite is the one in the garden scene where Will and Thea meet after deciding they didn't want to marry each other. It's as if all their protective walls come down, and they truly see each other without any outside interference from Will's troublesome but adorable elderly Aunt Stella and her partner in mischief, Lady Edith. Here's a brief snippet:
"Alright, then." Thea stood straight and stared into Will's eyes. "Will you…be my friend?"

The songbirds' warbles, the rustle of the breeze through the leaves, and every other sound slipped to silence, and all sights faded the moment Thea asked him to be her friend. He couldn't move as the air grew heavy and locked him in place. All his concentration centered on her. Finally, the spell she wove around him lessoned, and Will tilted his head and stared at the folly's ceiling.

Cupids and cherubs frolicked in glee as if laughing at him. For the life of him, as Thea hesitated in asking her question, he'd thought she would propose to him. In those mere moments, his emotions had run the gamut from trepidation, relief, happiness, and finally, to disappointment.
Why he experienced disappointment was a complete and utter conundrum that he couldn't navigate. They'd both agreed that they didn't want to marry the other. But something deep within him had sparked to life, like a flint against a piece of steel, igniting a hope she might want him. When Theodora had shared the tragic circumstances of her family's demise, he'd become lost—in her and the extraordinary challenges she'd faced on her own in Northumberland. It was as if they were physically joined in some manner, and he'd never felt that tied to another woman.

The only explanation could be that he'd never met anyone like her before.

Theodora possessed a refreshing honesty and fierceness at times that belied her underlying vulnerability—much like his own. But the more time he spent with her, the more intrigued he found himself. When she'd approached Aunt Stella with her reason to marry, she'd been brutally honest, and he respected her for that.

Well, he was a Cavensham, and a Cavensham never shirked from duty or tough questions or even simple requests such as friendship. "Thea, I'd be honored to be your friend." He slowly smiled.
What was the most difficult scene to write?
In contrast, probably the hardest scene to write was the scene where Thea asks Will's mother, the Duchess of Langham and Will's Aunt Stella to look after his happiness and encourage him to find someone else to love. Thea had to let Will go so she could protect her grandfather's legacy. I cry every time I read that scene. It's like an arrow straight through the heart for me. We see this scenario play out in historical romances all the time. But it's always the hero who sacrifices for the heroine. This time, I made it the heroine who sacrifices her own personal happiness and her desire for love and family for the greater good. I hope readers enjoy Will and Thea and their struggle to find their happy-ever-after.
Would you say this book showcases your writing style or is it a departure for you?
Wow, that's a tough question. Seriously, for me as a writer, it's the story that dictates the style. Since all of my stories lean toward the legal aspects of marriage and women's rights (or lack thereof) in the Regency period, it's important that there's humor interspersed in the story. I believe that I've accomplished that while shining a bright light on the special legal challenges and lack of standing a woman had to face in that time period.
What do you want people to take away from reading this book?
Love has a unique talent to sneak up on a person when they least expect it and set them on the right path. Plus, if you look hard enough the history, there are always strong-willed and self-confident women who rule the day and help pave the path for others who come after them.
What are you currently working on? What other releases do you have planned?
I just finished WILD, WILD RAKE, the sixth in The Cavensham Heiresses series. It features Mr. Devan Farris and Lady Avalon Cavensham Warwyk, who Devan affectionally calls Lady Warlock. This book releases February 25, 2020. I can't wait for everyone to meet this couple!
Thanks for blogging at HJ!
Giveaway:

An advanced reader copy of ROGUE MOST WANTED, a Coach wristlet, and matching Rogue Most Wanted swag. Giveaway is open to U.S. and Canadian entries only.
To enter Giveaway: Please complete the Rafflecopter form and Post a comment to this Q:

Poor Will has his hands full with his wild Aunt Stella and her cohort in mischief, Lady Edith. Both are determined to see him married. If you had a delightful but persistent aunt or uncle who was determined to find the perfect match for you, how would you discourage them from 'helping?'
Excerpt from Rogue Most Wanted:
Never before had Thea seen such a gathering. Handsome men and beautiful ladies, all elegantly attired, graced the room. In the center of the gathering, a middle-aged couple held court. When the woman turned to her husband, she placed her hand on his chest and laughed, an act so endearing that Thea had to remember to breathe. The man caught the woman's hand and held it to his heart. His hearty laugh enveloped the whole room in affection.

"Who's that couple?" Thea asked.

"My mother and father."

At the sound of Will's voice, the woman looked their way. There was little doubt she was Will's mother, the Duchess of Langham. He'd inherited her smile. Will's father, the Duke of Langham, followed his wife's gaze, and the smile that broke across his face was simply stunning. Will had definitely inherited his father's height and handsomeness.

"William!" His mother made her way toward him with her hands outstretched in welcome. "It's so good to have you home."

"Hello, everyone," Will called out in greeting. "I'd like to introduce Theodora, the Countess of Eanruig. She's my friend and guest."

"Friendship is a start." Aunt Stella's voice rang from behind. "We're hopeful for more."

"Cavenshams fall in love thoroughly"—Lady Edith turned to Stella— "and what was the other?"

"Decidedly," Stella chimed in.

"How could I forget." Edith chuckled. "We're certain these two are well on their way. Lovely news, isn't it?"

At that pronouncement, the duchess's face fell when she stumbled forward. The duke caught her elbow before she tumbled to the floor.

The entire room fell silent as every head swiveled toward them. This was an examination like no other. If only there was a side door, then Thea could escape and run from the house as Will had predicted she'd want to do. What was she supposed to say to Edith and Stella's pronouncement? Tell them all that it was a lie and that she'd told Will she wouldn't marry him?"

A beautiful blond in an emerald green dress dropped her fan at the announcement. "Oh, my word, Will. What have you done?"

A handsome man who resembled Will and the duke had the audacity to laugh. "Emma, I'd say he's done the unthinkable and has done it remarkably well. The day of reckoning has arrived for our brother. Who is that charming creature beside you?"

"Don't stand there dawdling, you two," Stella chided. "Go face the pack of hounds."

* * * *
Before his family had noticed their arrival, Will stole a glance at Theodora and had been struck by her expression. It reminded him of a child staring into a candy shop window wishing for the world without a penny in her pocket. Then when his family had turned their attention to them, and Aunt Stella had blurted her hope for their engagement, he'd felt her physically retreat. She had moved away and turned as if deciding to run. Without a second thought, he'd squeezed their fingers together, then tugged her closer to his side.

"What are we going to do?" Thea whispered, her voice laced with panic. "I don't want to mislead to your parents."

"Leave it to me," he answered. His stomach dropped as if he'd been thrown from a horse. Stella and Edith had made things more complicated for Thea and for him.

A tumble of confused thoughts and feeling assailed him. It was more than problematic, though. Unintentionally, Thea's words created a latent ache he thought long since dead. A vulnerability that he despised crept to the surface. Just because another woman had spurned him as a suitable groom had nothing to do with Thea. She'd never been anything but candid with him.
Yet for once, he'd wondered what it must feel like to have a woman look at you as if you were the only man in the universe. At Thea's folly, he'd thought he'd experienced it. Perchance, he'd foolishly mistaken what he'd seen.

Before he could consider it more, his mother and father reached them. With tears and a joyful smile, his mother took his other hand in hers.

Immediately, he'd leaned over while never breaking contact with Theodora and kissed his mother's cheek. "Madam, you're a beautiful sight to behold."

"Thank you, William. So are you." Her attention immediately switched to Theodora. "Hello, my dear."

For a second, Theodora stood frozen, then dipped into the expected curtsey. "Your Grace, it's a pleasure to meet you."

Will automatically relaxed. With his mother and father smoothing the way, Theodora would soon feel welcomed. That was the beauty of his family. They might charm and badger each other but at the same time, there was never any doubt they loved one another. Deep down, they stood together united in a force that no one could break. It was the Cavensham way.

Will squeezed Theodora's fingers once last time, then dropped them to shake his father's hand. "Father, it's good to see you."

His father growled in response and ignored William's hand. Instead, he took Will into his embrace, and when he let go, he clasped Will's shoulder and squeezed. "And the same here, son." His father turned, then blessed Theodora with a smile worthy of a rogue. "Welcome, my dear, to Langham Hall."

Thea bobbed a hasty curtsey. "The honor is all mine, Your Grace." Her voice had cracked with nervousness, and it punched Will in the stomach.

Never had a woman's emotions caused such havoc in him before.

His father tugged his mother into a side embrace. The couple beamed at them.

"Congratulations to you both," his father said, then smiled. "On your friendship."

The rumble of amusement in his father's tone meant only one thing—Stella's off-handed remarks had stirred his curiosity.

His mother held Thea's hand, refusing to let it go.

"Hello, my dearest Ginny." Without waiting for a response, Aunt Stella pecked her niece's cheek, then crowded next to his father. "Sebastian, Thea is the Countess of Eanruig, an old Scottish title. She lives next door to me at Ladykyrk."

His father nodded once. "We're honored you'll stay with us, Countess."

"Theirs is a match made in heaven, if they can just see it," Stella said under her breath. No one else heard it as it was meant for Will's ears alone.

He wanted to roll his eyes but kept his demeanor cool and calm. He loved Stella dearly, but sometimes her hyperbole became a bit too much.

"Thea and I are friends." His voice sounded a little too forceful, but he didn't want Thea any more nervous than she already was.
Excerpt. © Reprinted by permission. All rights reserved.
Book Info:
Wanted: an engagement of convenience. Found: A noble suitor.
Raised on a remote Scottish estate by her adoring grandfather, Lady Theodora Worth has inherited an earldom as well as the land itself. But when an upstart duke challenges her claim to the title and the Ladykyrk estate, Thea is suddenly in need of a husband―in name, at least. An elderly neighbor with a thoroughly modern sensibility and a dashing great-nephew just might be the answer to Thea's prayers. Except she has no intention of marrying the first man she meets. That would be utterly ridiculous.
It just can't be him. . .
Lord William Cavensham is entirely too devoted to his family's estate―ever since he was jilted as a lad–to wed, but he agrees to meet the woman his aunt has taken under her wing―and introduce her to possible suitors. But after just one meeting with beautiful, spirited Thea, Will is determined to help her reclaim her title. And even moreso, he can't stop thinking that perhaps marriage to this bold, passionate woman may be the one thing he's been missing all along?
Book Links: Amazon | B&N | iTunes | Kobo | Google |
Meet the Author: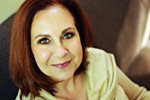 Janna MacGregor was born and raised in the bootheel of Missouri. She credits her darling mom for introducing her to the happily-ever-after world of romance novels. Janna writes stories where compelling and powerful heroines meet and fall in love with their equally matched heroes. She is the mother of triplets and lives in Kansas City with her very own dashing rogue, and a smug, but not surprisingly, perfect pug. She loves to hear from readers.
Website | Facebook | Twitter | Instagram | GoodReads |