In A Single Dad to Heal her Heart (Yoxburgh Park Hospital #10) by Caroline Anderson , Livvy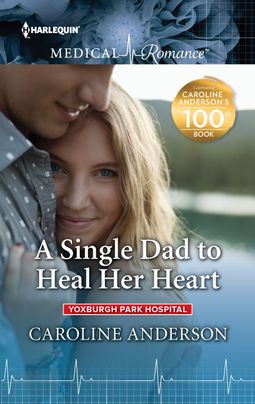 Henderson and Matt Hunter have quite the connection from the moment they meet on a team bonding weekend. Both are content with their lives, but when they return home Matt finds himself wanting more. Will Matt be able to convince Livvy to give a relationship between them a chance or will Livvy break Matt's heart?
"Cute though it is, and it has been worth watching, I'll admit, I was actually studying the scenery then." The smile faded, replaced by awe. "Stop and look around you, Livvy, just for a moment. It's so beautiful and you're missing it – and anyway, it's only supposed to be fun!"
She sighed, knowing he was right, but still impatient. "I know, but we can't let Sam catch us now, we'll never hear the end of it. We can look on the way back when we've won."
He shook his head again and laughed. "You're so competitive. Just be careful, that ledge is unstable. Why don't you let me go first?"
This is the best medical romance I've read by Ms. Anderson yet because the characters have heartfelt back stories that make them shy away from relationships, as the hero lost someone he loved once and doesn't want to go through that again while the heroine fought for own life and doesn't want to put anyone through losing her if she has to go through a fight for her life again. The way this story started had me hooked because Livvy and Matt have wonderful chemistry and I liked how this story takes a surprising turn with what happens to the heroine. Is she all right? Will Matt be able to help her?
With the dialogue, it was intense due to the main characters back stories, which had me sympathizing with the pair; and wonderful banter between the main characters as they do their best to be friends, but find their relationship becoming so much more. Will the heroine be able to win Matt's daughters over? Will the heroine's family accept Matt in Livvy's life, especially after everything she's been through in her past? Is she ready for a relationship when she might not be capable of giving the man in her life a family?
"We're a right pair, aren't we?" he murmured, and then straightened up and restarted the engine. "I'd better get you home, Cinderella, before you turn into a pumpkin."
"I think that was the carriage," she pointed out drily, and he chuckled, put the car into gear and pulled away.
As for the main characters, the heroine is incredibly strong, incredibly brave and I could understand her fear of giving a relationship a chance after everything she's been through. Yet, in saying that, I liked that she gave the hero a chance because she needs him just as much as he needs her. While the hero, he's a good dad, a good doctor, kind, caring, and I loved the close relationship he has with his family, especially his mom, who has helped him so much after he became a single parent. I also liked how determined the hero was to win the heroine over and how willing he was to let the heroine into his daughter's lives because they needed a strong female influence in their lives; someone that would help them in moments of need like Livvy does.
Overall, Ms. Anderson has delivered an entertaining read in this book that took me on a little bit of an emotional rollercoaster because of all the main characters have been through; and where the chemistry between this couple was strong right from the beginning and kept getting stronger; the romance was heartwarming because these two needed each other to heal from their pasts; and the ending had me loving the hero's determination to fight for their relationship, especially when the heroine is facing such uncertainty. Will everything be all right? Will the heroine take a chance on a future with the hero? However, it was right at the end of this story that I loved the most because Livvy deserves every bit of happiness she's found. I would recommend A Single Dad to Heal her Heart by Caroline Anderson, if you enjoy medical romances, second chance romances or books by authors Emily Forbes, Alison Roberts, Tina Beckett and Scarlet Wilson.
Book Info:

Publication: April 1st, 2019 | Harlequin Medical | Yoxburgh Park Hospital #10
Could a single dad of two…be the answer to her dreams?
Trauma doc Livvy Henderson loves her job and friends, and she's been cancer free for five years. She's content…until she meets widowed father, handsome surgeon Matt Hunter on a team weekend in Cumbria. Their powerful connection reawakens her fears, desires and longing for a family she's long since locked away. But Matt finds he's ready to convince her she belongs in his, whatever the future holds…