Today, HJ is pleased to share with you

Suzanne Enoch's

new release: 

Something in the Heir: A Novel

New York Times bestseller, Suzanne Enoch takes a delightful new path in her joyful historical romantic comedy, Something in the Heir.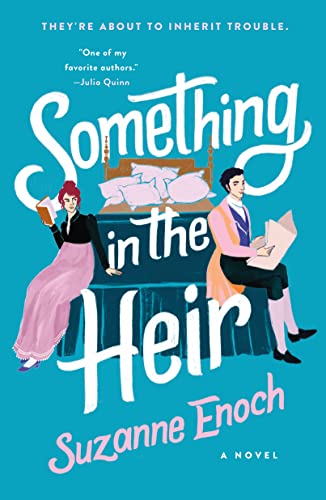 In Something in the Heir, smart, capable heiress Emmeline Pershing will do anything to keep her beloved home; and all it takes is an arranged marriage and a teeny white lie to fulfill her family's silly inheritance rules! But now her little fib means that she and her completely unsuspecting husband are going to inherit big — and very messy! —trouble in this spicy, sexy delight from bestseller, Suzanne Enoch.
Emmeline and William Pershing have enjoyed a perfectly convenient marriage for eight years. Their relationship is a seamless blend of their talents and goals. They've settled into separate, well-ordered lives beneath the same roof, and are content to stay that way—or so Emmeline thinks. And if William has secretly longed for a bit more from the woman he adores, he's managed to be content with her supreme skills as a hostess and planner, which has helped him advance his career.
Then when Emmeline's grandfather, the reclusive Duke of Welshire, summons them both for his birthday celebration and demands they bring their two little angelic children, William is stunned to discover that his very proper wife invented not one, but two heirs to fulfill the agreement for living at Winnover. But surely if Emmeline and William team up and borrow two cherubs to call their own, what could go wrong? Enter George, age 8, and Rose, 5—the two most unruly orphans in Britain.
As the insanity unfolds, their careful, professional arrangement takes some surprisingly intimate turns as well. Perhaps it takes a bit of madness to create the perfect happily ever after.
Enjoy an exclusive excerpt from Something in the Heir: A Novel 
From Something in the Heir by Suzanne Enoch. Copyright © 2022 by the author and reprinted by permission of St. Martin's Publishing Group.
CHAPTER THREE
They took the coach to the Dawkins farm; if they convinced the farmer and his wife to lend two of their children, Emmie and Mr. Pershing would require them at once. Forty-two days, which included the three or four days they would take to reach Welshire Park, was not much time to teach children who weren't of the aristocracy the art of polite and proper behavior.
"We're in agreement about our offer, then?" Mr. Pershing said, flipping his dark green beaver hat between his knees and catching it again. "This will be an opportunity for two of the children to better their positions in life."
"Absolutely," Emmie agreed, wishing she'd kept a list of names and ages of all the Dawkins children. One never knew when a bit of information might prove useful.
"I don't see how they can refuse," her husband went on. "If nothing else, it will be two fewer mouths for them to feed for better than a month."
"I daresay they'll all be eager to go, and we'll have a bounty of youngsters from which to choose." Another flutter of nerves greeted that thought; simply acquiring faux offspring would be only the beginning. There would be lessons and clothes, and of course the meeting with His Grace, to get past. Thank goodness the duke's birthday wasn't during the Season, or her calendar would be in shambles as she tried to balance lessons and her social maneuverings on Mr. Pershing's behalf.
"Do you suppose either of them will be literate?" he asked. "I would hate for your grandfather to think us behindhand in educating our own children."
That had occurred to her, as well. As far as she knew, neither of the Dawkins parents knew their letters. "I believe several of the older ones attend the local school, but their actual meeting with the duke will be extremely brief, regardless. We only need to be certain they can write their names, on the chance there will be a birthday card to sign or a game they will be expected to play."
Mr. Pershing nodded. "Well considered as usual, Mrs. Pershing."
Her cheeks warmed at the compliment. The Will Pershing she'd known as a youth would have been flustered and appalled by this mess, and the one since then should at least have been angry. But there were moments last evening when he'd seemed almost . . . amused. It made no sense. Her task, her job, was to see that every event, every dinner, every conversation, was perfect. This marked a colossal failure.
Also baffling was the way she kept catching herself looking at him this morning. Perhaps it was the shock of all this, or the realization that they would have to figure out this large problem together, but with his black, well-fitting coat, green waistcoat, and buckskin trousers, he did look quite attractive. Once she'd found him a good valet she'd been able to stop worrying about his disheveled hair and how well his clothes fit, but at some point she'd just stopped . . . noticing him. But for goodness' sake, she was noticing him now. It was very distracting. And rather annoying. "I appreciate that you've agreed to help," she said, "even if you only see Winnover Hall as the most strategic place to reside."
"We began as partners," he said. "Partners we remain."
"I'm glad to hear that."
"I hope none of the Dawkins youngsters are gingers," he offered after a moment. "There are no gingers in my family as far back as we have portraits to recall them." He tilted his head as he glanced at her. "Your hair has a touch of fire to it, though, so perhaps that would do, after all."
She touched her hair. It wasn't a compliment, though. Only an observation. "Anything between dark brown and blond would be acceptable—and believable. I wrote that both Malcolm and Flora have brownish hair with a hint of gold, though I believe children's hair may change as they grow older."
His hat stopped flipping. "You invented hair colors for them?"
"Well, yes. In Penelope's letters, she's forever talking about how lovely and curly young Lucy's hair is, and how her oldest boy, Frederick, is towheaded. In retrospect I should have left their appearance a blank canvas, but I never thought about actually having to produce them."
"What about eye color?"
She met his gaze. "As you have green eyes, and mine are brown, I said they had hazel eyes. I suppose we may choose children that have any of those three colors and it would still be believable."
Her husband glanced out the coach window. "That is fortuitous," he said, his lips twitching. "Well done once again."
"Does this amuse you?" she demanded, telling herself to stop looking at his blasted mouth. "Have I been a silly, dim-witted female? Because I am very worried about losing Winnover."
He looked back at her. "Mrs. Pershing, yesterday we were but a twosome. Now I find that I have two children of brownish hair and greenish eyes, and that they have names and genders. It also strikes me that I am about to be a father, temporarily or not. That appeals to me. You enjoy a challenge. Doesn't that aspect, at least, appeal to you?"
Some women simply aren't meant to be mothers, Lady Anne Hervey had said to her, seven years ago. I wasn't. Messy, inconvenient thing, you were. You did allow us to keep Winnover, though, so thank you for that, I suppose.
She shook herself. Considering that she'd mastered the intricacies of both Society and politics, temporary motherhood would be just another task. "A challenge needs a plan."
His responding grin warmed his face and lit his eyes. "A plan of attack. Yes. And considering I once saw you charm Lord Avington into contributing his own money toward constructing the Paddington canal branch, I don't think either of us has a thing to worry about."
That was nice to hear. She shrugged. "You needed it to succeed."

From Something in the Heir by Suzanne Enoch. Copyright © 2022 by the author and reprinted by permission of St. Martin's Publishing Group.
Excerpt. ©Suzanne Enoch. Posted by arrangement with the publisher. All rights reserved.


Giveaway:

One copy giveaway, Something in the Heir by Suzanne Enoch. US Winner ONLY
To enter Giveaway: Please complete the Rafflecopter form and post a comment to this Q:

What did you think of the excerpt spotlighted here? Leave a comment with your thoughts on the book…
Meet the Author:
Suzanne Enoch grew up in Southern California, where she still balances her love for the Regency romances of Georgette Heyer and classic romantic comedies with her obsession for anything Star Wars. Given her love of food and comfy chairs, she may in fact be a Hobbit. She has written more than 35 romance novels, including traditional Regencies, Historical Romance, and contemporary Romantic Suspense. When she isn't working on her next book she is trying to learn to cook, and wishes she had an English accent. She is the bestselling author of The Scandalous Brides series, The Scandalous Highlanders series, and One Hot Scot.
Amazon | B&N | BAM | Bookshop | Indiebound | Powells | Target |