Wyoming Promise by Anna J. Stewart: Ryder Talbot was very good at his as a firefighter who worked on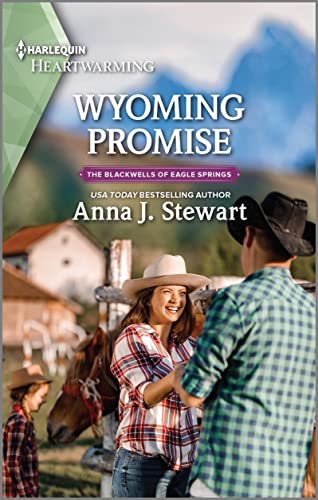 big wildfires. After he almost dies from one, he decides to go home to Eagle Springs, Wyoming to develop a better relationship with his daughter. He needs to rest and recover before he can decide what his future will be.
Corliss Blackwell was in his past and when they meet up again he is uncertain how to handle if she could impact his life. Corliss has her own problems. Her beloved grandmother is in danger of losing the family ranch for a variety of reasons. The bank that they helped start is not willing to give them a loan to keep things going. Corliss is hopeful that Ryder may be able to help them.
Wyoming Promise is from Harlequin's Heartwarming line and that truly describes this novel. Although there is sweet romance, family dynamics and past hurts play a big part of the storyline.
You have to love Corliss's grandmother, Denny. She is loving and kind, but has a very tough side that holds a grudge.
Both of the main characters are very brave in their own ways and loving toward family. The location is an important part of the part. I always enjoy books set in the West since it's different from what I'm used to and I learn new information all the time.
If you want something that will lift your spirits and bring a smile to your face, this is the novel for you. I will look forward to other tales in this series and future books by Anna J. Stewart.
Book Info:

Publication: July 26, 2022 | Harlequin Heartwarming | The Blackwells Of Eagle Springs #1
A reunion with a twist…
May save the day!
After a near-fatal day on the job, firefighter Ryder Talbot's finally back in Eagle Springs, Wyoming, and ready for a new start with his daughter. Seeing Corliss Blackwell again stirs up old feelings he tried to leave behind. Now that Corliss needs his help to close a deal on a loan that will save her gran's ranch, can he finally prove they're worth taking a chance on?