Mine To Cherish by Natasha Madison: For most girls your wedding day is supposed to be the most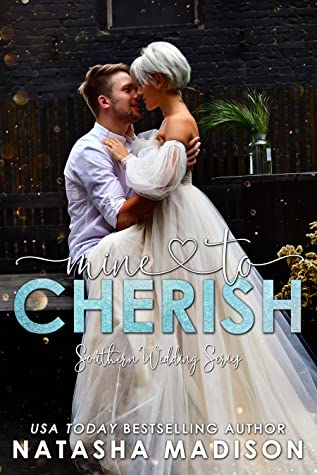 exciting day of your life but for Clarabella something just doesn't seem to feel right. It might have something to do with the fact that she doesn't actually want to marry her fiancé Edward. But after being somewhat ambushed into agreeing to his very public proposal Clarabella has desperately been trying to find an out of her predicament, really she hadn't meant for it to go on for so long, but with this suffocating feeling and learning some very interesting truths about the would be husband-to-be she can't help but pull a runner on her wedding day… however the last person she expected to run into was Chef Luke.
Six months ago Luke and Clarabella shared one amazing night together but the timing was just the worst especially after Luke leaves for New York without a word. Fast forward to the present day and Luke is back in town hoping to pick up right where he left things with Clarabella only to learn that she has moved on. And what better way to mend a hurt heart than spending the weekend in his cabin drinking, he definitely did not expect to run into Clarabella pulling a runaway bride. Being the true gentleman that he is Luke helps his 'friend' out by taking her with him to the cabin…only problem being there is only one bed and those old feeling are starting to run high again…could this be the second chance that Luke and Clarabella need?
Mine To Cherish was just the cutest! I have just been loving the Southern Weddings series and this has to be the cutest second chance story of all! We got a taste of what to expect with Cara and Luke in the pervious book and let me just tell you the hype was so worth it! This was the type of book that you can't help but want to read all in one sitting because its just so cute!
Clarabella was such a hoot! I loved her witty word play and that she was always so on her toes. She was smart and so incredibly independent. I loved that when she knew what she wanted she was not afraid to go after it. I will say that I liked that even though she pulled a runner on Edward she didn't want to cause anymore of a stir by flaunting her new relationship. Now when it comes to our smoking hot chef Luke, well he was just a swoon fest from start to end. I loved this guy and the more he opened the more I found myself loving him. I really liked that at the core he was a charming gentleman and that he was always ready to come to his ladies defence.
Together these two were just fire! I loved their playful, snarky banter and that their connection went far beyond just incredible physical attraction. Their emotional connection and bond is really what made their relationship ultimately work. I loved that even though Luke gets thrown into a whole whirlwind of drama he just goes with the flow and follows Clarabella's lead.
I absolutely adore this entire family, these ladies have to be the cutest sassy gals in town! I just love the relationship they share and that they always have each others backs regardless of the situation. I just can not wait to get my hands on Presley's book next!
Mine To Cherish is a total must read! This fast paced super steamy friends to lovers, second chance romcom will leave you swooning and wanting to find yourself your very own Luke!
Book Info:

Publication: September 13th 2022 | Natasha Madison | Southern Wedding #3
Things are supposed to go smoothly on your wedding day.
Aren't they?
Clarabella
Did I want to get married today?
It's hard to say when he proposed in front of over a hundred people.
Everything happened so fast, and I thought it was just nerves.
It was not.
The knock on the door showed me that what I was feeling was more than just cold feet.
I was a runaway bride.
Luke
The whole town was busy attending her wedding.
She was the one I let get away when I told her our night together was a mistake and then left town.
So I planned to spend the weekend getting drunk.
When she ran out of the church looking for a hideout, I opened the car door for her.
My cabin has one bed, and my longing looks don't mix well.
Somehow, I have to keep my heart intact and her reputation together.
Maybe she was just mine to cherish