Today, HJ is pleased to share with you

Isabelle Ronin's

new release: 

Spitfire in Love

She's never at a loss for words. He's determined to have the last one.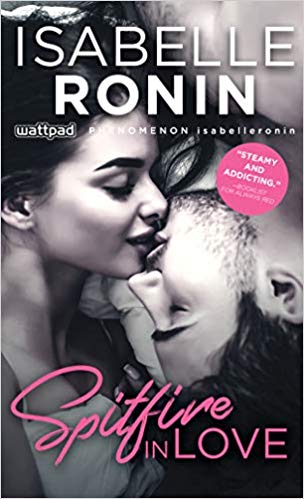 KARA
There he was with his piercing blue eyes and Lucifer black hair.
He was leaning against the wall, a lollipop in his mouth, hot as hell and twice as dangerous.

Kara Hawthorne never backs down, especially when it comes to protecting her family.

CAM
She looked so soft, harmless, like a pretty kitten, but she was as safe as a ticking time bomb.
My sweet, sweet Spitfire.

Cameron St. Laurent isn't intimidated by the feisty woman at his doorstep. And when she asks him for the impossible, Cameron knows just how to sweeten the deal…

The two combustible personalities are faced with unavoidable off-the-charts chemistry. But when Cam's dark past shows up, he'll have to slay his demons and lay himself on the line to win Kara, body and soul.
Enjoy an exclusive excerpt from Spitfire in Love 
"Kara."
It was almost…erotic. The way he said my name. The way his mouth formed the syllables.
"It suits you," he murmured, twirling the ends of my hair around his finger. "I forgot to tell you mine."
I already know it. Cam.
"Cameron," he said when I didn't answer.
Cameron.
My mouth seemed to be under construction again.
This was like our first meeting. This had never happened with anyone else. What was it about him?
It was the beautiful masculine face, I admitted grudgingly.
There! I admitted it. I was attracted to the face and that was totally fine. I wasn't going to do anything about it. It didn't mean I liked him. It didn't mean anything at all except that I was a healthy human being with an eye for beauty.
In defense, I put on my poker face. An emotionless face. If I couldn't speak, fine, but he was not getting any reaction from me.
As if he heard my thoughts, a playful glint appeared in his eyes, and he asked, "How's your stomach?"
It felt like a splash of cold water. I had this sudden urge to cover my face, run, or disperse my molecules into thin air. I glared at him instead.
Who the hell does he think he is to remind me of that mortifying experience?
I'm going to take you down! I vowed angrily, but then he said, "I know why you're here."
That stopped me cold. Shit. I had forgotten why I was here.
"I saw what happened this morning," he continued.
No!
I closed my eyes in defeat. Most people wouldn't have kept pressing, but he was persistent. He must have seen everything. Somehow, this guy saw Dylan.
As soon as I got home, I was going to fry my little shit of a brother in a tub of boiling canola oil. But right now, I had more pressing matters on my hands.
Daydreaming is over, sister!
I had no right to be taking out my anger on him—he should be the one angry, he was the victim after all, but
I couldn't help it. The thought of dealing with the consequences of my brother's actions again and the helplessness and panic gripping my throat drove me over the edge. I opened my eyes and flattened my palms on his chest to push him away. He didn't even budge.
"Move!" I said in the sternest voice I could muster.
My voice sounded rusty. Maybe that was why he looked amused—and, okay, sexy as hell—as if he was enjoying the show.
How could he not be angry about his motorcycle right now? Or the fact that he caught me about to sneak inside his yard?
Is there something wrong with his brain?
"I said move."
He moved closer.
I inhaled sharply. He was so close. He sucked on his bottom lip, trapping it between his teeth.
What is it like to kiss him?
As soon as the thought crossed my mind, I killed it mercilessly. Squished the thought like a bug.
No way I was going to kiss this guy! Not his type.
Not ever.
What was he doing to me? I was just angry a moment ago, and now I was thinking of kissing him. His proximity was driving me insane, and I wanted to step away, but if I did, that would mean he won. "Get your face away from my sight right now or I'll—"
"Stare at it some more?" he provided. "I think we both established how much you like my face."
Unbelievable!
"We didn't establish shit," I snorted. "But you know what? I do like it."
His eyes glittered with satisfaction.
His smile looked smug until I said, "I'd like to smash it against a rocky surface."
Excerpt. ©Isabelle Ronin. Posted by arrangement with the publisher. All rights reserved.


Giveaway:

Print copy of Spitfire in Love by Isabelle Ronin
To enter Giveaway: Please complete the Rafflecopter form and post a comment to this Q:

What did you think of the excerpt spotlighted here? Leave a comment with your thoughts on the book…
Meet the Author:
Isabelle Ronin is the author of Wattpad phenomenon Chasing Red. With over 180 million reads, Chasing Red was Wattpad's top-read story of 2016. The story continues to attract one million reads per week. When she's not writing, Isabelle can be found hanging out in bookstores, cafes, and whenever possible, the beach. Isabelle lives in Manitoba, Canada. Her stories can be found on Wattpad, www.wattpad.com/isabelleronin. You can follow her on Instagram and Twitter @isabelleronin