Today it is my pleasure to Welcome author
Teri Wilson
to HJ!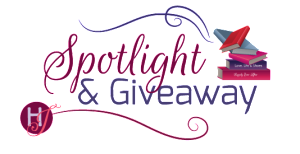 Hi Teri and welcome to HJ! We're so excited to chat with you about your new release, A SPOT OF TROUBLE!

Hi, there! Thanks so much for having me here and celebrating A SPOT OF TROUBLE!

Please summarize the book for the readers here: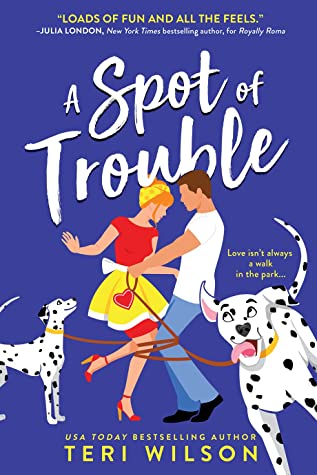 A SPOT OF TROUBLE is a sweet, whimsical, 101 Dalmatians-inspired romantic comedy.

Please share your favorite line(s) or quote from this book:
For as long as Violet March could remember, Turtle Beach, North Carolina, had been a one-Dalmatian town.
Please share a few Fun facts about this book…
The hero of this book, Sam Nash, has a Dalmatian named Cinder. Cinder is a fire safety demonstration dog, and she's based on an actual fire safety dog (a rescue!) by the same name who worked at the Los Angeles County Fire Department along with my step-dad, a retired firefighter.
The fictional town of Turtle Beach was inspired by a small island off the coast of North Carolina–Topsail, Beach. My family has been visiting Topsail for over 25 years. It's one of my favorite places on earth!
What first attracts your Hero to the Heroine and vice versa?
Violet and Sam are attracted to one another when they realize they both have Dalmatians, but they soon find out that's just about the only thing they have in common.
Did any scene have you blushing, crying or laughing while writing it? And Why?
Writing this book was a complete joy from start to finish. I had the best time working on it, but I think the very first chapter will always be my favorite. It's kind of a modern romcom spin on the meet cute scene in 101 Dalmatians when Roger accidentally tries to dognap Anita's Dalmatian.
Readers should read this book….
If they want a feel-good romance that will make them laugh or if they might need a reason to adopt a Dalmatian. *wink*
What are you currently working on? What other releases do you have in the works?
The follow-up to A SPOT OF TROUBLE is Book 2 in my Turtle Beach series with Sourcebooks Casablanca, and it comes out in August of 2022. I will also have a royal-themed Christmas book out next year with Hallmark Publishing.

Thanks for blogging at HJ!
Giveaway:

I'm giving away a $25 Amazon gift card!
To enter Giveaway: Please complete the Rafflecopter form and Post a comment to this Q:

Are you a dog person, a cat person or #teamboth?
Excerpt from A SPOT OF TROUBLE:
Violet's jealousy was written all over her face. Sam probably shouldn't have found it as amusing as he did, but he couldn't help it. Watching her pretend not to care if he dated Hazel the librarian was as delicious as any of the fancy cupcakes she was so famous for. Maybe even more so. Sam couldn't be sure because thus far, he'd yet to actually try one of her sugary confections. He'd come close, but something always seemed to get in the way. He looked forward to the day he finally got to take a bite.

Alas, today would not be that day. He couldn't exactly give her a citation for wielding a culinary torch—which, make no mistake about it, was indeed a contraband incendiary device according to the Turtle Beach fire code—and then sample the illegal by-product of her crime. So once Sam called Violet on her bluff, he strode away from her heady cloud of zesty lemon and spun sugar feeling achingly dissatisfied.

It wasn't the first time he'd experienced that particular sensation after being in Violet's presence, which was a fact Sam preferred not to dwell on.

At least Cinder had the decency to scramble out from beneath the tablecloth and follow him as he made his way back toward the overflow area on the senior center's front patio. Sam and Griff had already gotten the tables, chairs, and PA system all set up, so technically they could both head home. Sam was reluctant to do so, despite giving Hazel the wrong impression by turning up at bingo. If he left now, Violet would probably fire up her culinary torch again before he and Cinder made it as far as the intersection of Seashell Drive and Pelican Street.

The incendiary device was, indeed, still clutched tight in Violet's grip as she chased after him across the crowded lobby-turned-bingo-parlor and dragged him into the activity director's empty office by his elbow. So much for getting the last word. Was such a thing even possible with Violet March?
She slammed the door behind them, trapping them inside and out of view of the general bingo-playing public. The office was minuscule, with barely enough space for Barbara Nichols's empty chair and a desk stacked with art supplies, board games, tambourines, and red-and-green-striped maracas. With the sudden addition of two Dalmatians and their overly competitive owners, there was scarcely room to breathe.

"You're calling me a liar? Ha!" Violet tipped her head back and laughed, but somehow didn't sound even a smidge amused. "I couldn't be less interested in your social life."

Or lack thereof. Sam didn't have a social life, but that was none of Violet's business. Besides, she was kind of cute when she was pretending not to care who he played bingo with—bingo being a euphemism, obviously.

Sam knew a jealous woman when he saw one. He bit back a smile.

"Stop that," she said, waving one of her delicate hands in the general direction of his face. Wafts of lemon and marshmallow fluff tickled his nose.

He arched a brow. "Stop what?"

Sprinkles chose that most inopportune moment to spring into a running fit, romping in frantic circles around them. Cinder gave chase and suddenly Sam and Violet were thrust against each other, stuck in the whirling eye of a Dalmatian storm.

Sam's body came to immediate attention. He tried his best not to think about Violet's tumbling mermaid hair and sea-glass eyes and tempting scent—the perfect blend of tart and sweet. But as usual, she was impossible to ignore.

"Stop what?" he said again, swallowing hard.

She peered up at him through her thick fringe of eyelashes.

"Stop looking at me like…" Her gaze flitted to his mouth for a telltale second, and her cheeks flared as pink as the giant spinning cupcake that sat atop her food truck. "…like you think I want you to…to…"

Sam couldn't breathe. He didn't dare move, not even to try and stop the Dalmatian excitation going on around them. He had no idea why Cinder seemed to think it was okay to embark on a game of chase when she was on duty. Perhaps Sam's thus-far-unsuccessful attempts at getting her to stop making his bed and turning on the coffee maker had loosened his dog's inhibitions. He couldn't focus on that right now—he couldn't focus on much of anything, because every thought in his head was wrapped around the unspoken ending to Violet's sentence.

Like I think you want me to kiss you? Sam thought.

He couldn't say it. Both of them might be thinking it, but saying it aloud would make the nonsensical feelings swirling between them impossible to ignore. The smart thing to do—the safe thing—would be to politely excuse himself and return to the harmless world of senior citizens and sponge-tipped bingo daubers.

But for once in his life, Sam didn't feel like being safe.

"Like I think you want me to kiss you?" There. He'd said it. And he wasn't sorry—on the contrary, the moment the words left his mouth, a surge of satisfaction swelled inside his chest, so potent, so damn delicious that he found himself lowering his mouth…closer…closer…and closer toward Violet's.

Just a taste. Only one, to get it out of their systems.

Violet's lips parted, an invitation.

What's the worst that could happen? Sam thought, only vaguely aware that Cinder and Sprinkles had stopped running in circles to cock their heads and watch the insanity that was about to transpire. It didn't matter. Nothing did. When Violet rose up on tiptoe and brushed her soft lips against his, Sam's eyes drifted closed, but something inside of him seemed to crack wide open. And then he was consumed with warmth, because kissing Violet was like trying to hold concentrated sunlight in his hands—an elusive bundle of joy and heat, as beautiful as it was potentially destructive.

In certain conditions, such energy could smolder and burn, but the old Sam hadn't been afraid of fire. Once upon a time, he'd run toward it while others fled.

Maybe that part of him wasn't so lost after all, because wild Dalmatians couldn't have dragged him away from kissing Violet March.
Excerpt. © Reprinted by permission. All rights reserved.


Book Info:
Get ready to laugh out loud with this hilarious romantic comedy featuring:
A grumpy firefighter who thinks his way is the only way
A bubbly yoga teacher who prefers to go with the flow
Adorable Dalmatians who swap places—and the chaos that ensues
An opposites-attract romance that'll warm your heart
Violet March and Sam Nash are as different as night and day and have been enemies ever since Violet accused Sam of dognapping her beloved Dalmatian. Sam knows that's impossible—for one thing, his dog Cinder is a well-trained fire safety dog who never steps out of line. Violet's dog Sprinkles, on the other hand, has never met a command that she didn't ignore completely, much like her bubbly owner. So when Sprinkles and Cinder accidentally switch places during the annual police vs. fire department softball tournament, Violet is thrilled by her dog's sudden perfect behavior, while stubborn-yet-charming Sam is horrified to find that his dog no longer listens.
But when the dogs are eventually switched back, Sam and Violet are shocked to find that not everything is as simple as it seems. And a little puppy love might be just the thing they've been missing…
Book Links: Amazon | B&N | iTunes | kobo | Google |


Meet the Author:
USA Today Bestselling Author Teri Wilson writes heartwarming contemporary romance with a touch of whimsy. Three of Teri's books have been adapted into Hallmark Channel Original Movies by Crown Media, including UNLEASHING MR. DARCY (plus its sequel MARRYING MR. DARCY), THE ART OF US and NORTHERN LIGHTS OF CHRISTMAS, based on her book SLEIGH BELL SWEETHEARTS. She is also a recipient of the prestigious RITA Award for excellence in romantic fiction for her novel THE BACHELOR'S BABY SURPRISE. Teri has a major weakness for crowns, cute animals and pretty dresses, and she loves ballet and Audrey Hepburn films. Visit her at www.teriwilson.net or on Instagram @TeriWilsonauthor.
Website | Facebook | Twitter | Instagram | GoodReads |